Thomboy Properties transforms another Indian Canyon fixer into a Mod Moroccan Manse.
Real estate development duo Jackie Thomas and DeeAnn McCoy, the dynamic duo behind Thomboy Properties, are known for their uncanny ability to restore beautiful midcentury modern architecture.  True to their tagline, what they ultimately create is timeless and authentic, then and now. Their latest project was not an explicitly midcentury home and offered up a few challenges but they took it on with their signature style, transforming this fixer that had languished on the market for over four months into a modern manse for the ages.
Read on to find out what they discovered in the process and how Thomas and McCoy managed to bring a bit of Marrakech to Palm Springs, all while paying homage to Lacy's original design.  To see the house in person during Modernism Week Fall Preview, grab some tickets for the Moroccan Modern Sunset Cocktail Party.
How did you find this home?
It was a beautiful Saturday morning and we were having a nice weekend away at our mountain cabin in Idyllwild. We got a notification from Redfin alerting us that the house had just received a significant price reduction. Not only were we surprised that it had been reduced but we were surprised to learn that it had been on the market for about 4 months. How had we overlooked this gem?  We immediately reached out to our agent and drove back from Idyllwild the next day to see the house.
What was the most challenging aspect/part of the restoration?
The architecture of this custom home has forced us to push our creative and design talents to the limit. While the house is modern it's decidedly not midcentury modern. We pride ourselves on listening to the houses we renovate to see where they take us. We had to spend a fair bit of time listening and being in the space to decide which elements and features of the architecture we wanted to elevate and use as part of our design ethos.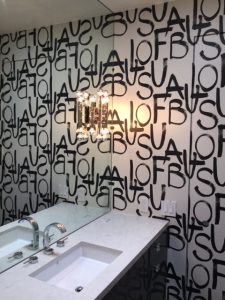 Is there anything that surprised you as you were breaking down and restoring the home?
The biggest surprise was what we discovered while removing the 5,561 sf of Saltillo tile. There was a 3" thick level of secondary material under the tile that unfortunately, also had to removed and required us to re-float the entire floor before installing the new tile. Ugh!
What is your favorite part of the project?
Completion! Seriously, I think the cohesive nature of the house, given the variety of materials and colors, from the flooring to the shower tiles to the wallpaper to the Dunn Edwards pink doors. It's what brings us the most joy. It feels like it's been this way forever.
Is there something that turned out even better than you expected?
The landscape designs and plant materials for the size and scale of this home proved a bit daunting. The partnership we formed with Mountain States Nursery and their vision for our landscape which surpassed, and at times challenged, our perceptions of desert plants, hues and forms was nothing short of remarkable. Wendy Proud introduced us to plants that were varied, beautiful, colorful and manageable from a maintenance perspective. What else could a girl ask for?!
---
A special thanks to Modernism Week sponsors Ferguson which provided Thermador appliances and DXV plumbing and lighting in the home; Dunn-Edwards for providing a splash of color with paint; and Corian Design for providing all countertops in this state-of-the-art home.