Color abounds in Grace Home Furnishings' latest project.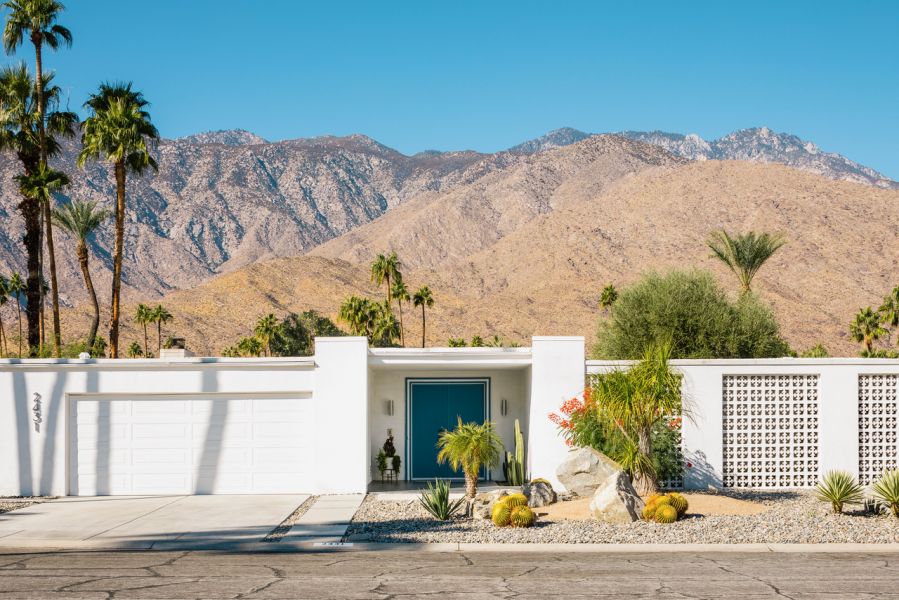 Michael Ostrow & Roger Stoker of Grace Home Furnishings have brought a 1967 architectural gem back to life with a renovation that stunningly captures the Palm Springs aesthetic. The Modernism Week Featured Home: Guggenheim House is located in the Indian Canyon Neighborhood of Palm Springs, home to stars like Frank Sinatra and Walt Disney. We asked Grace Home's Michael Ostrow & Roger Stoker about their vision for the Guggenheim House.
A midcentury modern classic gets a modern update
What was your design direction for the Guggenheim House?
Color is paramount in this home. We found a vintage, midcentury tea towel early on in the design process that gave us the inspiration for the blue and yellow color palette. It is now framed and displayed just off the entryway.
Any significant moments within the house that stand out?
We strove for continuity throughout the home, so each space features a variation on the blue and yellow color palette. We were excited to bring more color into the kitchen through the recent renovation. 
What are some of the challenges you face with interior design for a midcentury home?
Sometimes it is easy to get too caught up on a "theme" of midcentury, so we strive to bring a fresh perspective with elements that blend in with the original architecture, but aren't kitschy. We also like to mix vintage elements with contemporary pieces. 
How do you combine beauty and function?
We design all of our spaces to be beautiful and usable. It is important to note how each space is going to be used and select appropriate materials. Luckily there is a huge selection of stylish, yet durable, fabrics and rugs on the market that we can choose from. 
What are some things to consider when selecting furnishings and decor for a midcentury home?
We think it is important to strike a balance between pieces that are true to the time period and pieces that work with today's lifestyles. We often custom make upholstery pieces that are based on midcentury designs, but are scaled up to be more comfortable. Many vintage sofas and chairs are very diminutive in nature, which just isn't going to be comfortable for someone who is binge watching Mrs. Maisel. 
Which room was your favorite to design in the Guggenheim House?
The kitchen was the last room of the home to be completed.  We enjoyed being able to collaborate with Ferguson, Brizo, Corian, Dunn-Edwards, Semi-Handmade, Interlude Home and Style Library to bring the finishing touches to this project. 
Tickets are still available to tour the Guggenheim House. Fancy a fancy evening out? Enjoy cocktails, canapés, and tours of the home by moonlight during House of Grace III: Marvelous Mod.