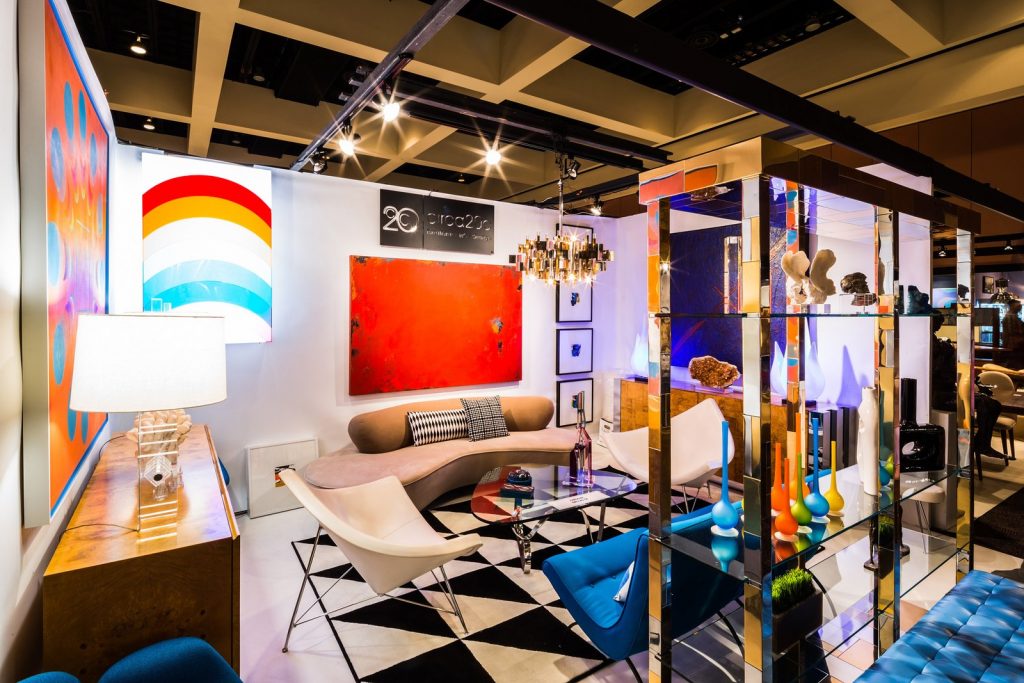 The 21st annual Palm Springs Modernism Show & Sale will take place at the Palm Springs Convention Center April 8-11, 2021. Held in conjunction with Modernism Week, the highly regarded Modernism Show & Sale will feature more than 65 premier national and international decorative and fine arts dealers with items representing all design movements of the 20th Century and select 21st century items. The Show & Sale will be once again joined by the Palm Springs Modern Design Expo, a showcase of approximately 40 dealers featuring contemporary cutting-edge home design products and technology. Weekend admission is $25 for both shows in advance and $30 at the door and includes return entry all weekend and a catalog. Show hours are Thursday – Saturday 10 a.m. – 5 p.m. and Sunday 10 a.m. – 4 p.m. Tickets may be purchased in advance at modernismweek.com. Tickets will also be available at the door. The Palm Springs Convention Center is located at 277 N. Avenida Caballeros in Palm Springs. All safety protocols and social distancing guidelines will be strictly enforced at this event. Dealers will be appropriately spaced from each other.
About the Palm Springs Modernism Show & Sale
The Show & Sale is one of the premier events of Modernism Week, an 11-day celebration of midcentury modern architecture, design, and lifestyle. It features 90 exhibitors from across North America and Europe who present vintage modern furniture, decorative and fine arts. 
Returning Modernism Show & Sale dealers include Peter Blake Gallery of Laguna Beach, Blue Heron Gallery of Fallbrook, Danish Modern Noho of Burbank, Gillian Bryce of Stone Mountain, Route 66 West of Palm Springs, Bridges Over Time of Palm Springs, Palette Contemporary of Albuquerque, 20cDesign of Dallas, and Silk Road Rugs Inc. of Los Angeles.  All dealers are subject to change.
The Modernism Show & Sale is traditionally the most well-attended event of Modernism Week. The event is produced by Dolphin Promotions, which organizes antiques, art and design shows across the nation. 
About the Palm Springs Modern Design Expo
The Palm Springs Modern Design Expo will showcase contemporary cutting-edge home design products and technology from approximately 65 exhibitors, presenting the newest and hippest elements for modern living including dynamic and energy-efficient building concepts, cutting-edge home appliances, smart home technology and security, hand-crafted furniture and design accessories, contemporary art and photography, and much more. 
Returning dealers include Amara Rugs of Torrance, Light in Art of Los Angeles, Moyà Living of Fountain Valley, Eugene Stoltzfus Harrisonburg, Pennsylvania, Carol Estes Contemporary Art of Corrales, and Les Jardins Solar of Palm Desert.
Event sponsors include Amara Rugs, Bidsquare, Bonhams, Freightforwarding.com, John Moran Auctioneers, and media sponsors Antiques & Fine Art, Atomic Ranch, California Home+Design, California Homes, Palm Springs Life, and Santa Fean.
About Dolphin Promotions
Dolphin Promotions antiques and modernism shows are among the leading venues for antiques and 20th century decorative and fine arts in North America. Established more than 30 years ago, Dolphin Promotions is owned and operated by Rosemary Krieger. With more than 30 years of industry experience, Rosemary is assisted by media director Gordon Merkle, and executive assistant Charlie Walter, both with more than 25 years of experience. The combined expertise of this team is instrumental in the success of the company and the shows they produce.