Exciting October Event Includes Early Buying Preview Reception
The 7th annual Palm Springs Modernism Show & Sale – Fall Edition, held during Modernism Week's Fall Preview, will feature two new events for attendees. Presenting Sponsor Engaged Media, LLC will offer a book signing of their newest book, "Atomic Ranch: Remodeled Marvels" and exhibitor George Billis Gallery will offer a chance to meet artist Danny Heller, whose works will be on display in the galley's booth. The Show & Sale, which runs October 15-17, will be held in Oasis 4 at the Palm Springs Convention Center, located at 277 North Avenida Caballeros in Palm Springs, California, and is a more intimate version of the annual Palm Springs Modernism Show & Sale held in February. This year, the Modernism Show & Sale will also include selected dealers that have previously participated in the Palm Springs Modern Design Expo.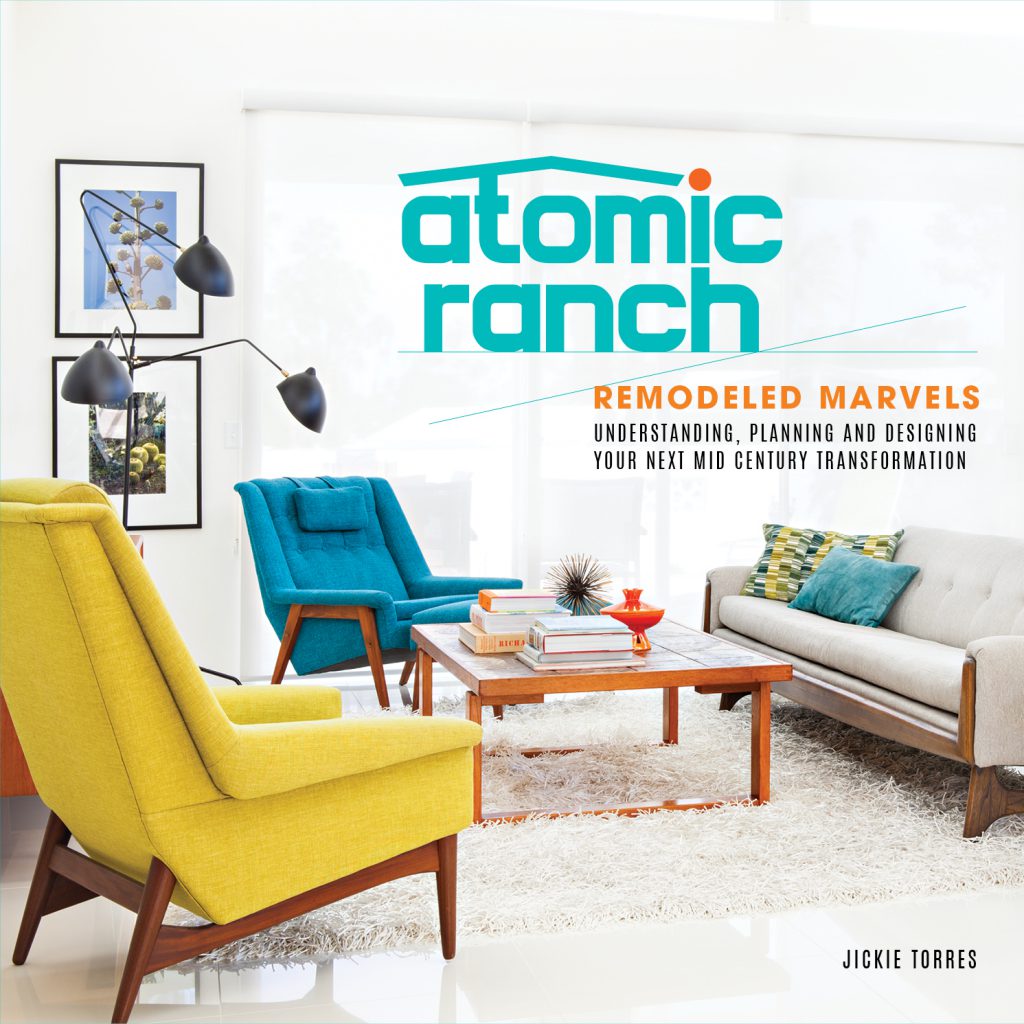 "Atomic Ranch: Remodeled Marvels"
Book signing by Jickie Torres, Editor of Atomic Ranch Magazine
Sunday, October 17, 12 p.m.
Free
Atomic Ranch Editor Jickie Torres will unveil the new Engaged Media book entitled Atomic Ranch: Remodeled Marvels geared toward people looking to upgrade or revive their midcentury diamonds in the rough. For those seeking advice how to make over their home with the midcentury modern cool that they have always envisioned, the book provides helpful advice about everything needed to know as remodelers tackle their renovation dreams, avoid project nightmares, and craft the stunning modernist gem they have always wanted. This advice, and much more, is featured in Atomic Ranch: Remodeled Marvels, a beautiful, inspiring tome that will look perfect on any classic midcentury modern coffee table. Torres will also be at the Engaged Media booth throughout the show for those unable to attend the scheduled book signing. 
About Jickie Torres
With 15 years in the publishing industry focusing on all things architecture, home and décor, Jickie is a leader in editorial design and interiors. She's guided and developed countless titles for Engaged Media, mostly specializing in historic homes, has hosted panels for Modernism Week, and she's a frequent guest on Midcentury Modern and home podcasts across the country. She's passionate about saving and preserving historic homes (especially midcentury homes) and supporting historic home communities and preservationists everywhere.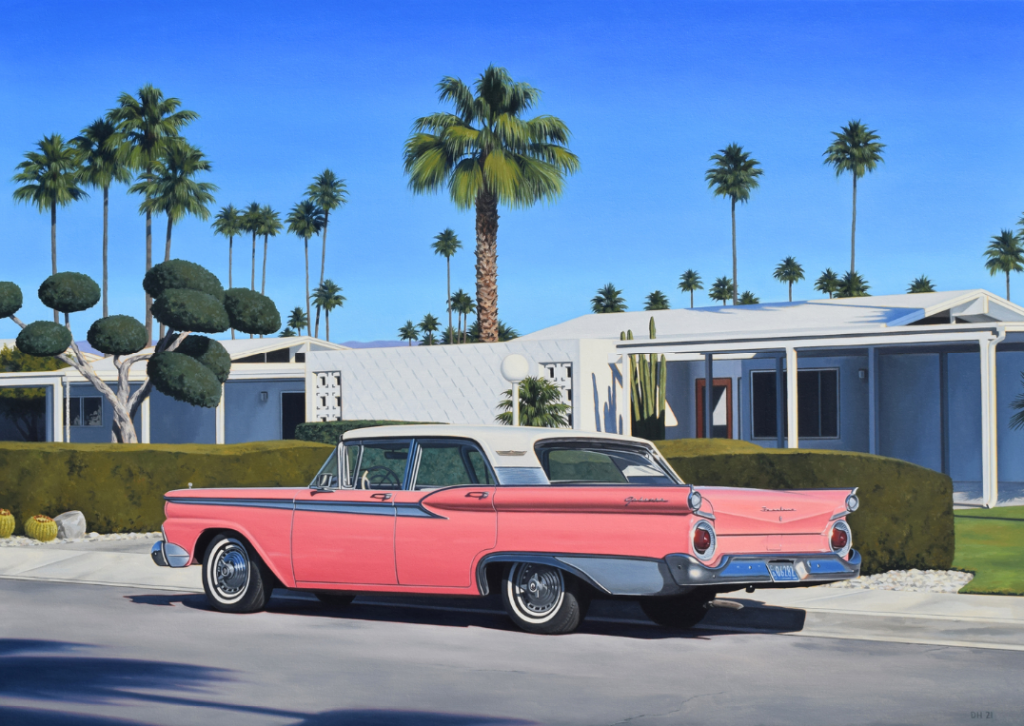 Meet The Artist: Danny Heller
Friday October 15, 6-8 p.m. during the Opening Night Party/Early Buying Preview Reception
George Billis Gallery booth, Free
Image credit: Danny Heller, Canyon View Galaxie, 2021, oil on canvas, 24×34 inches
At the 2021 Fall Edition of the Palm Springs Modernism Show & Sale, exhibitor George Billis Gallery will feature selected paintings and works on paper by artist Danny Heller. Heller, an internationally exhibited recognized master of realist oil paintings of midcentury architecture and design, is known for his work that focuses on ideas of home, community, neighborhood, and urban design. Through his paintings, he observes and documents commercial and residential architecture and its historical impact, focusing on the post WWII midcentury housing boom. This period was a time of great growth, both in population and in ideals to improve quality of life. Heller thought about those ideals often during the recent pandemic lockdowns and how those living in midcentury modern homes had the benefit of their unique designs – open, airy floor plans, an attention to nature due to atriums and interior gardens, and an emphasis on leisure and comfort with swimming pools and outdoor patios. The retrospective offered during the 2021 Fall Edition will include selected works from various series that focused Southern California locations including Palm Springs and Los Angeles, as well as his recent New York series.
Heller has always felt that the city of Palm Springs embodies these principles above and beyond any others, and so he chose to focus on this location of optimistic architecture for the latest body of work. These paintings transport the viewer to the sun-drenched landscape of swimming pools, swaying palm trees, manicured lawns, and colorful cars, not only as an escape during hard times, but also as a reminder that well-conceived architecture is timeless and has an enormous impact on our lives. During the Opening Night Party Heller will be on hand to talk about his technique and inspirations. For those unable to meet him during the preview party, Heller will also be at the George Billis Gallery booth on Saturday, October 16, from 10am-6pm.
About Danny Heller
Danny Heller received his BA in paintings from UC Santa Barbara in 2004 and has exhibited extensively throughout Southern California as well as in New York City, Denver, Chicago, Washington DC, and Boulonge-Billancourt, France.  His work has been published in CA Home + Design, American Art Collector, Southwest Art, CA Modern Magazine, Atomic Ranch Magazine, and was profiled on KCET. He currently lives and works in Desert Hot Springs, CA.
About George Billis Gallery
After establishing a successful contemporary gallery in New York in 1997, George Billis opened George Billis Gallery Los Angeles in 2004.  GBGLA shows painting, sculpture, and mixed media works and is dedicated to exhibiting emerging to mid-career artists with a focus on Southern California artists. For more information contact the gallery at 310-838-3685 or la@georgebillis.com.
---
About the Palm Springs Modern Show & Sale
The Show & Sale will include more than 45 premier national exhibitors offering vintage furniture, decorative, and fine art, representing all design movements of the 20th century and introducing 21st century contemporary design. The popular event opens Friday evening October 15 with a festive Opening Night Party and Early Buying Preview Reception. The Friday night party is the prime opportunity for attendees to shop direct from dealers before the show opens to the public on Saturday. Tickets are available in advance for $75 at palmspringsmodernism.com or at the door for $85 and include daily re-entry to the show. Weekend show hours are Saturday, October 16, from 10 a.m. – 6 p.m. and Sunday, October 17, from 10 a.m. – 4 p.m. Tickets are $20, include return entry all weekend, and may be purchased in advance at palmspringsmodernism.com or at the door. 
Show & Sale Sponsors include Presenting Sponsor Engaged Media, LLC, Amara Rugs, BIDSQUARE, and Freightforwarding.com along with Media Sponsors Atomic Ranch, California Home+Design, California Homes, Palm Springs Life, and Santa Fean Magazine.
The Palm Springs Modernism Show & Sale takes COVID precautions seriously. Proof of vaccinations will be required upon entry for the Friday night event. All Show & Sale dealers, staff, and attendees will be required to wear masks when inside the convention center and sanitization stations will be available at the entry doors. 
For more information and a list of exhibitors, please visit www.palmspringsmodernism.com or email info@dolphinfairs.com.