Tickets are still available for these Modernism Week events. Just don't wait until it's too late!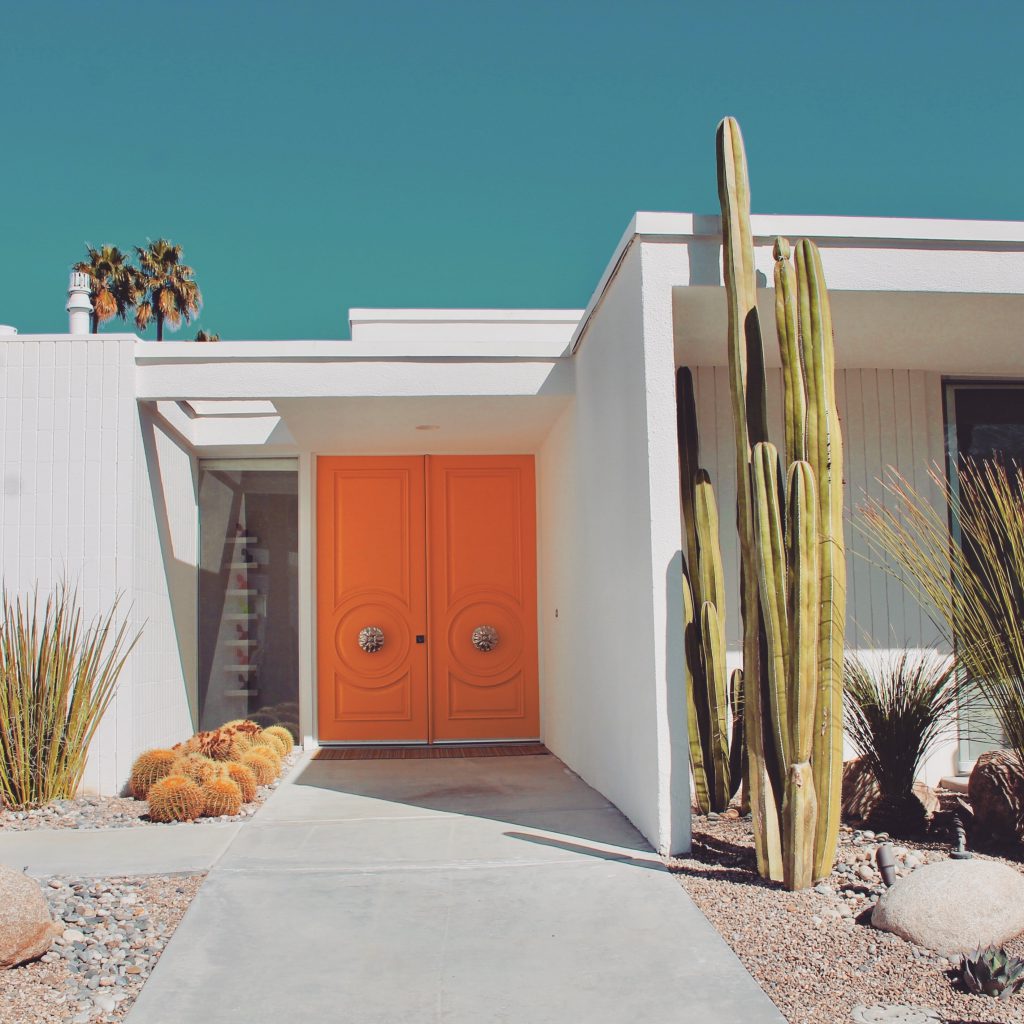 Last minute planners and spontaneous travelers, we see you. Whether you're heading to Modernism Week on a whim, or simply forgot to get your schedule in order, there are plenty of events that still have availability!
Modernism Week Featured Home Tour: Maison Bleue Moderne (2/18, 2/19, 2/20, 2/25, 2/26, and 2/27, $35)
This artfully redesigned property in the Vista las Palmas neighborhood of Palm Springs features original William Krisel architecture built by the Alexander Company in the 1950s and designed by Michelle Boudreau who seamlessly merged materials and new spaces with modern technology with existing midcentury design details. Recent renovations utilized brands such as Dunn-Edwards Paints, Ferguson Bath, Kitchen & Lighting, Hunter Douglas and Tidelli to create a poetic home that embraces the Palm Springs lifestyle.
Modernism Week Featured Design Project Tour: Limón (2/18 – 21, 2/24-27, $35)
Tour Limón, a colorful seven-bedroom private escape in South Palm Springs inspired by the optimistic era and continental graphics and style of the 1968 Mexico City Olympics. The property's recent renovations utilized brands such as Brizo, Dunn-Edwards Paints, Ferguson Bath, Kitchen and Lighting, Flor, JennAir and Willis. H3K Home+Design is excited to share this incredible one-of-a kind property.
Modernism Week Featured Home Tour: Seventies Sackley (2/18 -20, $35)
Join us for an architectural home tour in Indian Canyons to experience the seamless blend of contemporary furnishings and vintage pieces on display at the Seventies Sackley by Grace Home Furnishings. The home's recent renovations utilized brands such as Bang & Olufsen, Brizo, California Closets, Dunn-Edwards Paints, Ferguson Bath, Kitchen & Lighting, JennAir, Semihandmade, Thibaut and Willis to create a fun yet sophisticated atmosphere.
Seven Lakes Golf and Country Club Home Tour (2/21, $80)
Christened "The Gem of the Desert," Seven Lakes Golf and Country Club is revered for its distinctive midcentury designed homes, iconic Clubhouse and 18-hole executive golf course.
El Rancho Vista Estates Home Tour (2/26, $75)
Compact homes with brightly colored doorways, striking desert landscaping and breeze-block carports transport you to sunny California of yesteryear.
The Lautner Compound Tour (2/18 – 20, $50)
Don't miss the chance to tour famed American architect John Lautner's 1947 residential fourplex formerly known as Hotel Lautner. The owners have reintroduced this award-winning property as The Lautner Compound featuring a collection of 3 boutique properties masterfully restored and designed.
Forgotten Frey: Albert Frey's Cree House (2/17 – 27, $45)
This meticulously preserved 1955 hillside home, one of the two most intact residences designed by architect Albert Frey, was largely forgotten and never seen by the public. The home has been lovingly restored and features strong, jutting balconies with corrugated fiberglass railings, asbestos exterior walls, industrial materials and thin roof overhangs. It is a fascinating study in siting.
Frey House II Tour + Museum Day Passes (2/17 – 27, $75)
Hosted by the Palm Springs Art Museum, these 30-minute self-guided tours are a rare opportunity to see the residence of modernist architect, Albert Frey. As a bonus, tour attendees may also use their tour ticket for free admission to both the Palm Springs Art Museum and the Architecture & Design Center.
Walking Tours of Palm Springs
The Palm Springs Historical Society has increased capacity for their series of fascinating walking tours of Palm Springs. See modernismweek.com for individual tour information.
Palm Springs Modernism Show & Sale/Modern Design Expo 2/19 – 21, $30)
The 21st annual Palm Springs Modernism Show & Sale features 90 premier exhibitors from across the U.S. and Europe presenting and offering for sale rare and beautiful vintage furniture, lighting, sculpture, paintings, silver, jewelry, ceramics, art glass, rugs, prints, photography, posters, vintage clothing and accessories reflecting all design movements of the 20th century and especially highlighting midcentury modern design. The show runs concurrently with the 4th annual Palm Springs Modern Design Expo inside of the Palm Springs Convention Center and ONE TICKET is good for admission to both shows. Admission includes show catalog and valet parking will be offered at the front of the convention center on Saturday and Sunday in addition to self-parking.
2022 Modernism Week Vintage Trailer Show (2/26 – 27, $25)
This is one of the most celebrated and exciting events of Modernism Week's second weekend and This year's show promises to be bigger and better than ever! This thoughtfully curated collection of vintage trailers, campers, buses and motor homes is arguably one of the largest and most attended vintage trailer shows in the United States.
"A Night at the Chi-Chi" (2/18 – 26, $165)
PS UNDERGROUND returns to Modernism Week with "Chi-Chi" – an homage to the fabled midcentury Chi-Chi Club. Guests will enjoy a specially created four-course dining adventure. Many of the performance dates now have added capacity.
"A Design Revolution: The Harvard 5 in New Canaan" (2/22, $15)
To five Harvard School of Design alumni, New Canaan, CT was the perfect environment to experiment with design and architecture based on the ideals, ingenuity, and intellect of the Bauhaus.
Alan Hess on Organic Modern Master Architect Kendrick Kellogg (2/19, $15)
Kendrick Kellogg is arguably one of the most significant organic modern master architects of the midcentury and today. Alan Hess presents a glimpse into a fresh subject for Modernism Week.
"Monday With Marcel Breuer" (2/21, $20)
Spend an afternoon learning about prolific designer Marcel Breuer with a ticket package that provides access to all three events for only $20. The three events are:
1 PM: Breuer's Brutalist masterpiece, the Armstrong Rubber Company Building (aka Pirelli Building), was transformed into Hotel Marcel as a model for sustainable hospitality.
3 PM: This talk surveys Breuer's work in the suburbs of NYC, Connecticut and Massachusetts, 1950s-70s.
4:30 PM: This feature-length documentary surveys the private homes designed by Breuer for his most politically progressive clients and friends between the 1950s and 1970s.
Edith Farnsworth House – Clearly Original (2/23, $15)
The Edith Farnsworth House, a masterpiece of residential architecture, has rebranded and refocused on a broader mission and vision that embraces Midcentury Modern design, design history, and nature.
Jones Studio Houses: Sensual Modernism (2/22, $15)
From the start, Jones Studio has created unique and memorable architecture that is a direct expression of the values and culture of those who occupy it and of the community in which it stands.
Little Island – An Invitation to Dream in New York City (2/20, $15)
Have you heard? Manhattan recently grew by 2.4 acres. Rising above NYC's Hudson River where a derelict pier once stood, Little Island is making headlines and receiving accolades from around the world.
Sister Corita – with love to the everyday miracle (2/23, $15)
Sister Corita was an artist and advocate for social justice whose work reflects the ascendancy of pop art, the spiritual renewal of the Second Vatican Council, and the political activism of the 1960s.
A Very Cool Shag Experience with Josh Agle (2/20, $18)
This is the rare opportunity to get to know designer Josh Agle (Shag) better, hear how he developed an inimitable style recognized worldwide, and just how much he really, really loves what he does. For his fans coming to his presentation, Josh will have a gift for all in attendance.
Selection: Art, Architecture and Design from the Collection of Ronnie Sassoon (2/21, $15)
A personal visit with Ronnie Sassoon to her three important modernist homes – a Neutra in L.A., a Breuer in Connecticut, a Soho/NYC loft, and the unparalleled art and design collections they hold.
Vera – The Art and Life of an Icon, with Susan Seid and Trina Turk (2/24, $20)
Vera is a celebration of the lifework of famed artist, tastemaker, entrepreneur, and American fashion industry icon Vera Neumann. Susan Seid and Trina Turk discuss her legacy.
This event will also be live streamed for $10 for those unable to attend the presentation.
Case Study House #26 at 60 (2/25, $12)
The owners of Case Study House #26 (1962) talk about Beverley Thorne's design, about living and maintaining the home, and their plans on how to commemorate its 60th anniversary later this year.
Sandfuture (2/21, $12)
Artist and writer Justin Beal will discuss his book Sandfuture about the life of World Trade Center architect Minoru Yamasaki and the enormous influence of his work on American architecture.
---
Visit modernismweek.com for the full schedule of available events.
---