Modernism Week Offers Many Free and Low-Cost Events and Activities
With just over a week to go until Modernism Week (February 17-27, 2022), there are plenty of ways to experience the annual celebration of midcentury modern architecture, design, culture, and more in Palm Springs without breaking the bank. Read on for our budget-friendly guide to the top free and low-cost events you can enjoy!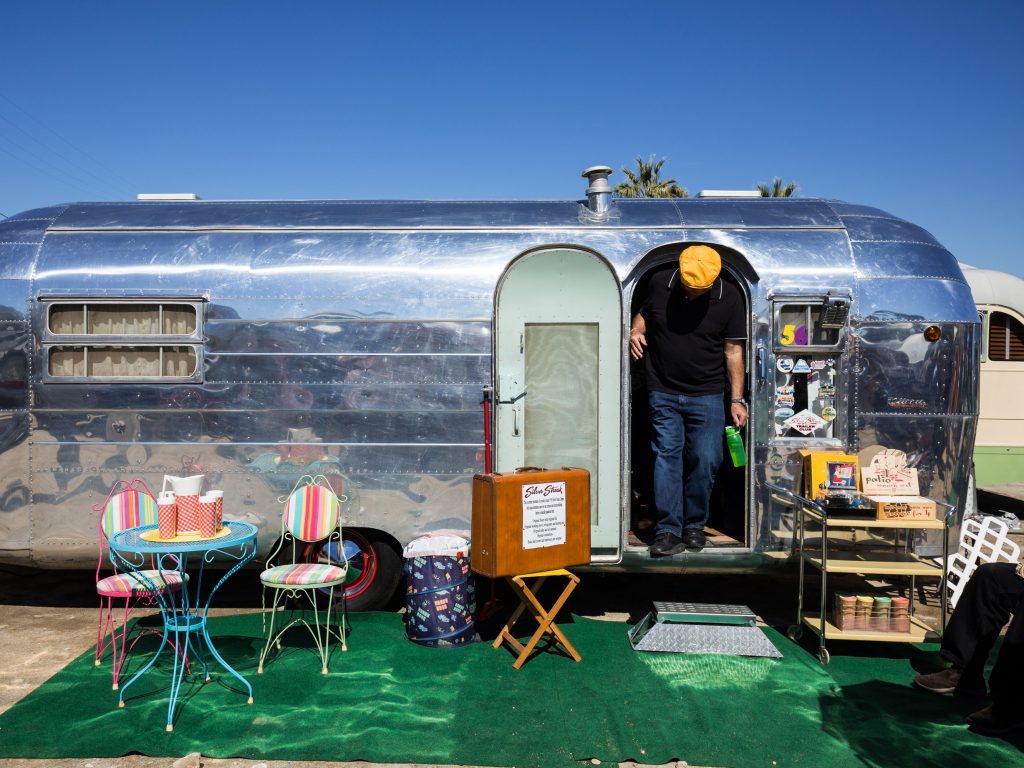 Low-Cost Events
Palm Springs Modernism Show & Modern Design Expo (2/19 – 21, $30)
The 21st annual Palm Springs Modernism Show features 90 premier exhibitors from across the U.S. and Europe presenting and offering for sale rare and beautiful vintage furniture, lighting, sculpture, paintings, silver, jewelry, ceramics, art glass, rugs, prints, photography, posters, vintage clothing and accessories reflecting all design movements of the 20th century and especially highlighting midcentury modern design. The show runs concurrently with the 4th annual Palm Springs Modern Design Expo at the Palm Springs Convention Center and one ticket is good for admission to both shows. Admission includes show catalog and valet parking will be offered on Saturday and Sunday in addition to self-parking.
2022 Modernism Week Vintage Trailer Show (2/26 – 27, $25)
This is one of the most celebrated and exciting events of Modernism Week's second weekend and this year's show promises to be bigger and better than ever. This thoughtfully curated collection of vintage trailers, campers, buses and motor homes is arguably one of the largest and most attended vintage trailer shows in the United States.
"Monday With Marcel Breuer" (2/21, $20)
Spend a Monday afternoon with Marcel Breuer, a prolific designer of residential architecture. Experience two compelling presentations and a feature length documentary with one ticket. A must for all Breuer enthusiasts.
Stories Untold: Black Modernists in Southern California (2/21, $15)
Black designers, builders and developers helped shape Palm Springs and Southern California for over a century. Modernism Week hosts a three-part symposium on this legacy.
Vera – The Art and Life of an Icon, with Susan Seid and Trina Turk (2/24, $20)
A celebration of the lifework of famed artist, tastemaker, entrepreneur, and American fashion industry icon Vera Neumann. Susan Seid and Trina Turk discuss her legacy.
As I Knew Him: My Dad, Rod Serling (2/22, $20)
Rod Serling is best known for The Twilight Zone, but life-lessons he taught his daughters are no less profound. Anne Serling provides new context and fresh appreciation of her father's work.
The Jack, King & Queen of SHAPE: Ben Seibel, Russel Wright and Eva Zeisel: An Exhibit of Rare Dinnerware (2/18-2/21 and 2/24-2/26, $10)
Modern tablescapes of the 30s, 40s and 50s were mainly dominated by designers Ben Seibel, Russel Wright, and Eva Zeisel. See examples of their designs, including whole lines and rare patterns (view exhibit between 10 AM and 4 PM).
A Very Cool Shag Experience with Josh Agle (2/20, $18)
This is a rare opportunity to get to know the prolific artist Josh better and hear how he developed an inimitable style recognized worldwide. Josh will have a gift for all in attendance.
Curated Vintage Event (2/26, $10)
Retailers and private dealers will showcase their finest vintage apparel, luxury items, textiles, jewelry, and accessories in one venue at Temple Isaiah. If fashion is your passion, this event is not to be missed.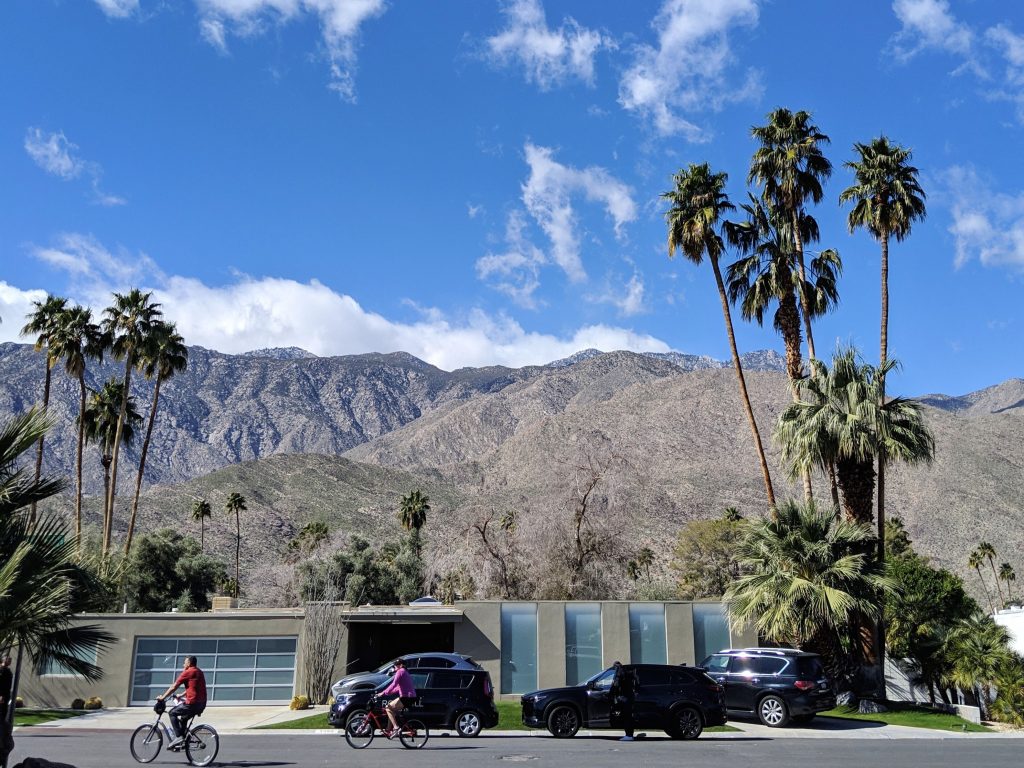 Free Events
Modernism Week's CAMP ("Community And Meeting Place") will provide a central hub for Modernism Week. For the first time, CAMP will be located in the spacious atrium lobby of the Hyatt Palm Springs hotel, located at 285 North Palm Canyon Drive in the heart of downtown Palm Springs. CAMP will include an information desk, a box office, a shop by Modernism Week's merchandise and branding partner Destination PSP, a theater, and many interactive sponsor booths, including Ferguson Bath, Kitchen & Lighting Gallery, JennAir, Brizo, Willis, Dunn-Edwards, Mirai (Toyota), Tidelli and FLOR. Entrance into CAMP is free and open to the public daily starting February 18 from 9 a.m. to 6 p.m.
Hot Purple Energy Architectural Bike Ride – (South end on 2/19, North end on 2/26, Free)
Participate in a bike ride excursion highlighting architecturally significant homes in Palm Springs neighborhoods.
Modernism Week Vintage Car Show (2/21, free)
More than 50 vintage cars from the 1950s, 60s, 70s, and 80s will be on display at this free event.
Modernism Yard Sale (2/27, free)
Brought to you by Modern Bear and hosted by H3K Home+Design, this annual vintage sale has become one of Modernism Week's most popular free events.
Lost, Saved & Endangered: Modernist Architecture in Palm Springs (2/23, free)
Palm Springs Preservation Foundation board president Gary Johns will present a popular and entertaining slide lecture, replete with amusing anecdotes and rarely seen vintage photos.
The Architecture of Desert Leisure (2/23, free)
Palm Springs Preservation Foundation board member Erik Rosenow will chronicle how modernist architects brought the leisure lifestyle to Palm Springs' middle class.
Home Movie Day, Palm Springs (2/19, free)
Bring your home movies (8mm, Super 8, 16mm) and experts will inspect, repair, and screen them in a fun, participatory setting. Fun for the entire family and you don't need to bring films to enjoy.
Free Screenings at CAMP Theater
On Sunday, February 27 the theater at CAMP will showcase several free events, including a free film and screenings of previously recorded Modernism Week presentations, including:
"The Desert Modernists Video Series with Alan Hess" – Alan Hess will give three brief, capsule presentations on a select group of the most revered desert modern architects from the midcentury period
"Quiet Elegance: The Architecture of Hugh M. Kaptur" – Hugh Kaptur's architecture for more than 50 is celebrated in this film created by ThisnThat Films
"Poolside Gossip: More Than a Photograph" – a delightful recording of a special conversation between Nelda Linsk, who appeared in the iconic Slim Aarons "Poolside Gossip" photograph, and Modernism Week Board Member and historian, Gary Johns
---