Modernism Week and Ferguson Bath, Kitchen & Lighting Gallery, the largest U.S. distributor of residential and commercial plumbing supplies, announced that the company will be Modernism Week's Exclusive Kitchen & Bath Sponsor for a eighth consecutive year and the largest 2022 corporate sponsor. Modernism Week is an annual festival celebrating midcentury modern design, architecture, art and culture with more than 350 events, including tours, films, lectures, parties and exhibitions. It will take place in Palm Springs, California February 17 through 27, 2022.
As in previous years, Ferguson's sponsorship will be represented in a variety of Modernism Week venues and events as detailed below.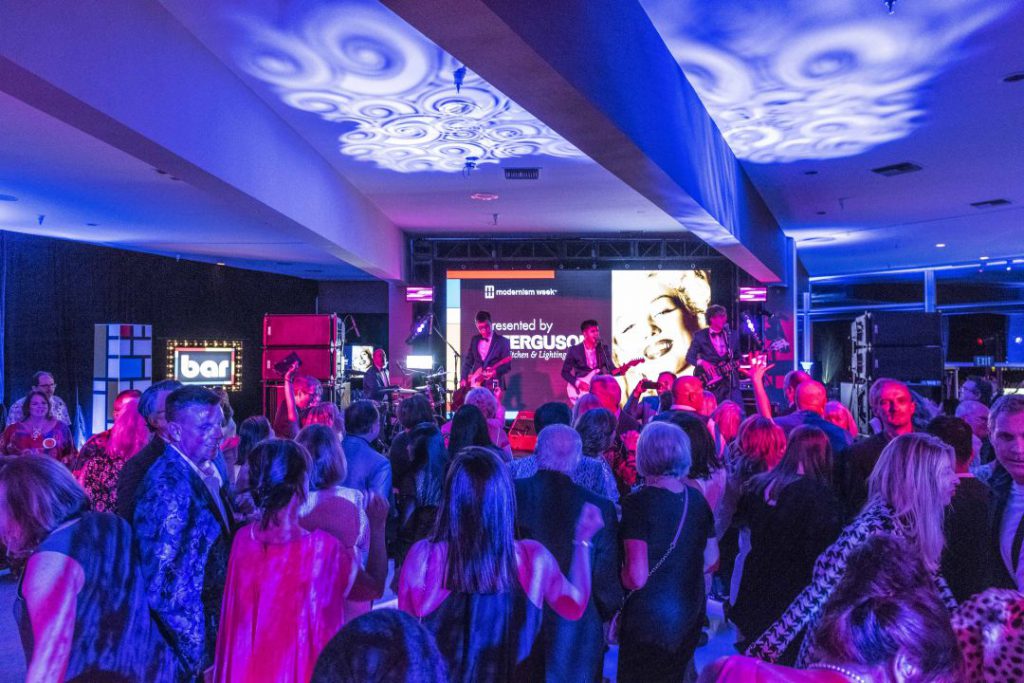 Opening Night Party Presenting Sponsor
One of the highlights of the 11-day event is the annual Modernism Week Opening Night Party on Thursday, Feb. 17, presented by Ferguson. Guests will celebrate the epic February 2022 return of Modernism Week with a retro love-in that will have them dancing and partying throughout the night. This star-spangled night will be groovy and full of 1970's glam with decadent libations and culinary creations to excite and delight at an iconic midcentury modern golf course clubhouse designed by Donald Wexler and Richard Harrison in 1961. Dress is festive and vintage wear or costumes are encouraged.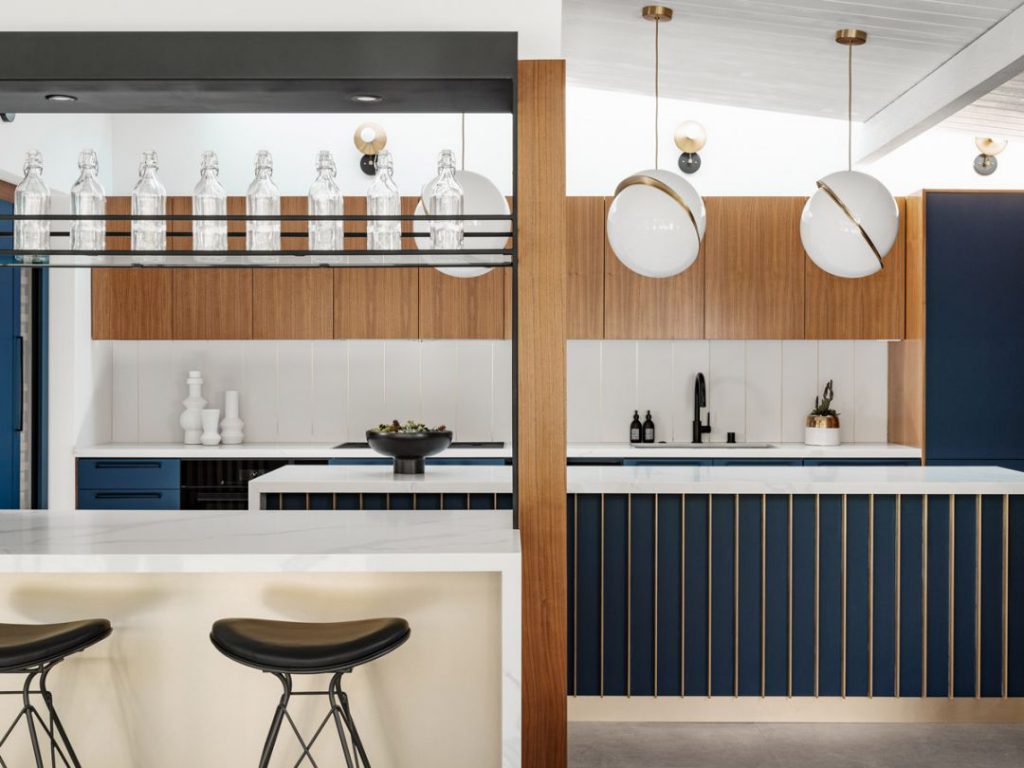 Participation in Home Tours
Ferguson has once again partnered with leading designers to provide a curated selection of new and innovative products for the kitchen and bath in homes available for tours during Modernism Week. These include the Modernism Week Featured Homes Maison Bleue Moderne and Seventies Sackley, and Limón, the Modernism Week Featured Design Project.
Modernism Week Featured Home Tour: Maison Bleue Moderne
This artfully redesigned property in the Vista las Palmas neighborhood of Palm Springs was designed in the 1950s by renown architect William Krisel and built by the famous Alexander Company. Inspired by the owners' colorful personalities and passion for sailing and travel, designer Michelle Boudreau seamlessly merged materials and new spaces with modern technology while respecting the existing midcentury cherished design details. Aquatic colors and touches of coral and blush along with walnut wood add warmth and softness while round shapes recur as a theme. Modernism Week sponsors Ferguson Bath, Kitchen and Lighting and Brizo contributed to this project.
Modernism Week Featured Home Tour: Seventies Sackley
This architectural home tour in the Indian Canyons neighborhood will allow participants to experience a seamless blend of contemporary furnishings and vintage pieces on display at this stunning 1975 Palm Springs residence designed by noted architect Stan Sackley and offered by Grace Home Furnishings.
Modernism Week Featured Design Project Tour: Limón
Originally built as an apartment house in 1964, Limón is a colorful seven-bedroom private escape in South Palm Springs. Limón is one of the most unique buildings in Palm Springs as it is an all-steel structure. Touring guests will be inspired by the recent renovations by H3K Home+Design, who transformed the property into a holiday landing place that can accommodate 14 guests in separate suites, all surrounding a gleaming swimming pool. The large communal kitchen is fit for a coterie of chefs and outfitted with state-of-the-art appliances. Its international décor was inspired by the optimistic era and continental graphics and style of the 1968 Mexico City Olympics. Modernism Week sponsors Ferguson Bath, Kitchen and Lighting, Brizo, and JennAir generously contributed to this project.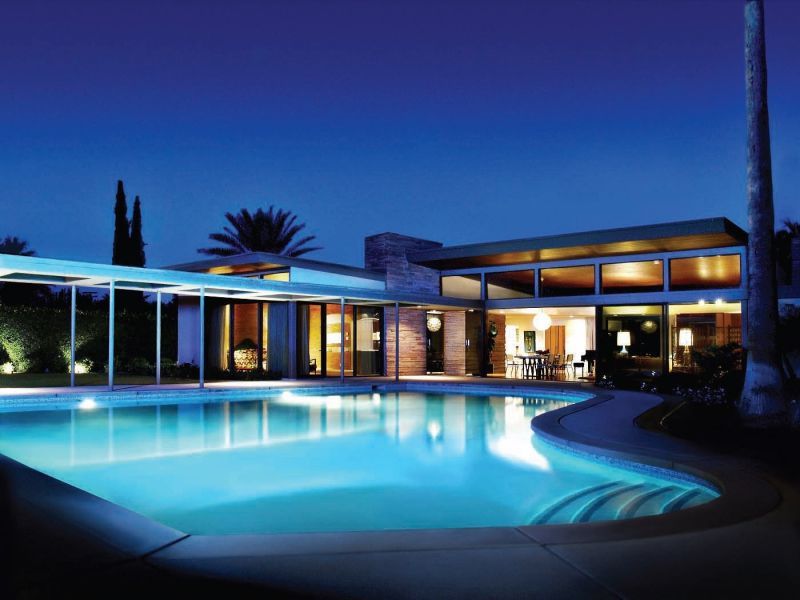 Saturday Night at the Sinatra Estate Sponsorship
Ferguson, JennAir, and Brizo are the official sponsors of the sold-out Saturday Night at the Sinatra Estate party. Guests at this swellegant soiree will experience a taste of the good life at Frank Sinatra's Twin Palms Estate. They will enjoy private access for the evening to the beautiful estate that Frank Sinatra called home in Palm Springs. Sinatra's stunning 1947 residence designed by Desert Modernist architect E. Stewart Williams will be the backdrop for a magnificent party where the tastes, sounds and sights will take them back to midcentury Palm Springs. 
Ferguson at CAMP
Ferguson will have a presence again this year at CAMP, the festival's headquarters for tours and events. This year CAMP will be in the lobby of the Downtown Hyatt located at 285 N Palm Canyon Drive. In the Ferguson space in CAMP, partner brands including JennAir, Brizo and Signature Hardware will be on display. Ferguson Bath, Kitchen & Lighting Gallery will feature a spirited display of form-forward designs from co-sponsors JennAir®, Brizo and Signature Hardware ranging from distinctive luxury kitchen appliances to cabinet hardware, fixtures, and indoor lighting. Modernism Week attendees visiting CAMP will experience the architecture inspired Frank Lloyd Wright Collection, Litze ® and Odin faucet collections by Brizo® as well as Park Harbor pendants lighting and stunning minimalist faucet designs including Signature Hardware's BOK Collection. With two distinct Design Expressions — RISE™ and NOIR™ —JennAir® , the brand that pushes form and function to transform spaces, will feature custom cooktops with expansive black glass and hidden lace textures.
---
About Ferguson
Ferguson (www.ferguson.com) is the largest wholesale distributor of residential and commercial plumbing supplies and pipe, valves and fittings in the U.S. The company is also a major distributor of HVAC equipment, fire protection systems, waterworks and industrial products and services. Founded in 1953 and headquartered in Newport News, Va., Ferguson has sales of $15 billion and approximately 24,000 associates in 1,400 locations. Ferguson and its subsidiaries serve customers in all 50 states, Puerto Rico, Mexico and the Caribbean. Ferguson is part of Ferguson plc (www.fergusonplc.com), which is listed on the London Stock Exchange (LSE: FERG) and on the FTSE 100 index of listed companies.
---