Event Features Tours, Educational Programs, and Parties that Celebrate Midcentury Modern Architecture and Design in Palm Springs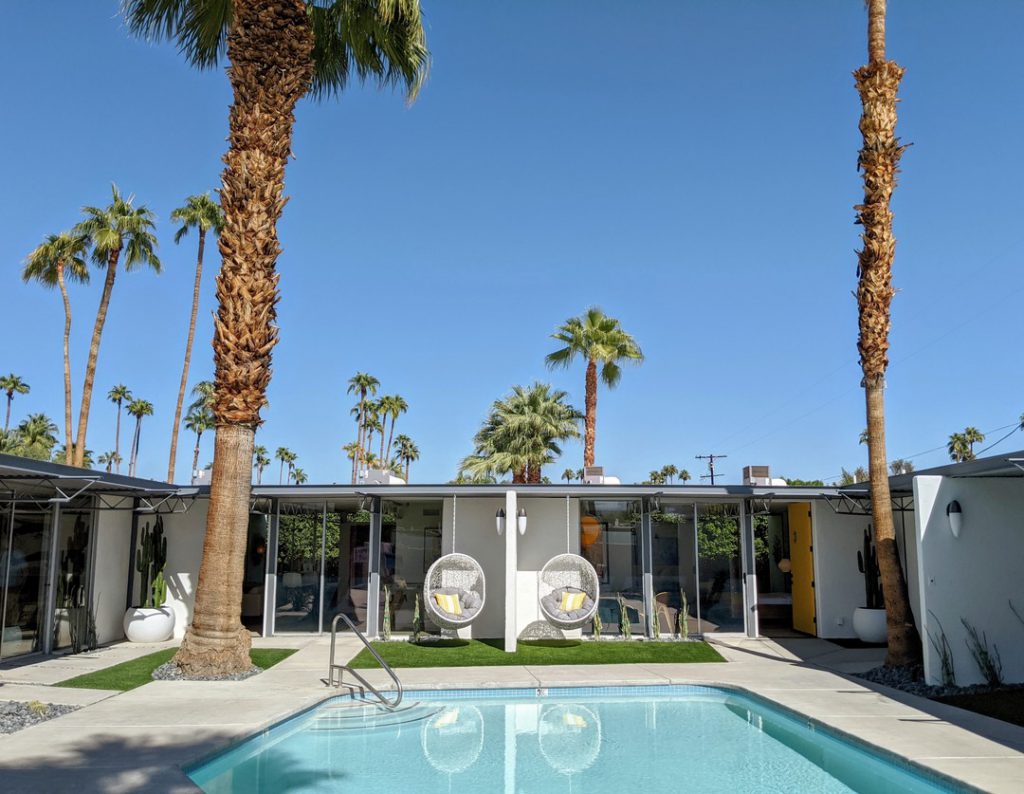 Modernism Week's signature February festival will take place February 17 – 27, 2022, highlighting midcentury modern architecture, art, interior and landscape design, and vintage culture in the Palm Springs area of Southern California. The popular annual 11-day festival will feature hundreds of events including the Palm Springs Modernism Show & Sale, tours of iconic homes in more than 25 neighborhoods, walking tours, and nightly parties. Also offered are architectural double-decker bus tours, tours of the historic Annenberg Estate at Sunnylands, a classic car show, landscape talks and garden tours, fashion-related events, walking and biking tours, and a series of compelling and informative talks with world-class speakers, including the Keynote Presentation by Jeanne Gang, FAIA.
All events are open to the public and tickets go on sale November 1, 2021 at 12 p.m. PST at modernismweek.com. The event schedule may be previewed on the website in advance starting October 22, 2021. A portion of ticket proceeds benefit Modernism Week (a non-profit organization) and other local preservation, neighborhood, and community groups. As additional events are finalized, they will be added to the website on the first of each month. Some events sell out quickly due to limited capacity.
WHAT'S NEW IN 2022
Keynote Presentation: Jeanne Gang, FAIA, 'Making Architecture' (2/19, $45/$65)
Modernism Week's 2022 keynote speaker will be Jeanne Gang, FAIA, the founding principal of Studio Gang, an international architecture and urban design practice based in Chicago, New York, San Francisco, and Paris. Founded in 1997, Gang's firm has matured into a global powerhouse, with projects around the world including Chicago's Aqua Tower, which earned Gang worldwide recognition. Her 101-story St. Regis tower in Chicago (2021) is the world's tallest building designed by a woman. A book signing follows the presentation and an elegant reception with limited ticket availability will follow the signing in the sculpture garden of the Palm Springs Art Museum.
Golf Par-Tee and Tournament at Seven Lakes Golf & Country Club (2/27, $175 (Golf + After-party), $55 (After-party only))
For the first time, Modernism Week will feature a Golf Tournament during the second weekend of the festival. This fun-spirited 18-hole afternoon scramble will be held at Seven Lakes Golf and Country Club where participants will enjoy playing an executive course lined with architecturally significant homes designed by Richard Harrison set against the stunning backdrop of Mt. San Jacinto. After playing, players and guests will enjoy hors d'oeuvres and a hosted martini bar at the chic William Cody-designed clubhouse.
Modernism Week Showcase Home Tour: Casa Tierra (2/18,19, 20, 21, 24, 25, 26, 27; 12-4 p.m. $65)
Bobby Berk, interior designer, reality television personality, and author will open his latest project, an idyllic desert modern escape, for the first-time during Modernism Week. This hidden gem of an estate in Palm Desert offers the perfect oasis to get away from it all, and yet is just minutes away from Palm Springs. With more than 5,000 square feet of living space, this unique Spanish-style property has been transformed into a world-class destination, with modern touches and an emphasis of Bobby Berk's unique design style throughout. The design scheme reflects the colors and textures of the desert landscape, and seamlessly integrates with the outdoors and breathtaking hillside setting. Home Tour guests will be shuttled to the property from a nearby location due to private roads.
CAMP at the Hyatt Hotel in Downtown Palm Springs
Modernism Week's CAMP ("Community And Meeting Place") will provide a central activity hub that is free and open to the public during Modernism Week from February 18 – 27 at the Hyatt Hotel on Palm Canyon in downtown Palm Springs. This new location for CAMP will include an information desk, box office, the Modernism Week merchandise store by Destination PSP, a theater, and activations by Modernism Week sponsors Ferguson Bath, Kitchen & Lighting Gallery, Brizo, JennAir, Dunn-Edwards, Willis, and Toyota Mirai. CAMP will be open daily from 9 a.m. to 6 p.m. with free entry. Free parking is available in the nearby underground parking structure.
Celebrate Black History Month with "Stories Untold: Black Modernists in Southern California" (2/21, $15)
Black designers, builders and developers helped shape Palm Springs and Southern California for more than a century. This year, Modernism Week will honor these trailblazers during a three-part symposium on their legacy. In Part One, "Black History of Palm Springs," panel participants Tyrone Beason (reporter for the Los Angeles Times), and Jarvis Crawford and Dieter Crawford (leaders of Palm Springs Black History Committee) will share stories about historic Palm Springs landmarks. In Part Two, "Circle of Paul R. Williams," Gail Kennard (daughter of Robert Kennard) will discuss the role Paul R. Williams played in inspiring other Black designers (including Kennard, James Garrott, Ralph Vaughn, and Arthur Silvers) to launch careers in Los Angeles. In Part Three, "Destination Crenshaw," Drake Dillard of Perkins & Will will present a proposed 1.3-mile open air art gallery and park that will run alongside the light rail line in Los Angeles' Crenshaw District. Generous support for this event has been provided by Room & Board.
SIGNATURE HOME TOUR (2/20 and 2/27, $135)
Palm Springs has always been a haven for architects and residents who have been attracted to the unique qualities of the desert landscape and lifestyle. This self-driven home tour is held on two Sundays and offered in morning or afternoon segments. It will take visitors inside a myriad of iconic architectural homes by some of the area's most noted architects. The tour will explore different neighborhoods and will feature a variety of architectural styles, which includes midcentury modern, desert contemporary, and "New-Century" modern. A keepsake tour program and map will be included.
---
Learn more about other Modernism Week 2022 highlights:
---
Modernism Week will be held in Palm Springs next February 17-27, 2022.
Preview the full schedule at modernismweek.com on October 22, 2021 at noon PDT.
Tickets will officially go on sale on November 1, 2021 at noon PDT.