Archi-nerds, unite. If you love midcentury modern design and architecture, don't miss these Fall Preview events!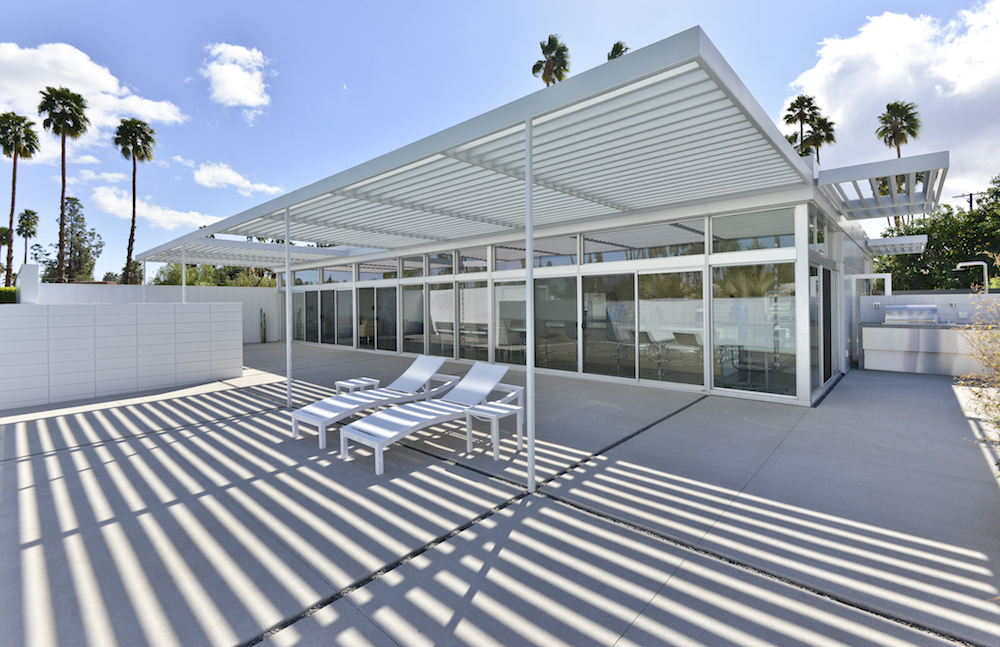 Palm Springs is a midcentury mecca overflowing with some of the most impressive examples of modernist design and architecture. We're proud to feature tours, parties, lectures, and more celebrating the work of Desert Modernists and designers during Fall Preview. If you don't know where to start, check out our Top 10 list of architecture & design events you can still get tickets to (listed in order of event time, since we couldn't possibly pick a favorite!).
1. Premier Double Decker Bus Tours | October 21-23, 2016 | Times vary | $85
This signature Modernism Week event is an annual favorite with good reason! The top of the double decker bus offers the best view in town of architectural gems like William Krisel's House of Tomorrow, Richard Neutra's Kaufmann Desert House, Sinatra's "Twin Palms" estate by E. Stewart Williams, and more.
2. Palm Springs Historical Society Tours | October 21-23, 2016 | Times vary | $35
Explore the Heart of the City, walk among the Icons of Fashion and Finance, and discover the modernist homes of Vista Las Palmas – also known as the Rat Pack Playground – in a series of curated tours featuring the most stunning midcentury modern structures in the city.
3. Afternoon with Hugh Kaptur | October 21, 2016 | 1:00 pm – 3:00 pm | Free
Meet legendary architect Hugh M. Kaptur, AIA – Desert Modernist visionary and architectural contemporary of William Cody, William Krisel and E. Stewart Williams – during an afternoon soiree at the Modernism Week Shop at Destination PSP.
4. Modernism Show & Sale Early Buying Preview Reception | October 21, 2016 | 6:00 pm – 8:00 pm | $50
The festive Opening Night Party for Modernism Week Fall Preview will treat fellow collectors and design enthusiasts to an exclusive sneak peak of the Modernism Show & Sale before it opens to the general public!
5. Frank Sinatra's Twin Palms Tour | October 21, 2016 | Times vary | $40
Join the Palm Springs Preservation Foundation (PSPF) for a tour of Frank Sinatra's beautiful "Twin Palms" estate, designed by modernist architect E. Stewart Williams in 1947. Can't get enough of Williams' designs? Don't miss the party celebrating his legendary structures on October 22 (click here for tickets).
6. Modernism Week Fall Preview Bike Ride | October 22, 2016 | 10:00 am – 1:00 pm | Free
If cars and buses aren't your speed, slow it down with Hot Purple Energy's annual midcentury bike ride. Pick up a course map and commemorative Bike Ride t-shirt (first come, first served) to enjoy an architectural tour of Palm Springs neighborhoods.
7. A Meta-Modern Mashup | October 22, 2016 | 5:30 pm – 6:30 pm | Free
Join Brooke Hodge, Palm Springs Art Museum's new Director of Architecture and Design, in a special look at artists who are appropriating modernist design icons to create entirely new and evocative pieces, altering the meaning and our perception of the original.
8. Pads, Pools & Patios | October 22, 2016 | Times vary | $65
Sleek lines, modern landscaping, and crystal blue pools abound on this self-guided tour. See the distinctive aesthetics of residential Palm Springs up close and step inside at least six different homes to see today's captivating interpretations of desert modernism.
9. Christopher Kennedy's Palm Springs Pad | October 22-23, 2016 | Times vary | $20
Get ready for a hefty dose of design inspiration as designer Christopher Kennedy, ATG Stores, Ferguson, and other industry leaders combine midcentury aesthetics with this latest technology in this Palm Springs Pad.
10. Experience Indian Wells: Architecture, Art, Brunch, Lecture and Private Residence Tour | October 23, 2016 | 9:45 am – 1:00 pm | $75
Explore the award-winning Indian Wells Golf Resort (IWGR) and its art collection, enjoy a sumptuous champagne brunch, and step inside a private residence designed by O'Donnell, Martin Bruner, and Korab Radoni, o2 Architecture on this unique tour.
Photo credit: David A. Lee Photography