Modernism Week officially begins today! Download the Official Program Guide here, and score an Official 2021 Modernism Week Commemorative poster by the artist Shag, available at Destination PSP.
---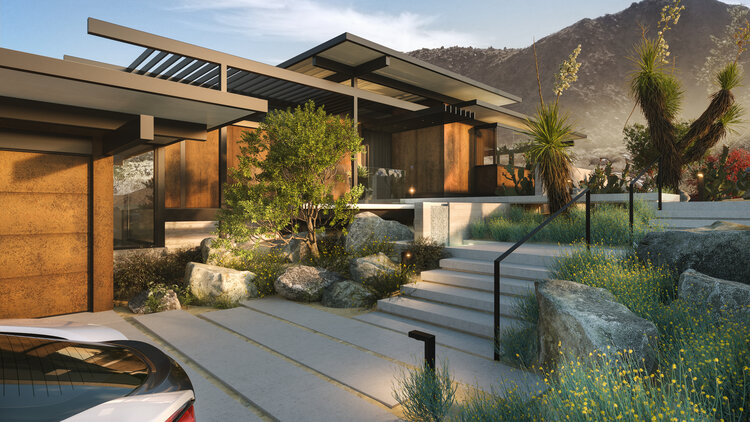 We're kicking things off with a special tour of two homes by two esteemed architects. Discover Raymond Kappe's last project as well as architect Sean Lockyer's newly completed Desert Palisades project during Desert Modernism: Two Perspectives. Two Home Tours – Kappe and Lockyer.
Raymond Kappe, FAIA, was an internationally recognized architect, urban planner and educator. His body of work spanning from 1953 to present is considered to be an extension of the early Southern California master architects Frank Lloyd Wright, Rudolph Schindler, and Richard Neutra. Kappe's residential architecture has been characterized as 'the apotheosis of the California House.' The completion of this home in 2021 will undoubtedly realize one of the most significant architectural events to happen in Palm Springs in several decades. The home will be furnished by Modern Hacienda in partnership with Herman Miller and Carl Hansen & Son.
Desert Palisades Lot 50 designed by Sean Lockyer brings to life the simple beauty of the desert while taking advantage of the vista. At once it is an elegant retreat and a nod to the modernist masters. As the founding principal and lead architect for Studio AR&D Architects, Lockyer's choice for the direction of the firm has always been one that speaks to the craft and alliance between both architecture and the landscape.
Click here to purchase tickets for today's tours, and follow along for daily highlights during Modernism Week, April 8-18, 2021.
---
Upcoming Highlights:
---