Here at M we like to dig down and meet the makers, the real people behind the pretty objects. We ask independent makers, artists, and multi-hyphenate creators about their life, work, and get them to dish about a little bit more. We sat down with LAUN co-founder Molly Purnell, who oversees the firm's object-line.
Please share a little bit about LAUN and how you two got together.
LAUN is a collaborative architecture, interiors and furniture design studio founded by myself and Rachel Bullock that brings together our backgrounds in woodworking, metal working and architecture to build a practice of enduring spaces and products. I oversee the object-line which harnesses the unique talents of Los Angeles-based manufacturers, while Rachel leads the architecture and interiors branch of LAUN where curiosity and exploration are the founding design tenets.
We met while studying architecture at the University of Texas at Austin. Initially, we worked for other design firms; Rachel was in New York, while I was in LA. We always remained friends and knew there was a gap in the marketplace for the type of expressive, sculptural, heirloom-quality indoor/outdoor furniture that we wanted to make.
We spent over a year meeting on nights and weekends to design and prototype the first pieces. Rachel and I had a shared love of woodworking but ultimately decided to focus on metal when we started the studio. There was a fantastic community welding shop in LA where we both took classes until we felt confident enough to start the prototyping process for our initial pieces. There is something very appealing about the scale of furniture and the hands-on creative process that complements our architectural practice.
From there we expanded the Hollywood Collection, which includes all the DeMille pieces and was largely inspired by LA's design history. LAUN officially launched at Sight Unseen's Offsite show in 2018 with two pieces, the DeMille Lounge and the Confetti Table. It gave a huge boost to our emerging design studio and we've been growing our furniture line ever since, while expanding into residential architecture and interiors over the past few years.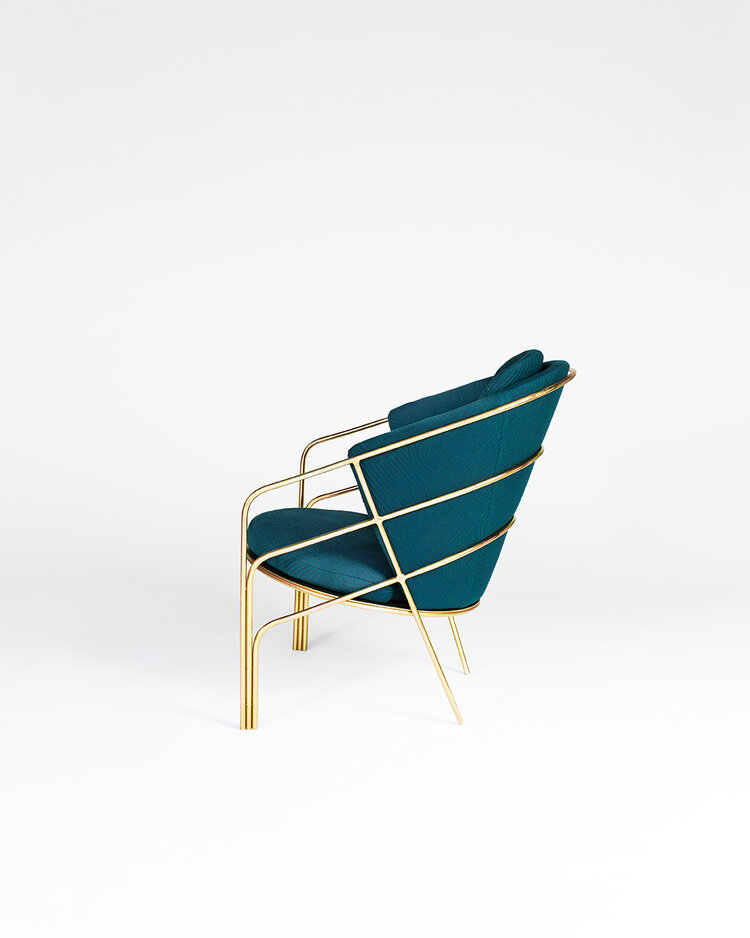 Was designing for the outdoors always on your radar? Why did you opt for outdoors rather than in?
Both coming from cold places (Michigan and Colorado), we love the indoor-outdoor lifestyle of Los Angeles. My grandfather had a beautiful set of Walter Lamb outdoor pieces at his house in Pasadena that we were always admiring. Sitting at the pool at a friend's birthday party in Palm Springs, lamenting the lack and limited breadth of contemporary outdoor furniture, wishing there were pieces available like the Walter Lamb set, we came to the conclusion we needed to do it ourselves. 
All of our collections live equally — and beautifully! — well indoors or out. That type of versatility has always really appealed to us.
Were there any challenges or lessons you learned along the way that influenced the way you design now?
Oh, definitely. When it comes to furniture, we were more experienced in designing and making, not manufacturing. So, we had to learn the ins and outs of manufacturing our pieces domestically. That has been one influence what and how we design. For example, if we come across a maker with an expertise in fiberglass or tube bending, that gives us the opportunity and the impetus to design using those materials.
More importantly, we're always challenging ourselves when it comes to material exploration, whether that's experimenting with rubber or with woven metal mesh. While it may not be immediately apparent how these materials will make their way into our work, we love the process of experimentation and believe that that sense of play is important to LAUN.
Are there any mid century modern makers, artists or designers from whom you draw inspiration?
We're always referencing the work of female designers like Charlotte Perriand, Eileen Grey, Gretta Grossman, Lina Bo Bardi, and Maria Pergay. They were all so innovative in terms of design and materiality.
The incredible diversity of LA's built environment and landscape has been one of our biggest influences. We love the early modernists like Schindler and Neutra and we've done pieces inspired by everything from the Art Deco Streamline Moderne buildings that dot this city, to the waves of the Pacific Ocean!
What would be your absolute dream project?
We have always wanted to design a small boutique hotel. We would love to do everything, from the furniture to the interiors to the restaurant. We're hoping to manifest that some day!
Quick Draw Questions:
If you weren't designers, what would you be?
Molly: Probably an academic. I want to get a Ph.D. in math one day.
Rachel: A fashion photographer.
Favorite design city?
Molly: Buenos Aires
Rachel: Mexico City
Favorite design book?
Molly: Human Dimensions & Interior Space
Rachel: Peter Zumthor's Thinking Architecture and Juhani Pallasma's The Eyes of the Skin were both really influential in helping me understand what I love about buildings.
What's at the top of your summer reading list?
Molly: I'm finally getting to Steve Martin's memoir Born Standing Up
Rachel: I want to read some more of the LA classics – Eve Babitz, Raymond Chandler, Aldous Huxley
---