For the modernista looking to fa-la-la-la-la-la-la-la-la in modern style this holiday season, here are a few fun, mod, and sustainable options.
If you don't mind foregoing the annual trip to the crowded Christmas tree lot this year and awkwardly traipsing home with a tree tied to the top of your car, then 'tis the season to try something new, modern, and yes – more sustainable. Read on for a few modern Christmas tree options for the modernista decorator in-the-know.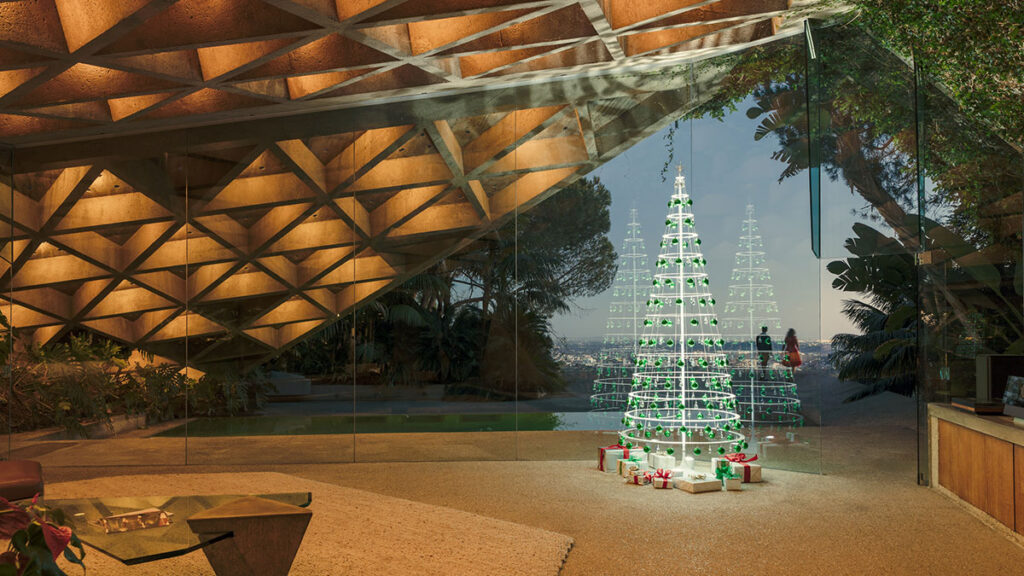 Modern Christmas Trees
This Denver-based company of an exceptionally straightforward name makes gorgeous modern Christmas trees with a true midcentury pedigree.  Found every year at the Palm Springs Modernism Show, these one-of-a-kind designs were created by Lawrence "Bud" Stoecker who was an engineer and an entrepreneur.  He started his career building rockets for the NASA Apollo missions and left the aerospace industry to build A-frame cabins across the Rocky Mountains.  As a doting grandfather, he created these whimsical modern Christmas trees to the delight of his family.  Years later, his grandson is re-creating these modern masterpieces for everyone to enjoy.  Pick one up online, available in a variety of sizes ranging from 3' to 10'.
Philip Badal Studio
Philip Badal is an artist, artisan, and sculptor. His recent experiments with natural material and light, present a sophisticated tension between Mother Nature and human nature's need to control her. Pyramid is a bespoke piece of art part of his Glow series, but it would definitely make a gorgeous conversation starter as an abstract tree, illuminating and provoking at the same time.  Philip also exhibits regularly at the Palm Springs Modernism Show, as well as the Contemporary Fine Arts Gallery.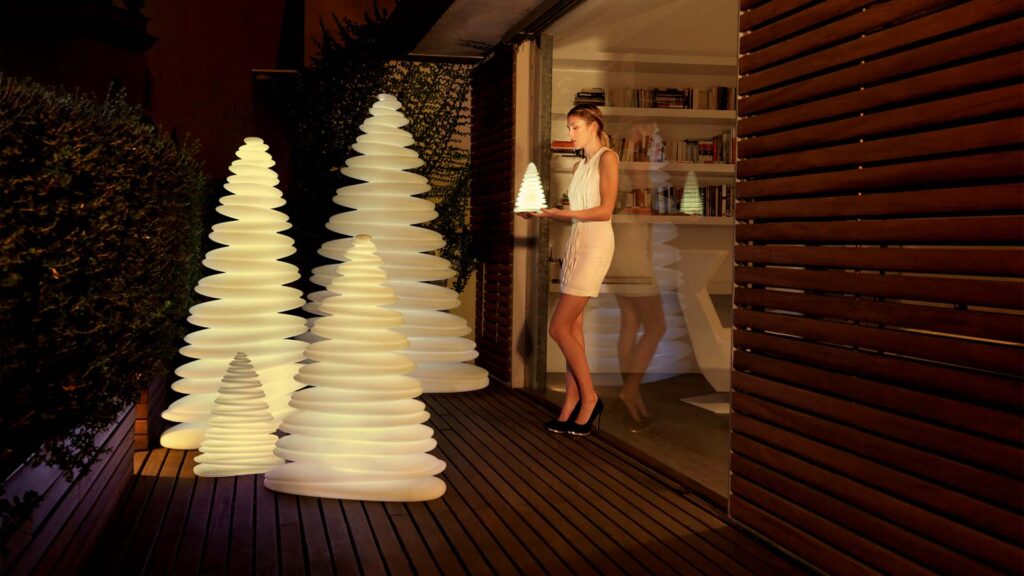 Teresa Sapey for Vondom
Studio Teresa Sapey is an architecture and design studio based in Madrid.  Chrismy is a reinvented Christmas tree by Teresa Sapey for Vondom, inspired by natural, organic and elegant shapes that rise toward its peak in each of its silhouettes to-and-fro movement.  White exteriors, a favorite of the designer herself, feature any colored illuminations from within.  Chrismy is available in three sizes and is perfect for creating a festive outdoor pool deck, in classic Palm Springs style.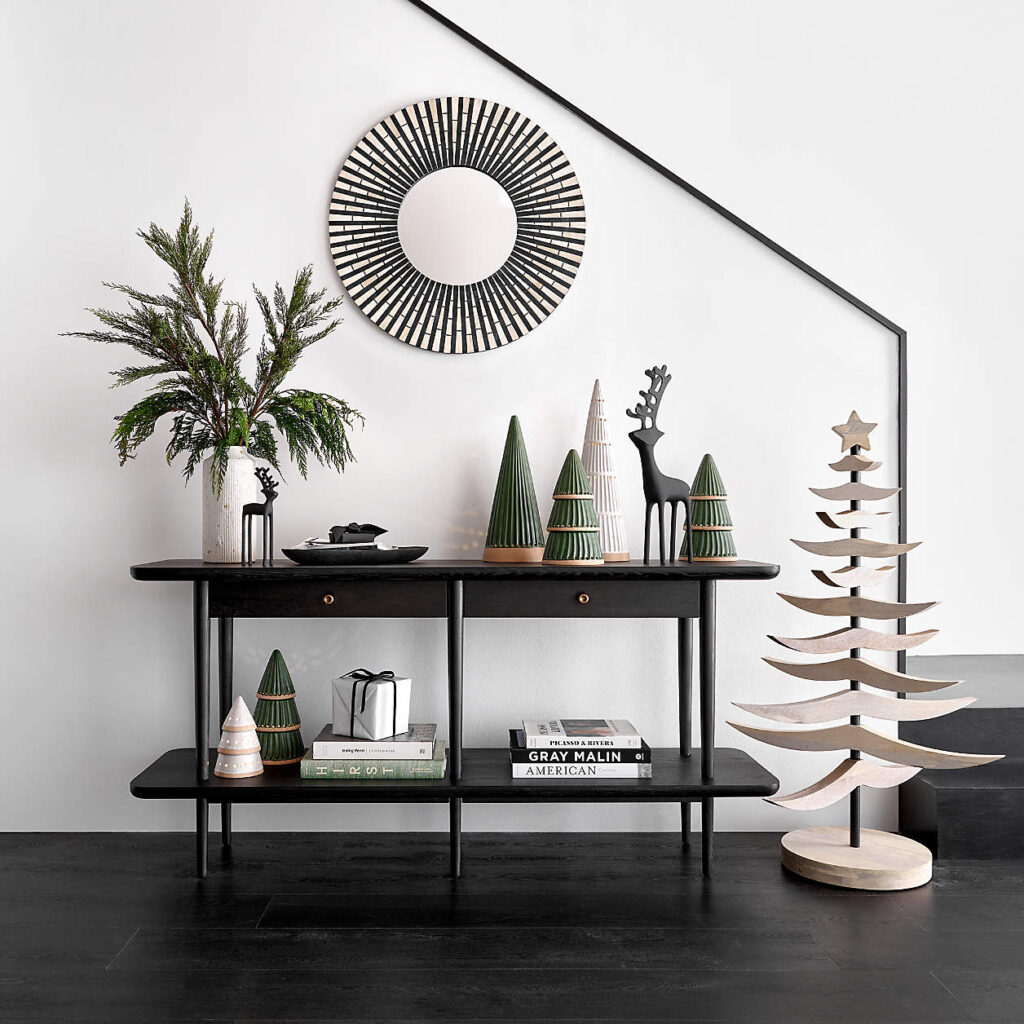 Crate & Barrel Tannenbaum
Not all of us can afford to be as spendy this season.  Thankfully, Crate & Barrel has some accessible and fun options like the Scandinavian-inspired Tannenbaum made from white-washed wood.  Perfect for small spaces, compact apartments, and cute and trendy ADUs!
A Driftwood Tree from Idaho
If you're looking for something with sylvan vibes that also feels coastal and beachy, this 8' driftwood tree made by a woodworker in Post Falls, Idaho named Eric Stufflebeam could be your new forever tree.  Minimal and organic stacked driftwood can be dressed up to go super rustic or ultra modern.  Some assembly is required.  Pick one up on Etsy.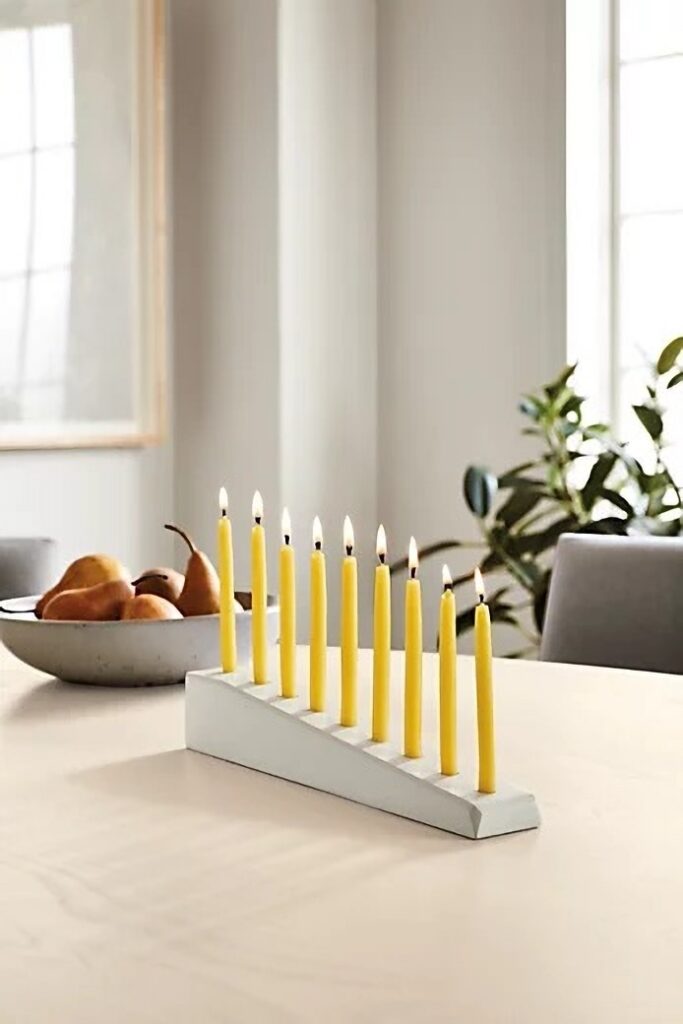 Room & Board Rise Menorah
For those looking for a unique modern menorah in lieu of (or in addition to) a modern Christmas tree, Room & Board's Rise Menorah has a gentle angled design leading to the plateau at the top. Made by Port Living in North Carolina, the modernist silhouette is made from solid concrete with a unique formula that feels soft to the touch and comes in several modern colors.
---
Images courtesy of Modern Christmas Trees, Philip Badal Studio, Teresa Sapey for Vondom, Crate & Barrel, and Eric Stufflebeam.