Renowned Palm Springs restaurant opens a second location in Los Angeles – an expression of modernism pushed to its zenith.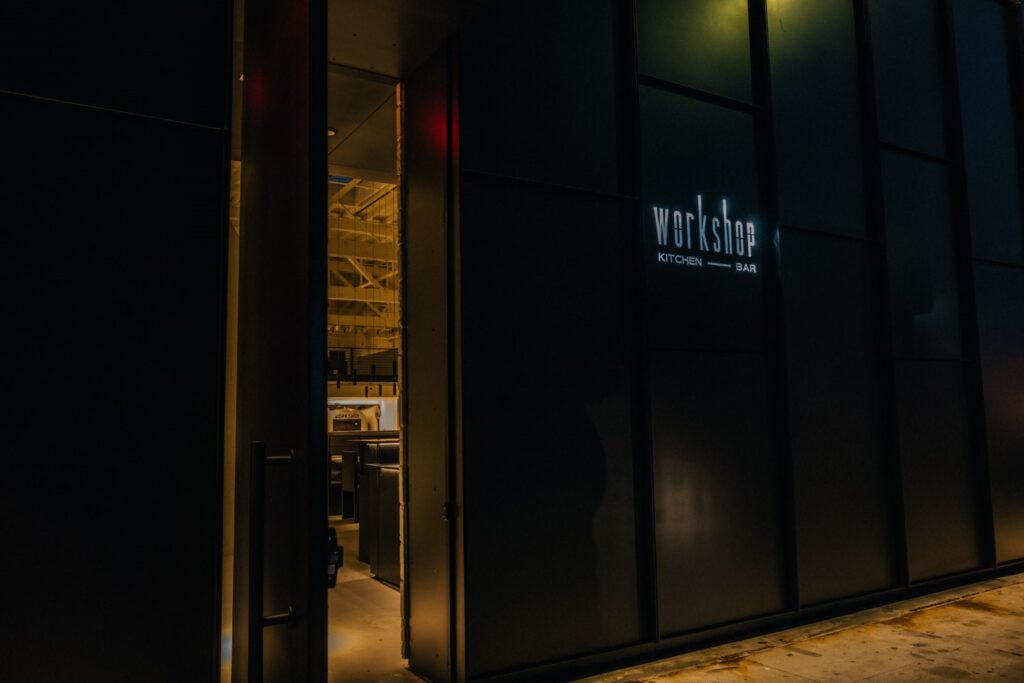 The conventional direction for migration moves from Los Angeles to Palm Springs. But in the case of Workshop Kitchen & Bar, the popular French-inspired restaurant in the heart of the Palm Springs' Design District founded by Chef Michael Beckman and Joe Mourani in 2012, that status quo has been upended. Workshop Kitchen & Bar's second location debuted in Los Angeles earlier this fall.
The new restaurant not only showcases the original's innovative, French-inspired market-driven menu, it also echoes the striking Brutalist interiors created by NY-based architect Michel Abboud of SOMA Architects.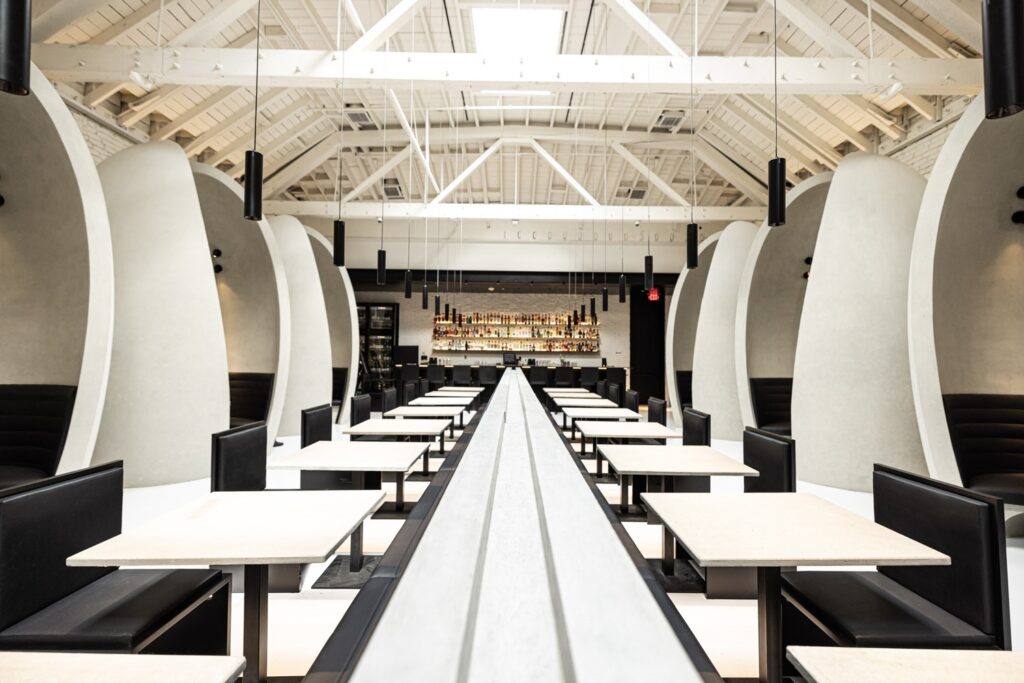 The Palm Springs location repurposed the historic 1926 El Paso Building at 800 N. Palm Canyon Drive, transforming the interior into a temple of modernist concrete. Underscoring the elegance provided by its sprawling square footage and soaring ceiling, Abboud enhanced its majestic proportions through the use of orderly concrete booths that provide intimate spaces for dining. He installed a large communal dining table that marches down the center of the room, providing a front row seat to the parade of servers, the tableaux of other diners and the kitchen's dextrous acrobatics.
The Los Angeles iteration, carved out of the Continental Graphics Building on La Brea, updates Abboud's original concept. Brutalism, as he interprets it here, pushes modernism's ethos of simplicity to its zenith, emphasizing materials, textures and construction. Don't be fooled by appearances, however. While outwardly cold, the ultimate effect is one of warmth and connection.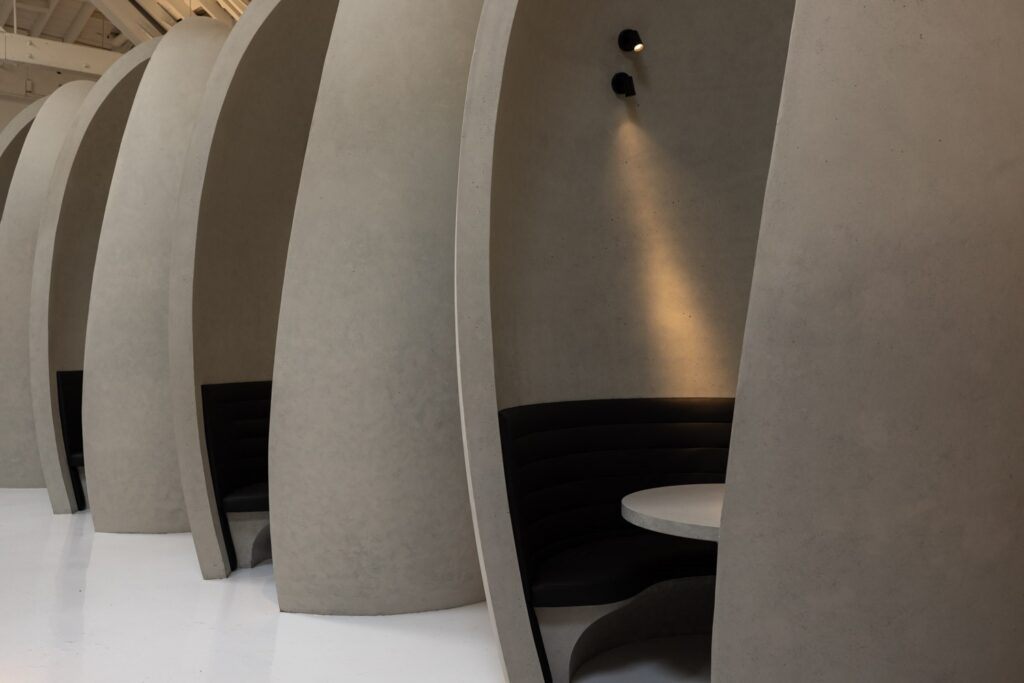 Like the original space, this iteration of the restaurant riffs off a stunning foundation of Queen trusses, soaring 20-foot ceilings and brick walls. There's the open kitchen that offers guests a glimpse of the culinary action which can be enjoyed from the interactive dining counter. Instead of a communal table, there's a double row of two tops, made inviting by a double-sided banquette that runs the length of the room. Overhead, a large skylight ensures the space is flooded with natural light. It's complemented by suspended contemporary light fixtures designed by Italy's iGuzzini. Above the kitchen, and overlooking the vast dining room, is The Mezzanine, which features an oversized concrete community dining table. At this trio of seating options, diners are offered an a la carte menu that ranges from Babaganoush, Oyster Mushrooms, Gnocchi & Artichokes, Diver Scallops, Campo Grande Iberian Pork Chop, Miyazaki A5 Wagyu Strip, and Wood-Fired Pizza.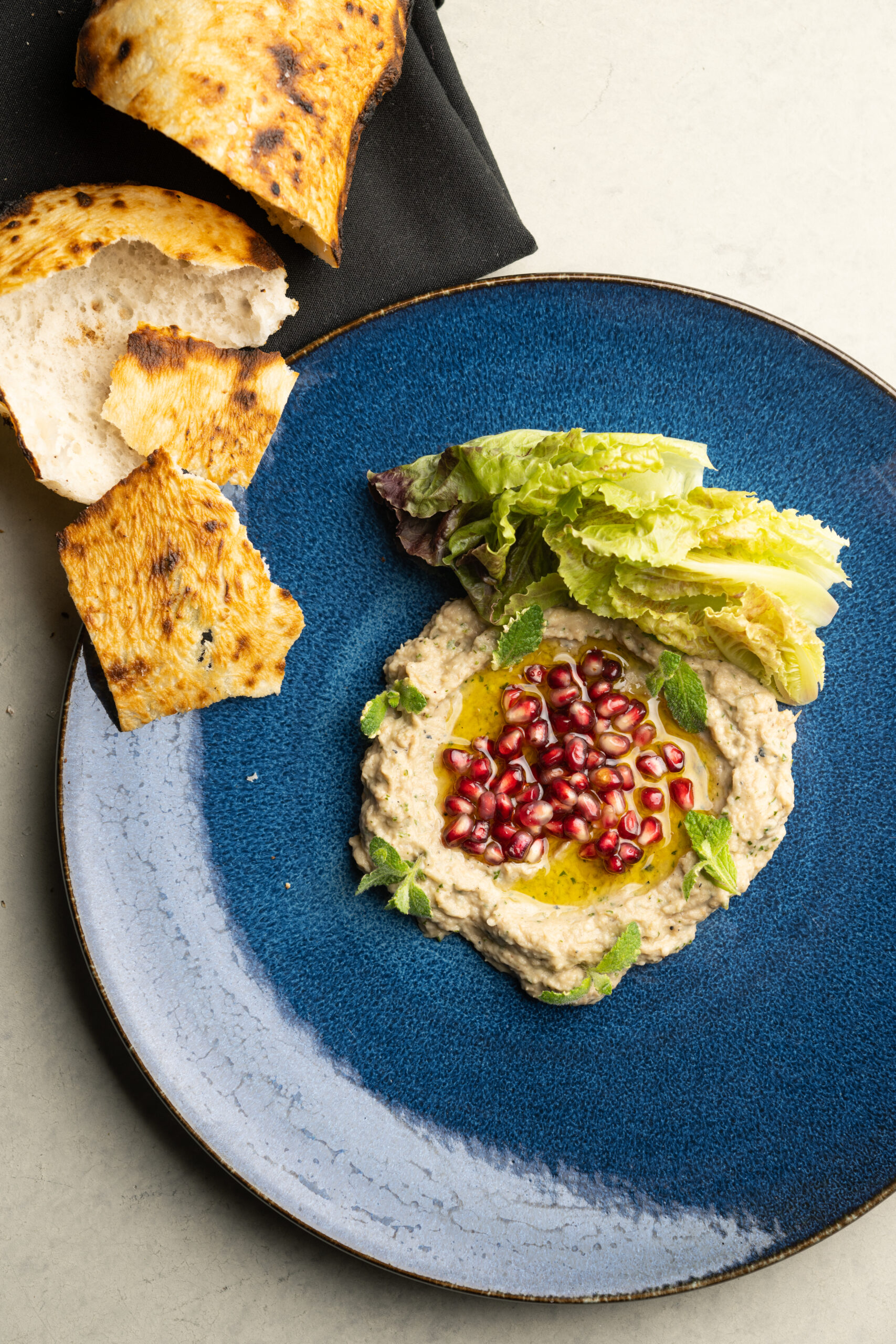 But there's one aspect of the design's evolution from its Palm Springs iteration that is the Los Angeles restaurant's most unique feature. That distinction goes to the eight massive freestanding 14-foot curved dining pods that replace the operatic rectilinear booths of the original space. Their inviting curved form transforms their concrete shell into something unexpected. Permeated by soft light and inset with circular bench seating, they cocoon diners in an immersive art installation that underlines the communal experience of sharing a meal. Tucked inside and sitting shoulder to shoulder, with dinner narrowed to one of two five-course tasting menus — one features fish and meat, the other is entirely plant-based — the focus turns from food to conversation and reconnection. At the conclusion of the meal, a cheese cart complete with dessert wines, shaved truffles and bread, comes by. Choosing what to have together becomes the punctuation to an evening of creating community.
One could call it a workshop for a new world.
---
Workshop Kitchen & Bar
127 S. LaBrea Avenue, Los Angeles, CA
323-413-2255
Dinner Tuesday through Thursday 5:30 pm – 9 pm, Friday and Saturday from 5:30 pm to 11 pm
---
Interior/exterior photography by Audrey Ma. Food photography by Wonho Frank Lee