Get the low down on this cozy aesthetic.
Are the 70's making a comeback… or did they never leave? Whether or not you're keen to the era's design attributes, you can't deny a sunken living room for what it is: intimate, cozy, and perhaps the slightest hint of danger that just might be what you're yearning for.
From the awesome to the audacious, here are some of our favorite sunken living rooms: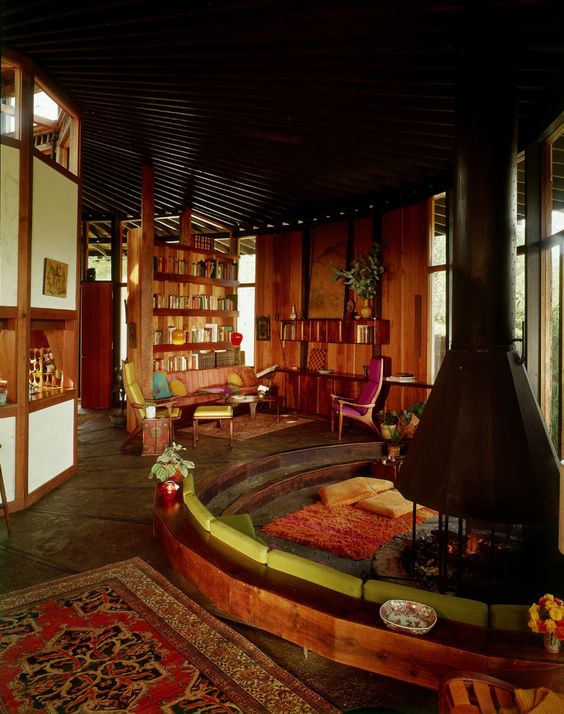 The Round House in Bolinas, CA was a collaboration between architect Robert B. Marquis and woodworker Arthur Espenet Carpenter (also the homeowner). In the 60's and 70's, the main focus of most living rooms was typically the stereo television. Here, the room seems to be drawn towards the fireplace in the center of the pit.
Credit: Fred Lyon/Getty Images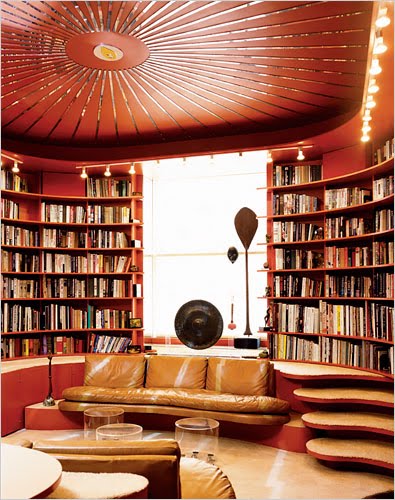 The Edersheim Apartment (1973) by Paul Rudolph in New York, NY. The orange oval library features a built-in sunken seating area. "The library is an introspective room. It is darker, more contained than the living room," said Rudolph.
Credit: Anthony Cotsifas
The Coward House, designed by David Shelley in 1970 in Nottinghamshire, UK, exudes an aura of sophistication, sleekness, and sexiness that is not typically associated with the fun-loving and colorful interiors of the 70's. Nevertheless, Shelley achieved a timeless quality in his design that goes beyond the decade's affiliated trends.
Credit: themodernhouse.com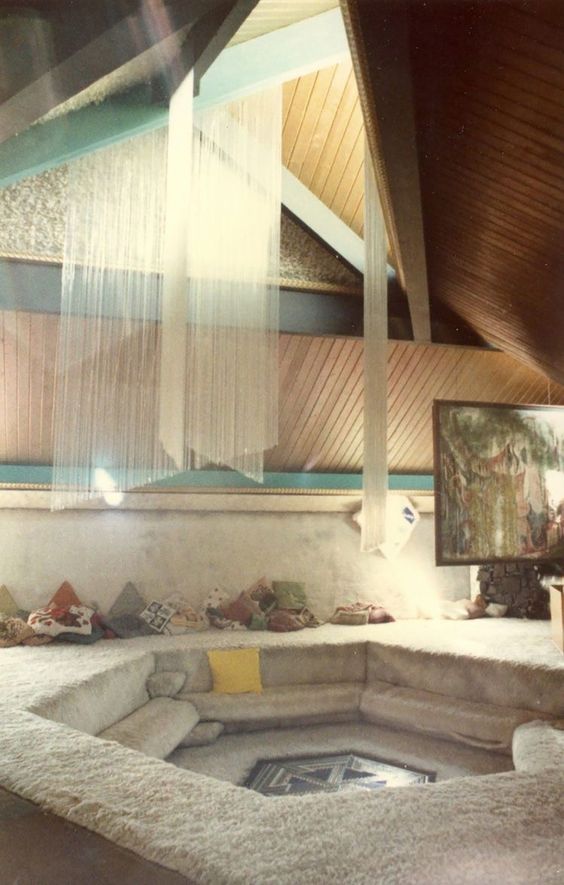 Clear plastic strips stream from a skylight inside Bruce Goff's Shin'enKan house in Bartlesville, OK. While the practicality of the carpet is…debatable, the angular ceiling and light streaming in is truly heaven-like. A surrealist bachelor pad.
Credit: Nelson Brackin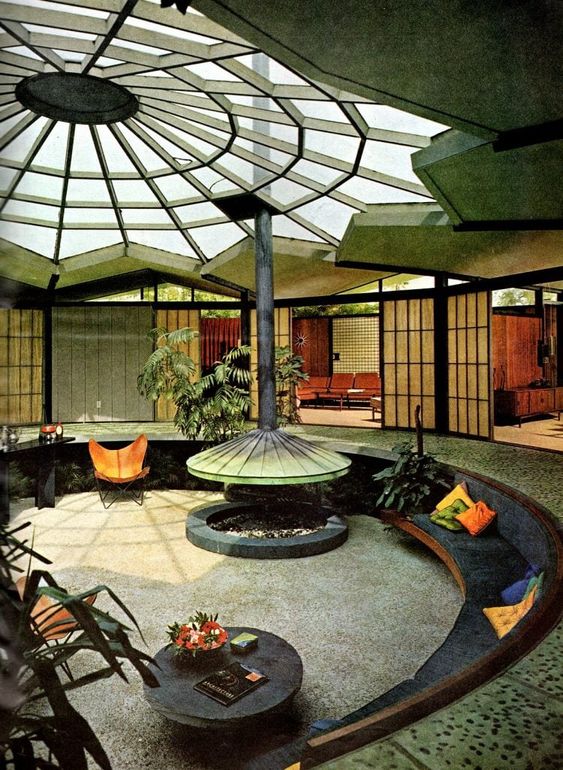 How about a greenhouse living room? Randolph Wedding conceived an outdoor living space at the heart of this round house in St. Petersburg, FL. The adjacent rooms open up to reveal the sunken area, which is illuminated by plenty of natural light pouring in through a huge skylight.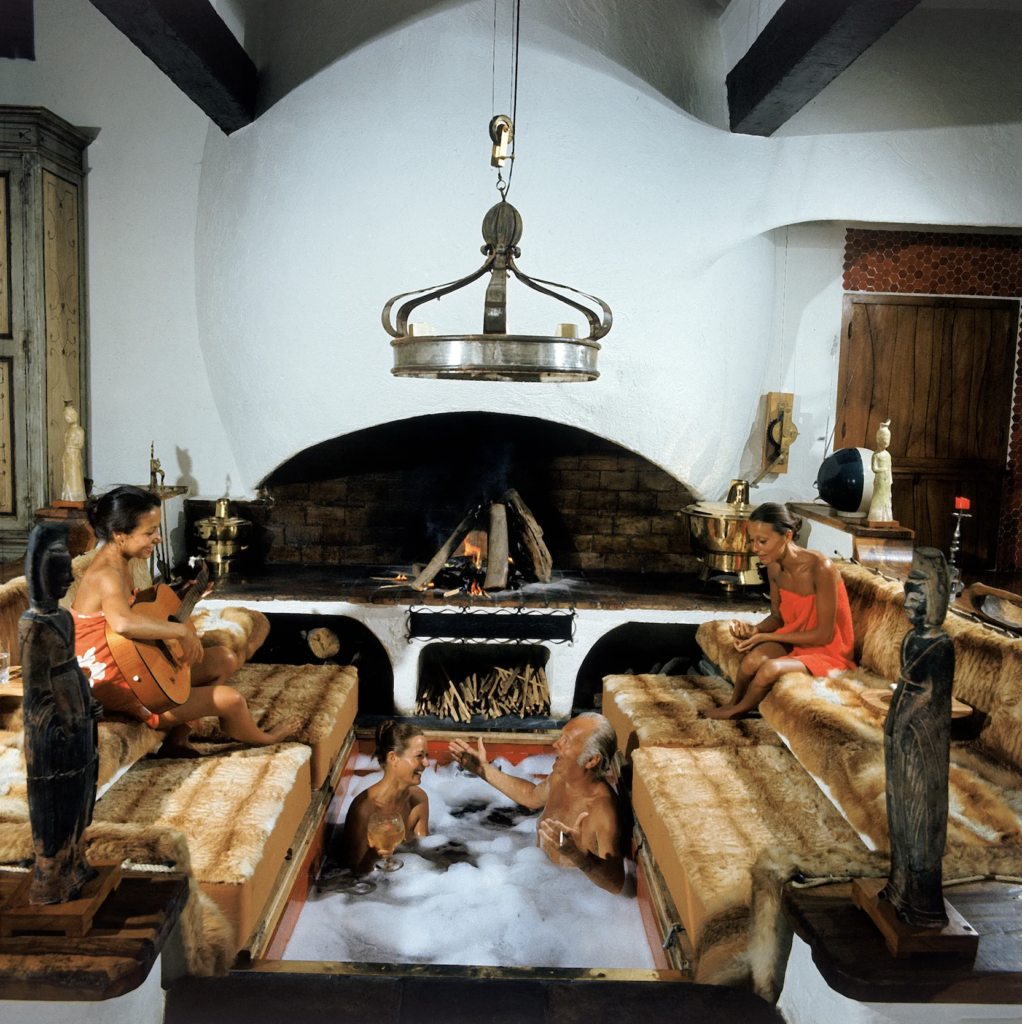 Last but far from least, the epitome of cocaine chic, a luxe lounge situated around a jacuzzi in actor Curt Jurgens' home in France. While the idea of soaking next to a crackling fire indoors may seem appealing, the distinctive odeur emanating from the bubble-soaked fur couches might be enough to dissuade even the most captivated conversation pit connoisseur.
Credit: Carlo Bavagnoli