With a new location and countless new programs, CAMP is the place to be at Modernism Week.

This year the annual community and meeting place, aka CAMP, is more than the starting point to the Modernism Week experience.  It's a destination unto itself.  In an exciting move, Modernism Week is pitching CAMP at the famed Robinsons Building, a Class I Historic property originally built in 1958 by Charles Luckman Associates and William L. Pereira for the J.W. Robinson Department Store.  With over 60,000 visitors expected at Modernism Week in 2016, the new location offers a bigger footprint to serve as the festival's proverbial front desk and welcoming center.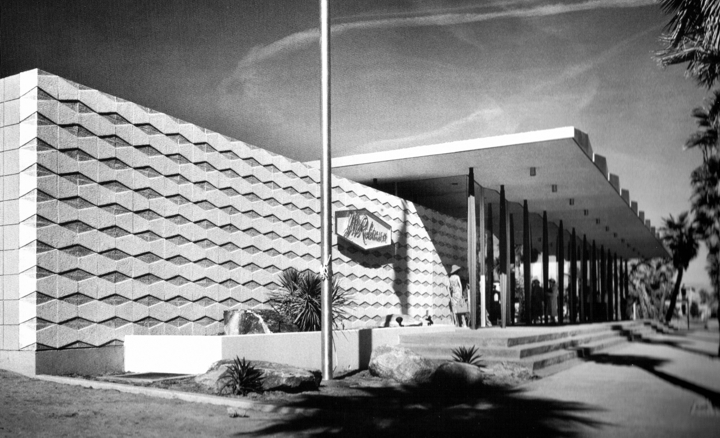 We'll be kicking off the Modernism Week festivities with a dazzling red carpet affair – a fitting celebration of the new location at CAMP. Expect plenty of midcentury modern design, Old Hollywood glamour, handcrafted cocktails, and lively music by NUTTY at the Opening Night Party – Hollywood in Palm Springs.
Like last year, all visitors will be able to check in, purchase tickets, and obtain assistance at CAMP.  The cavernous 28,000 sf space will also feature an expanded Modernism Week gift shop and book store, a full bar, the Ferguson outdoor kitchen and lounge area, a 150-person lecture space, and an expanded exhibition space where guests will be able to shop and experience a curated selection of contemporary brands and products.  Bus and bike tours will depart from CAMP.  Entry is free and complimentary parking will be available in the lot behind the building.
The lecture space will play host to a range of different programs, from a personal retrospective of fashion designer Lisa Perry's vintage-inspired collection to panel conversations with design dignitaries, authors, and other midcentury modern-inspired luminaries. Palm Springs modernist architect Hugh Kaptur, AIA will also be present for a special meet-and-greet (details to follow).
Modernism Week will also be offering up a new think and drink concept co-hosted by Makerville, as well as an interactive mixology event with Hendrick's Gin, to liven up happy hour. While CAMP is free and open to the public, special events such as the think and drink happy hours and special lectures are ticketed.  Tickets range in price from $10 to $65 so check out the schedule here to sign up now to be a happy CAMP-er.
Lastly, the "Ambassador of Americana" will be hosting the final event of Modernism Week with "Last Call with Charles Phoenix: A Delightful-Desert Themed Cake and Cocktail Party" on February 21. It's sure to be a happy hour unlike any you've ever experienced!
For the full list of CAMP events, check out www.modernismweek.com/camp.