Exciting October Event Includes Early Buying Preview Reception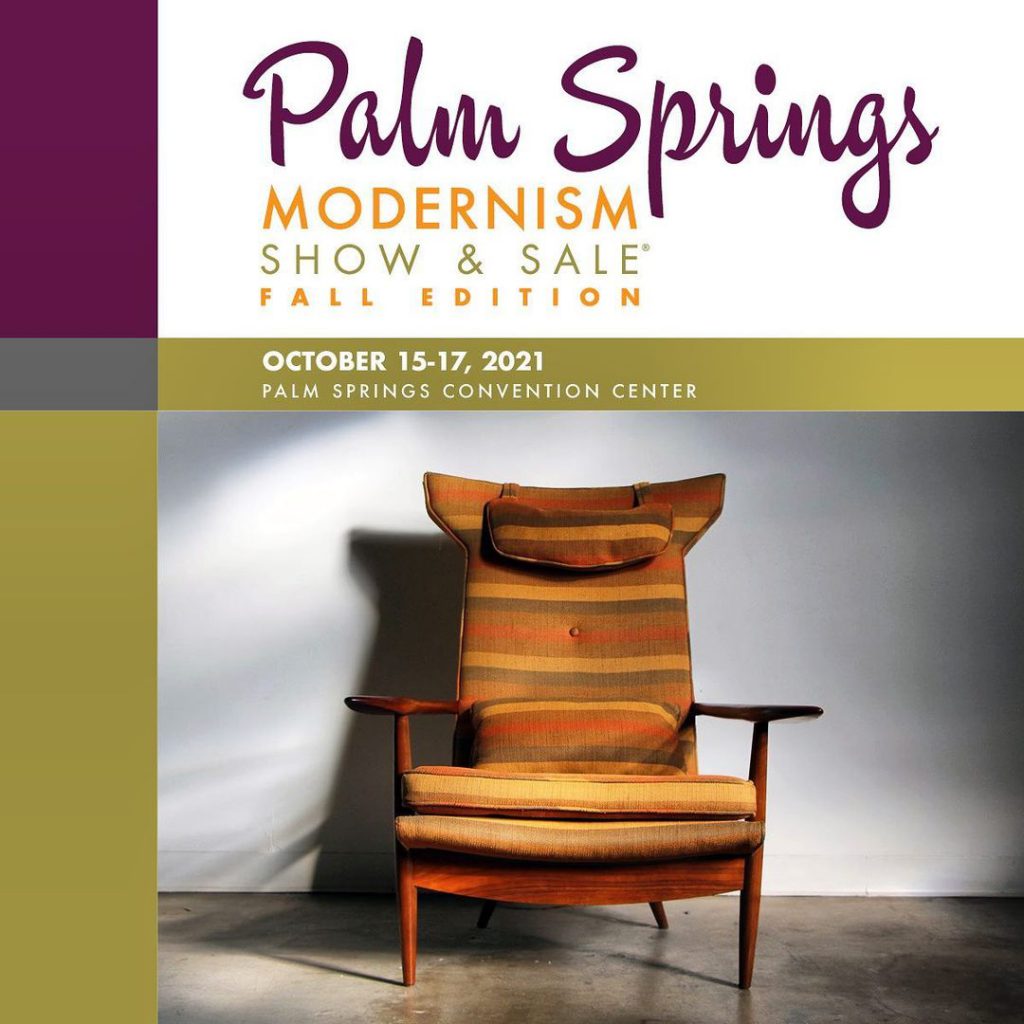 The 7th annual Palm Springs Modernism Show & Sale – Fall Edition, held during Modernism Week's Fall Preview, has added more exciting dealers to its impressive roster. The Show & Sale now features more than 45 premier national exhibitors offering vintage furniture, decorative and fine art, representing all design movements of the 20th century and introducing 21st century contemporary design. The popular event opens Friday evening October 15 and will feature many dealers new to the show as well as returning dealers that have participated in the show previously. The Show & Sale, which runs October 15-17, will be held in Oasis 4 at the Palm Springs Convention Center, located at 277 North Avenida Caballeros in Palm Springs, California, and is a more intimate version of the annual Palm Springs Modernism Show & Sale held in February. This year, the Modernism Show & Sale will also include selected dealers that have previously participated in the Palm Springs Modern Design Expo. 
New dealers to the 2021 Modernism Show & Sale Fall Edition include:

Den from Los Angeles specializes in the sale and restoration of 20th century furniture and design, hand-selected to represent the iconic and exemplary. Each piece it will offer has been lovingly restored to showcase its timeless lines and thoughtful craftsmanship.

Whatever Gallery from San Diego is a premier gallery offering rare and unusual 20th century modernist furniture and objects. It features a well-curated inventory of pieces by the industry's most celebrated designers and offers a stellar selection of 1950s California and Mexican modern design. 

Vitnage from Tucson will offer midcentury modern items featuring art, men's and women's fashions, historical pilot gear, and rare military antiques.
Habitat Gallery from Los Angeles is a luxury boutique gallery specializing in fine midcentury modern, art deco, and Danish modern furniture and decor.
CFR Patio from Palm Desert will offer midcentury modern-inspired outdoor patio furniture.
Delphine B Photography will offer fine art photography and prints by this incredible photo artist.
"We are delighted to be returning to Palm Springs in October to present the Fall Edition of the popular Modernism Show & Sale after an absence of a year and a half," said Rosemary Krieger, President of Dolphin Promotions. "The pandemic was a challenging time for all of us and we are thrilled to reconnect with the enthusiastic Modernism Week community of dealers and collectors."

On Friday evening, October 15, Fall Preview attendees are invited to attend the festive Opening Night Party and Early Buying Preview Reception at the Modernism Show & Sale at the Palm Springs Convention Center. The Friday night party is the prime opportunity for attendees to shop direct from dealers before the show opens to the public on Saturday. Tickets are available in advance for $75 at palmspringsmodernism.com or at the door for $85 and include daily re-entry to the show. Weekend show hours are Saturday, October 16, from 10 a.m. – 6 p.m. and Sunday, October 17, from 10 a.m. – 4 p.m. Tickets are $20, include return entry all weekend, and may be purchased in advance at palmspringsmodernism.com or at the door. 
Show & Sale Sponsors include Presenting Sponsor Engaged Media, LLC, Amara Rugs, BIDSQUARE, and Freightforwarding.com along with Media Sponsors Atomic Ranch, California Home+Design, California Homes, Palm Springs Life, and Santa Fean Magazine.
The Palm Springs Modernism Show & Sale takes COVID precautions seriously. Proof of vaccinations will be required upon entry for the Friday night event. All Show & Sale dealers, staff, and attendees will be required to wear masks when inside the convention center and sanitization stations will be available at the entry doors.
For more information and a list of exhibitors, please visit www.palmspringsmodernism.com or email info@dolphinfairs.com.