Your Guide to What's Happening this Fall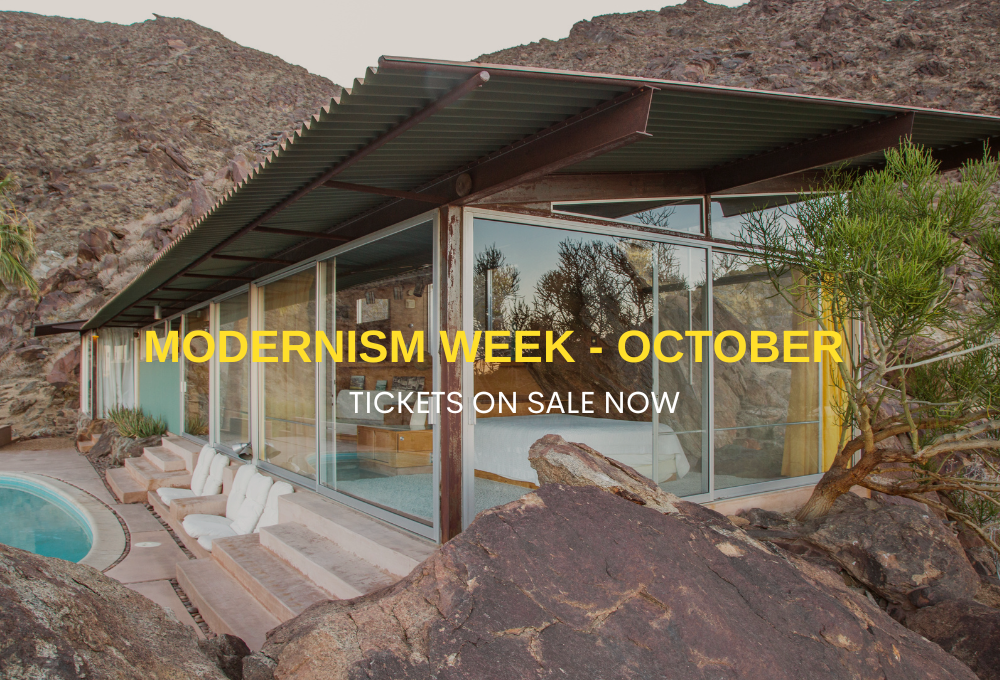 Tickets to Modernism Week — October are on sale! Here's a guide to help you sort through all the fantastic happenings. Tours and events will sell out, so make sure to reserve your tickets now.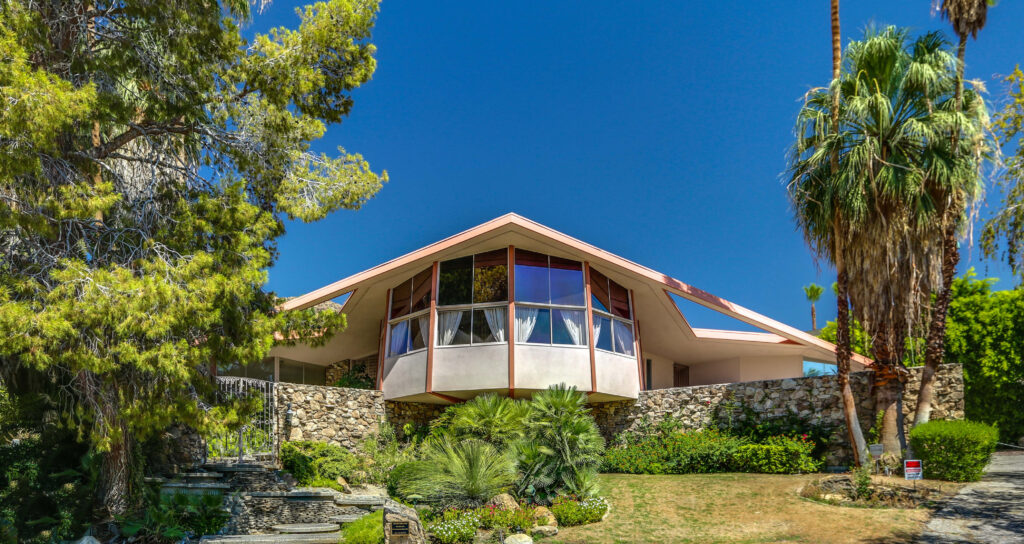 Hot Home Tours
Let the dramatic panoramic view of stone and mountain captivate you as the natural backdrop at Modernism Week's Featured Home Tour: Hi-Sun. Designed by Charles Du Bois and built by the Alexander Construction Company in 1963 as the model home for the Las Palmas Summit Estates development in the Vista Las Palmas neighborhood, this home is the personal residence of Kevin Kemper and Howard Hawkes of H3K Home+Design. Original features such as the living room's stone fireplace have been retained as the house was remodeled to reflect the designers' signature style. Modernism Week sponsors Brizo, Dunn-Edwards, Ferguson Bath, Kitchen & Lighting Gallery, JennAir, and Willis generously contributed to this project. October 13 – 16, $35.
Be the first to see the newly renovated Alexander Estate in the House of Tomorrow Home Tour. Located in the historic Vista Las Palmas neighborhood, this extraordinary home was built in 1960 by architect William Krisel for Helene and Robert Alexander of the Alexander Construction Company. It is known as the "House of Tomorrow" and popularly as the "Elvis Honeymoon Hideaway," where Elvis and Priscilla Presley honeymooned in 1967. October 13-16, $65. A twilight tour and cocktail reception for a limited number of guests at House of Tomorrow is available at 4:30 p.m. on October 13, 14, and 16. This tour is for ages 21 and older and tickets are $125.
Thirty-minute self-guided tours of architect Albert Frey's Frey House II offer a rare opportunity to see the residence of modernist architect Albert Frey and gain insight into this modern master's architectural sensibility. The tour occurs each day of Modernism Week – October and tickets are $75. A twilight tour and cocktail reception for a limited number of guests at Frey II is available at 4:30 p.m. each evening. This tour is for ages 21 and older and tickets are $125.
Explore famed American architect John Lautner's 1947 residential fourplex formerly known as Hotel Lautner on the The Lautner Compound Tour. The award-winning property features a collection of three boutique properties masterfully restored and designed: The Lautner, The Park and The Ranch House. October 15, $50.
The Palm Springs Preservation Foundation will host Frank Sinatra's "Twin Palms" Estate Tour of Sinatra's storied estate, designed by modernist architect E. Stewart Williams in 1947. This is a self-guided tour and tourgoers will receive an eight-page color collectible handout. October 13, $45.
Ride-A-Long Tours
Enjoy guided tours of famed Sunnylands Estate, designed by renowned architect A. Quincy Jones in 1966 and restored in 2012. October 13-16, $75.
Modernism Week's signature Premier Double Decker Architectural Bus Tour provides guests with a 2.5-hour overview of significant civic and commercial buildings, as well as residential properties. Daily tours will depart across the street from the Palm Springs Art Museum, located at 101 Museum Drive, where Modernism Week will have a tour kiosk for check-in. Legendary performer Charles Phoenix will conduct his special version of this tour each day at 8:30 a.m. Celebrated drag performer Bella da Ball will guide the tour at dusk on Oct. 14 and 15, and special Twilight Tours are offered Oct. 14 and 15. Tickets are $120 for the standard tour, $60 for the Twilight tour, $70 for the Bella da Ball tour, and $150 for the Charles Phoenix tour.
Join Modernism Week architectural tour guides for an exploration of the buildings by ten of the most notable Desert Modernist architects in Palm Springs. Midcentury Top Ten Tour: Ten Architects Who Made Palm Springs Modern is a small group guided tour on board an air conditioned mini-coach. See the best of the best. October 14 and 16, $130.
Other Tours
Cul de Sac A-Go-Go, the groundbreaking midcentury immersive time capsule extravaganza with homes on tour, classic cars, music, dancers, and high fashion, returns this year. Experience vintage homes in a secluded circle in the iconic Canyon View Estates neighborhood. Special surprises make this an event participants won't forget. The tour takes place October 16 and tickets are $95.
Temple Isaiah – The Evolution of Classical to Extreme Modernism is a guided tour of Temple Isaiah that contrasts the E. Stewart Williams modernist-designed 1950s Al Liberman Chapel with the 1980s west-facing addition. The brutalist 1980s addition, dedicated to Abe Bochner and family, was originally conceived in 1971 by Donald Wexler and later in 1982 designed by David Christian. October 13 and 14, $50.
A self-driving Sustainable Homes Tour will be offered any showcase some of the High Desert's most "eco" homes. Access private residences not normally open to the public, where you'll view homes powered exclusively by the sun, and in most cases, completely off-grid. October 16, $45.
For the first time ever, enjoy an exclusive Behind the Scenes Tour of the Indian Wells Tennis Garden, home of the world-renowned BNP Paribas Open tennis championship tournament. Tour this world-class "Mega-Structure" and enjoy a seated lunch at the exclusive Front Box Club and Terrace in Stadium One. October 15, $220.
Celebrate the Centennial Anniversary of the historic Cavanagh Adobe residence in Indian Wells by participating in the Centennial Celebration for the Cavanagh Adobe, a 3-part event including a presentation, home tour, and lunch. October 14, $100.
Other exciting tours include Palm Springs Historical Society daily walking tours of Frank Sinatra's Neighborhood, Hidden Paradise of Showbiz Legends, Golden Era of Hollywood Homes, Celebrity Haven Unique Boutique Resorts, Heart of the City – Women Built this Town, Inns, Architecture and Glamour, Lush Living on the Links, Rat Pack Playground, Shangri-La of the Stars, Twin Palms Estates, Uptown Design District. These tours are $45.
Special Events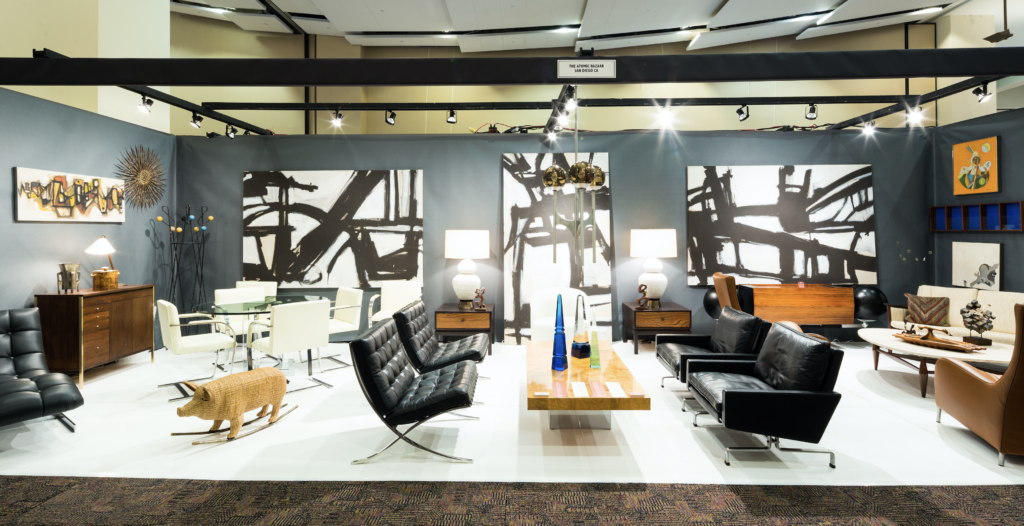 Palm Springs Modernism Fall Show features more than 45 premier exhibitors from across the U.S. and Europe presenting and offering for sale 21st century contemporary designs, rare and beautiful vintage furniture, lighting, sculpture, paintings, silver, jewelry, ceramics, art glass, rugs, prints, photography, posters, vintage clothing and accessories reflecting all design movements of the 20th century and especially highlighting midcentury modern design. Weekend show hours are Saturday from 10 a.m. – 6 p.m. and Sunday from 10 a.m. – 4 p.m. October 16 and 17, $25.
PS UNDERGROUND'S new show, STARSTRUCK offers a one-of-a-kind musical dinner event that pays tribute to the glamorous, star-studded history of Palm Springs as you dine on a four-course menu that includes free flowing cocktails. October 13-16, $165.
At A Curated Vintage Event retailers and private dealers from all over will showcase their finest hard-to-find vintage apparel, textiles, jewelry, and accessories in one upscale venue at Temple Isaiah. It takes place October 15 and tickets are $20 for first dibs preview and $15 for general admission.
Casual Concours, The Desert's Most Fabulous Midcentury Car Show: Disco Inferno returns this year at the Desert Princess Country Club in Cathedral City. This popular event will feature approximately 200 cars and will be set in a relaxed resort environment with a dramatic backdrop of mountains and palm trees. October 15, $25.
Learn how to make iconic, classic cocktails of the midcentury era at home at the Midcentury Mixology Cocktail Clinic at Mr. Lyons in this hands-on mixology class at the historic Mr. Lyons restaurant. October 14-16, and each day will offer two classes at 11 a.m. -1 p.m. and 2-4 p.m. $75.
Hosted by H3K Home+Design, the Modernism Yard Sale offers dozens of curated booths featuring a wide range of vintage items. This sale has become one of Modernism Week's most popular free events. October 16, 8 am – 12 pm, FREE.
Enjoy 3 nights and 4 days of fun with exciting tours, events, cocktail parties, dinners and more through an exclusive VIP Club Weekend Package at the newly opened Azure Sky Hotel! October 13-16.
Parties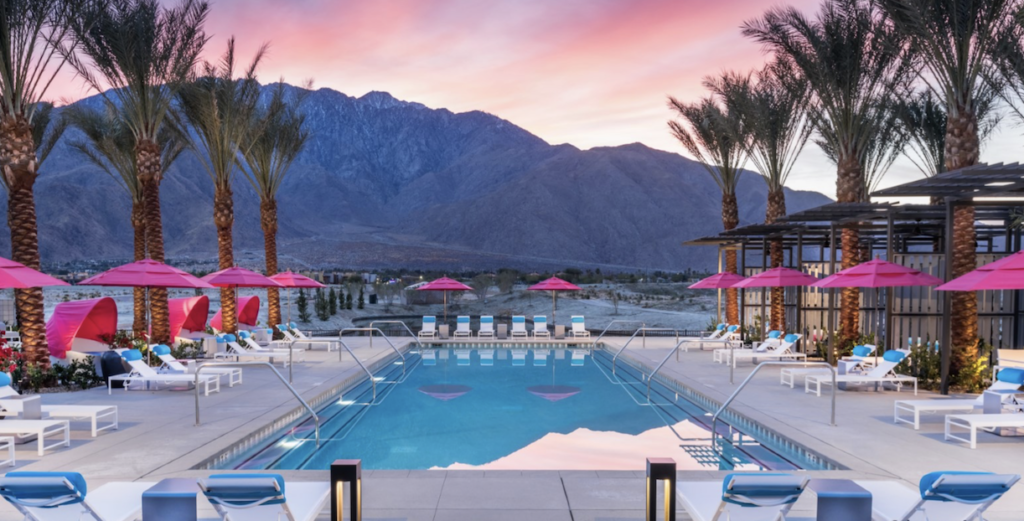 Attend the Opening Night Party and Early Buying Preview Reception at the Palm Springs Modernism Fall Show at the Palm Springs Convention Center. The Friday night opening party, a benefit for Modernism Week, is the prime opportunity for shopping direct from dealers before the show opens to the public on Saturday. The event takes place October 14 and tickets are available in advance for $85 at modernismweek.com or at the door for $95 and includes daily re-entry to the show.
Mark your calendars for the Catch the Wave Cocktail Party at the historic Miles C. Bates "Wave" House. Enjoy an architecture talk by Christian Stayner and entertainment by The Joslyn Strummers ukulele band & DJ Modgirl. October 13, $150.
At the Midcentury Mai Tai Domination Cocktail Party, bartenders from the top tiki bars in Palm Springs will face off in the ultimate tiki cocktail challenge to see who serves the best Mai Tai. Tropical drink-loving guests will determine the champion in a classic Polynesian tiki-themed and Trousdale-designed midcentury home. October 15, $125.
Celebrate Modernism Week poolside at A Mod Evening at Miralon. Enjoy cocktails, hors d'oeuvres, and live entertainment from The Martini Kings under the stars. October 14, $40.
Talks & Book Signings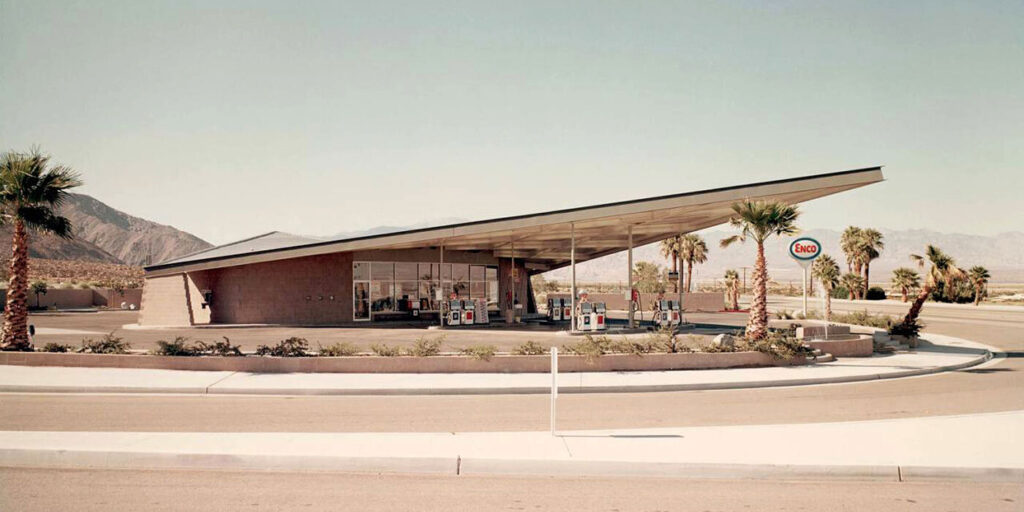 Lost, Saved & Endangered: Modernist Architecture in Palm Springs is a popular presentation by Palm Springs Preservation Foundation board president Gary Johns who will present a popular and entertaining slide lecture, replete with amusing anecdotes and rarely seen vintage photos. October 14, Free.
Brad Dunning, curator of an upcoming 2024 exhibition about architect Albert Frey, will present a sneak preview of his research and findings in Albert Frey: Innovative Thinker of the Modern Movement,. October 14, Free.
Join author James Harlan for a special book signing event of his book "The Alexanders," which delves into midcentury architecture in Palm Springs produced by the Alexander Construction Company. The event will begin with a 10-minute presentation and Q&A before getting into the book signing. Books can be purchased at the event as well. October 15, Free.
Jim Cook and Vinny Stoppia present Hollywood at Home in Palm Springs, a magical journey to the storied histories of Palm Springs and Hollywood and how both their destinies followed a similar path. October 14, $20.
Spend an afternoon with the editors at Atomic Ranch and get an up-close-and-personal tour of a recently renovated Modernism Week Featured Home at Atomic Ranch + H3K: A Du Bois Talk & Tour. Called "Hi-Sun," this 1963 model home in Las Palmas Summit Estates was designed by Charles Du Bois, an architect who is increasingly recognized for his contributions to desert modernism. October 15, $55.
Modernism Week top sponsors include Ferguson Bath, Kitchen & Lighting Gallery, Brizo, Dunn-Edwards Paints, JennAir, Mirai, Willis, Flor, and Hyatt Palm Springs. The City of Palm Springs is the Civic Presenting Sponsor. Many Modernism Week programs qualify for AIA Continuing Education credits. To receive Modernism Week updates, visit modernismweek.com and follow them on Facebook, Instagram and Twitter.
To receive updates, visit modernismweek.com and sign up to receive our newsletter.