Here at M we like to dig down and meet the makers, the real people behind the pretty objects. We ask independent makers, artists, and multi-hyphenate creators about their life, work, and get them to dish about a little bit more. We sat down with Joshua Rose and Rafael Kalichstein of Citizen Artist, a multidisciplinary firm working in interior and product design.
Let's start with your point of view on modernism. Would you say that there are modernist impulses in your work, or modernist tenets from which you draw inspiration?
Indeed, there are clear modernist impulses in our work. Our process begins with listening to all the voices present on a project (e.g., the context, client, architect, landscape architect, etc.) and, of course, its intended use; the use of a space is a critical piece to the success of its design. This is not to say that we are true modernists: we adore decoration! However, we do believe that decoration should be in service to the narrative and the purpose of the space. It should enhance what we are communicating and elevate the experience.
How would you describe Citizen Artist's aesthetic in a nutshell?
Our motto is, "Make it Fantastic." We are excited by exploration inside and among styles in our work, but the continuous thread is to be curious and thoughtful, making each design moment the best version of itself possible.
You are currently designing your home in Palm Springs. What is your favorite part about it so far?
We bought a retired Airbnb in Yucca Valley, which is in the high desert adjacent Joshua Tree, last Spring. We had stayed there as guests and fallen in love with the area. We are slowly putting our mark on the house, but we are waiting for it to reveal to us what it wants to be. Presently, we are enjoying the incredible boulders and absolute peace and quiet. It is a place of true serenity.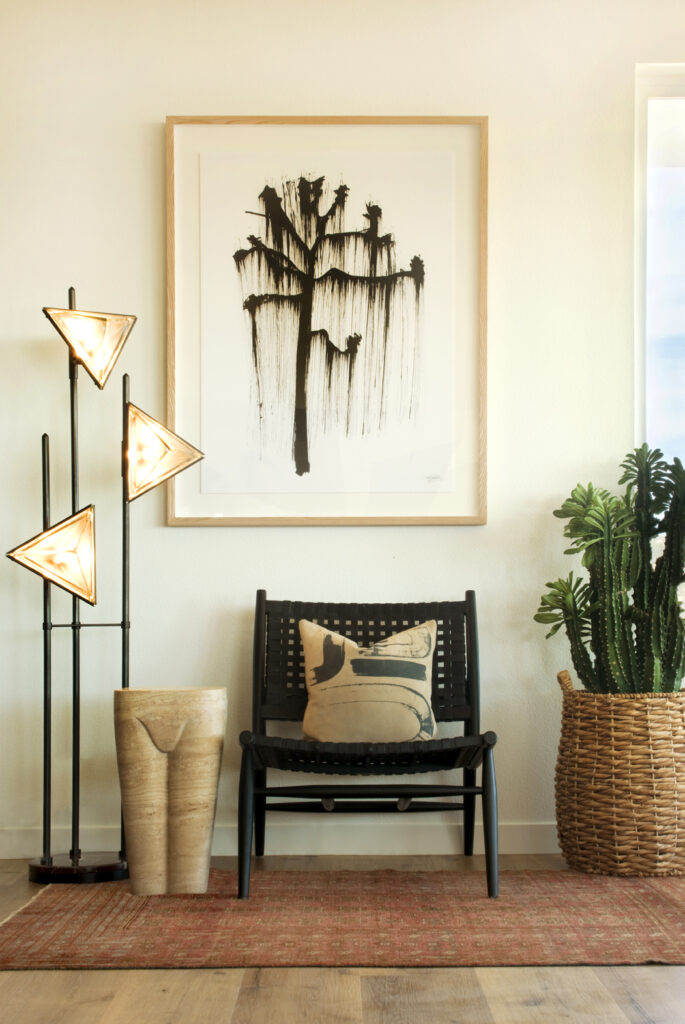 Who would you say is your favorite midcentury modern designer and what kind of influence have they had on your work?
As we are two people, we hope we get two answers. One would be Mies van der Rohe whose work teaches us the power of a simple, single gesture. His Barcelona Pavilion is a quiet (but jubilant) celebration of modern sensibility. Another would be Luis Barragán. His work teaches us that natural light can be a powerful tool in the experience of a space. Its successful manipulation creates a sense of wonder, magic and mystery. His spaces were dominated by light, volume and color.
What would Citizen Artist's absolutely ideal future project be?
We would love to tackle a large scale interactive public work or museum. If we really dream big, it would be something like Moshe Safdie's Yad Vashem in Jerusalem, Studio KO's Musée Yves Saint Laurent, Marrakech or Mario Cucinella's Fondazione Luigi Rovati in Milano.
Quick Draw Questions:
If you weren't a designer, what would you be?
Josh: SCUBA instructor on Tikehau in French Polynesia.
Rafi: The traveling patron saint of gelato to French Polynesia, offering hand-crafted, small-batch gelati.
Favorite design city?
Josh: From an inspirational standpoint, I would have to say that Rome is my favorite design city. The Pantheon takes my breath away every time I see it. From a contemporary perspective I would have to say Paris, in particular the Carré Rive Gauche in Saint-Germain-des-Prés.
Rafi: Jerusalem is my favorite design city. It lives at the intersection of ancient, modern, and contemporary (and great hummus)!
Favorite famous design object?
Rafi: Though I have yet to see it in person, I would have to say The Bean in Chicago. It really is a masterpiece, full of wonder and expression, taking advantage of the far reaches of innovation and craft.
Josh: My favorite design object has always been the chair. It is the perfect expression of form and function, architecture meeting design and, when executed brilliantly, it can transform a room while being at service to its occupant. As of today, my favorite chair is the Circle armchair by the genius duo of Overgaard & Dyrman.
What's at the top of your summer reading list?
Rafi: I'm fifteen books into the Nero Wolfe series by Rex Stout. They were my father's favorite books and I started reading them after losing him in the Spring of 2022. Reading them now is like knowing something of him that I never knew before.
Josh: I'm in the middle of Start Without Me by Gary Janetti. I needed something light, funny…and gay.
---