The MADE By series profiles leading voices in architecture and design. Michelle Boudreau Design is a residential, commercial and product design studio based in Palm Springs that draws its influences from the area's architectural homes and history, its sculptural mountains, the unique graphic shapes of the desert plants and the beautiful colors of the landscape.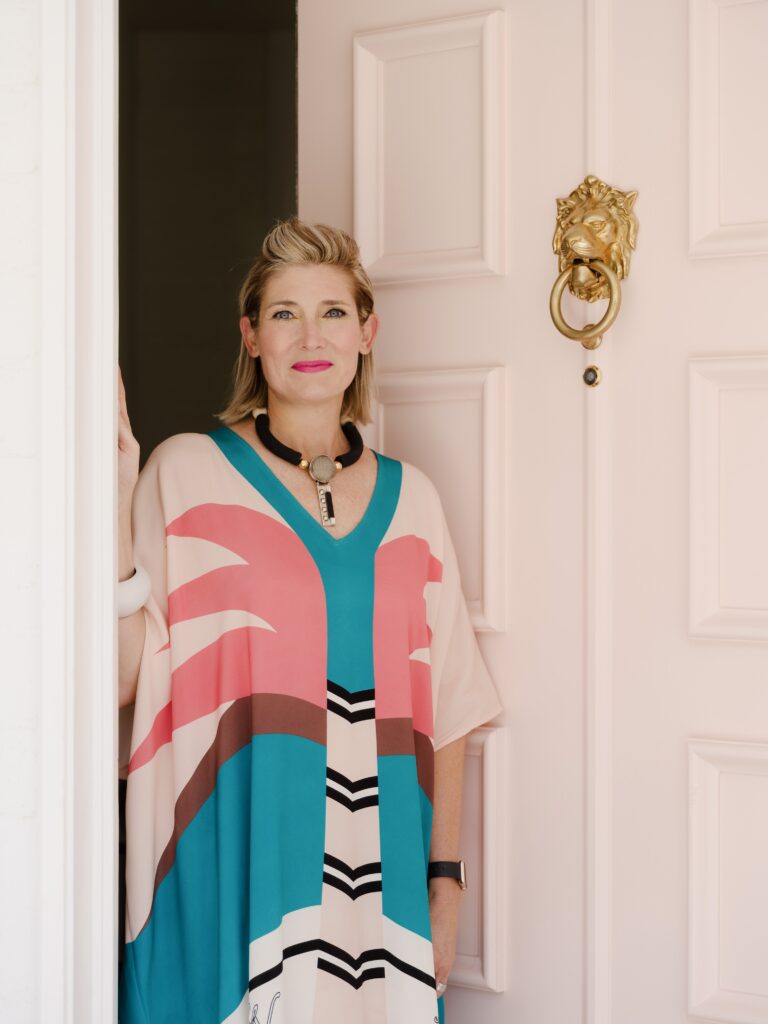 Can you share your path to interior design?
With an education in fine art and two decades of work in creative direction and product and retail design for Fortune 500 companies, I have always seen and experienced culture, art and lifestyle through the lens of design, architecture and landscape, enabling me to create unique spaces and compelling environments. I transitioned into interior design as a way to more vividly express my creative perspective and to help people bring their personal surroundings to vibrant life!
What brought you to Palm Springs?
I am a Palm Springs passionist! My fascination with midcentury modern design, architecture and cocktail culture was launched as a young girl. This obsession fueled endless trips to the desert and ignited the desire to own a piece of this stunning history for myself. Throughout the years, as I had the great fortune to work on the restoration of many Modernist homes and my design projects became increasingly based in Palm Springs, it made sense to make the leap to living here full time. I am happy to call this unique community, that is the source of endless inspiration, my home.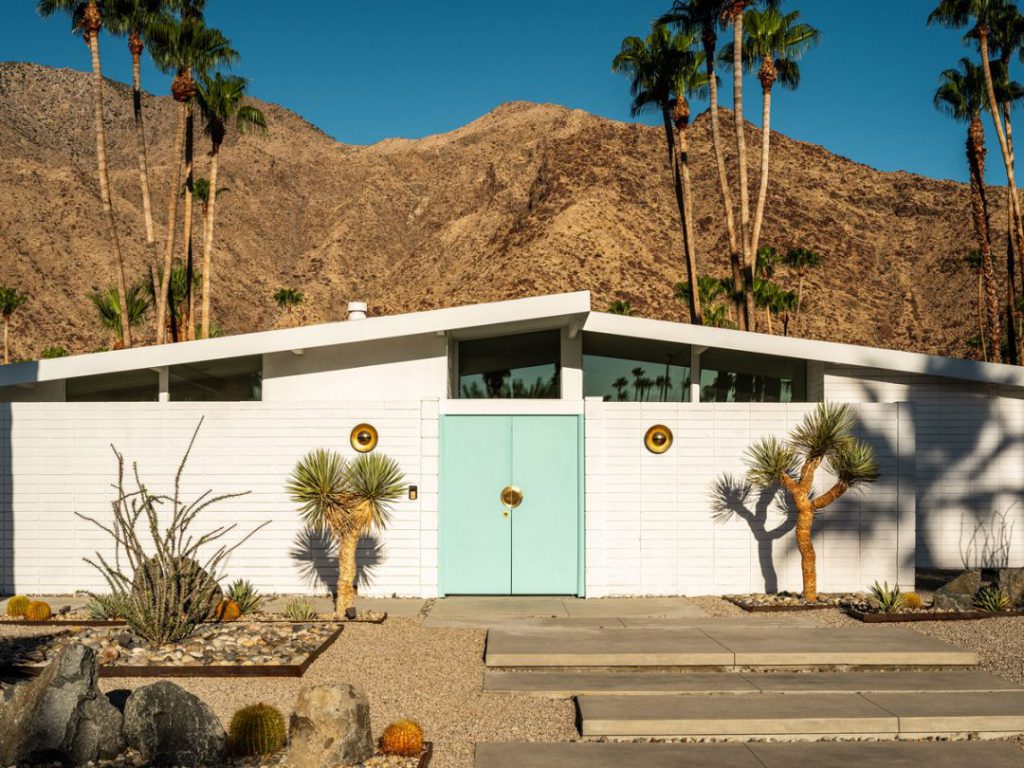 An example of your work, Maison Blue Moderne, will be featured on one of the Modernism Week tours in October. One of the iconic Alexander homes, it was originally designed by William Krisel. Can you tell us a little bit about your renovation of the interior?
The goal was to reimagine the property, burnishing it with a unique personality and style and incorporating modern technology while also respecting and cherishing William Krisel's incredible, original architecture. We drew inspiration from the clients' colorful personalities and their passion for boating and being on the water. We even gave the home a name – Maison Blue Moderne – that nods to both the home's palette and the idea of traveling the "ocean blue". To that end, we embraced the full spectrum of watery hues, from vibrant turquoise to rich navy. Touches of coral and blush and rounded shapes introduce warmth and softness. Walnut wood and crisp white ceilings and walls imbue the space with a nautical touch. Against this backdrop, sculptural custom lighting, the deft use of shape and pattern in the choice of graphic wallpapers and wooden architectural details, and thoughtfully chosen contemporary furnishings and accessories, create dimension and interest and play up the uniqueness of the individual spaces. To bring the home into the present, we opened up the kitchen using slatted screen dividers. Now that area can enjoy the view of the mountains, framed in the living room's expansive windows.
You have a shop in the Uptown Design District in Palm Springs! What should people expect to find when they stop by?
My design studio is a place to meet with clients, explore creativity and ideas with my team, and develop unique custom product collections. I do special pop-up shops each season that feature inspiring products from furnishings to fashion.
Do you have a favorite Mid Century Modern designer and what influence have they had on your work?
While I am inspired by so many modern designers, I would have to call out Le Corbusier as the designer that has had the greatest influence on my work with his example of using simple geometric forms, simple lines and raw materials in unique ways. Not only is he one of the pioneers of what we think of as modern architecture, but he was also a designer, an urban planner, a painter and a writer. Truly, he had a multi-faceted approach to design of which I am truly appreciative and which I am constantly inspired by!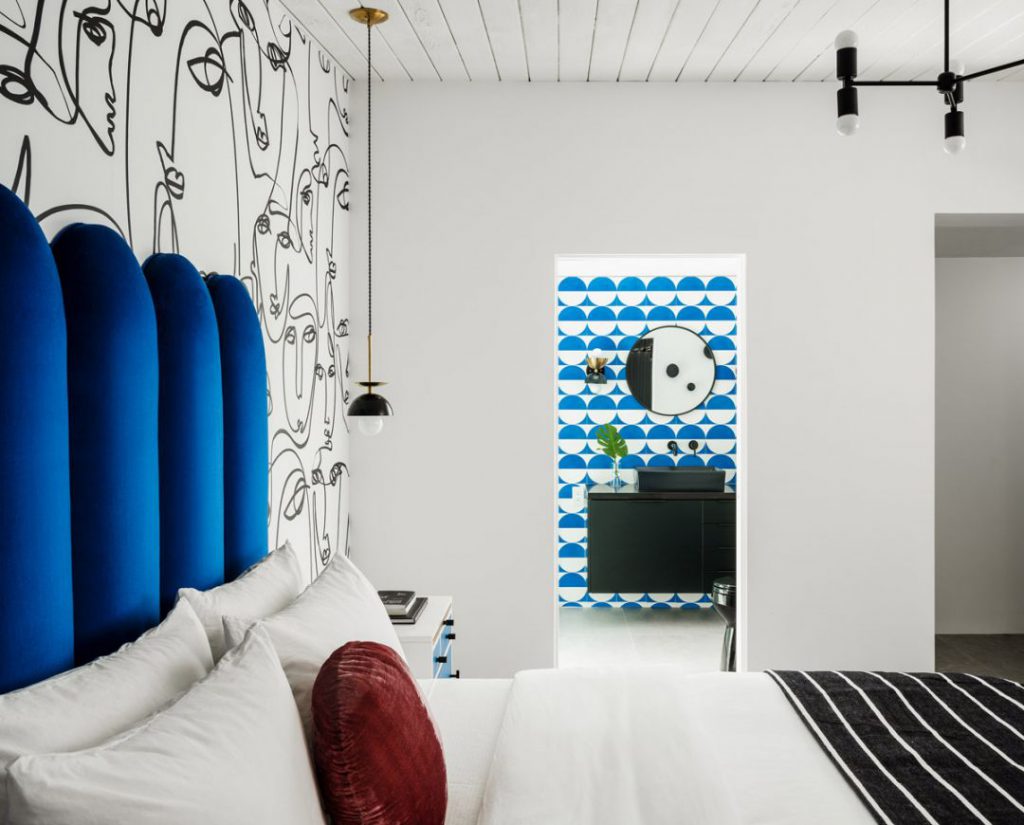 How would you say that you use and interpret modernist tenets in your work?
My style ignites all of the senses, mingling new and original forms, unexpected materials and colors and architecturally clean shapes with thoughtful details rich in modernist aesthetics for a curated, modern approach to design. It's a holistic approach that is the perfect balance of intrigue and livability that honors the architecture, landscape, uniqueness and location of each environment.
What are you currently working on?
Right now, I'm immersed in a number of interesting residential projects as well as a local, historic boutique hotel.
What would be your dream project?
I'm actually working on it! I'm in the midst of redesigning the interiors of the iconic Alexander Estate, known as the both "House of Tomorrow" and, perhaps more popularly, as the Elvis Honeymoon Hideaway where Elvis and Priscilla Presley honeymooned in 1967, with elevated details and materials that nod to the original design. Created by Modernist architect William Krisel, who is also behind the Maison Blue Moderne, it is renowned for its forward-thinking, space-age aesthetic and its architecturally innovative design which nixed the traditional house shape in favor of four spherical pods that connect under a dramatic, angular, sloped roof. We upgraded and enhanced its unique details while carefully preserving its custom crafted original features. It's so thrilling to work on this property and to have the chance to bring it up-to-date in a thoughtful way while honoring Krisel's vision. It'll be presented as part of Modernism Week next year so it's a great opportunity to see this precious gem!
---
This interview has been edited and condensed for clarity.
Images by Lance Gerber