Four-Day Event in May Features Tours, Educational Programs, and Events that Celebrate Beverly Hills Architecture and Design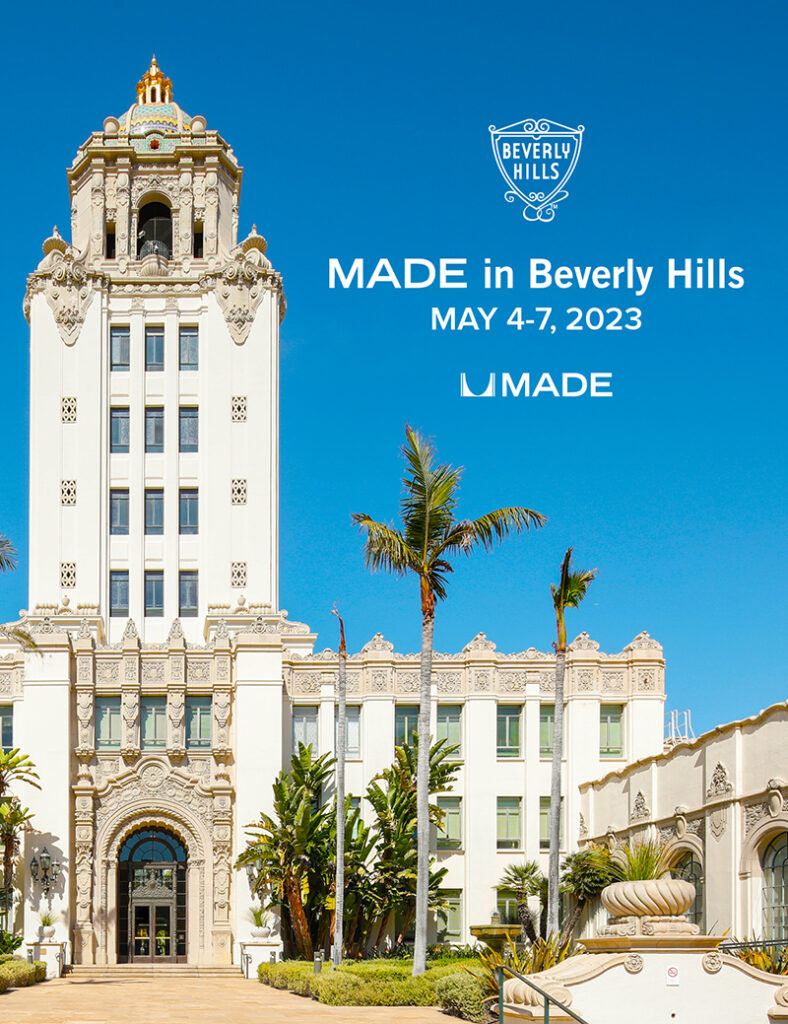 The City of Beverly Hills will host a four-day citywide family-friendly architecture and design festival called MADE in Beverly Hills from May 4-7, 2023 at various locations in the City. MADE (Modern Architecture Design Experience), a nonprofit organization that produces Modernism Week in Palm Springs and other events and educational opportunities, partnered with the City of Beverly Hills to produce this new festival.
MADE in Beverly Hills will celebrate and promote education about the architecture, art, culture, and community of Beverly Hills. The festival includes more than 20 events including iconic tours, lectures, films, a luncheon fashion show, and additional activities. The event will encourage the community and visitors to tour and explore the art, architecture, design, and landscapes that have made Beverly Hills a world-class city. Tickets are on sale now at MADE.modtix.com.
This year's event highlights include: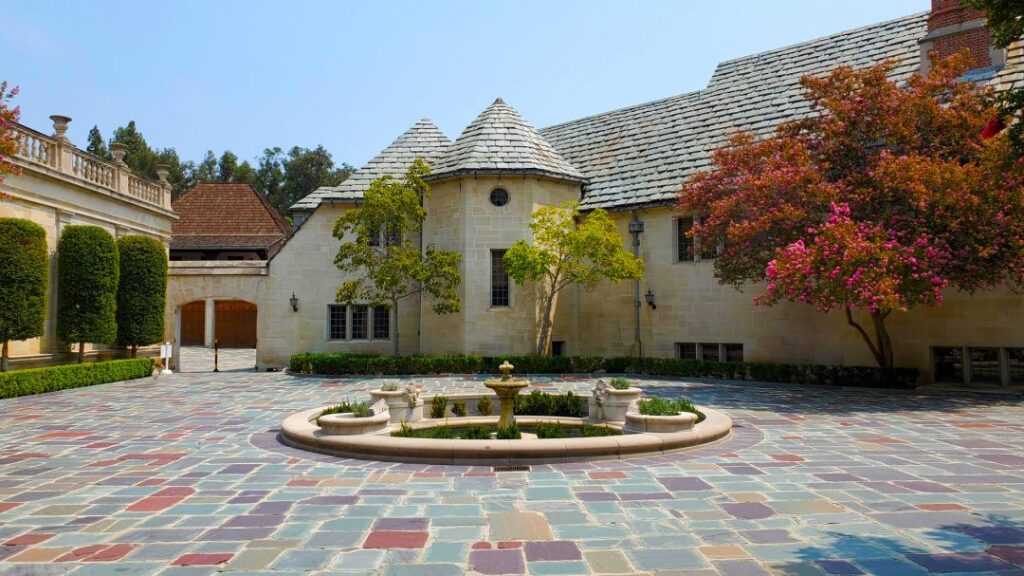 Night at the Mansion (5/3, 5 – 7 pm, $150)
Location: Greystone Mansion Courtyard
Experience an unforgettable evening at the historic Greystone Mansion! Upon arrival, guests will be welcomed with a glass of wine in the dramatic mansion courtyard. As they savor charcuterie and refreshments while mingling with fellow guests, Councilmembers and the Mayor of the City of Beverly Hills will welcome everyone to the inaugural celebration of this exciting new citywide event.
As the sun begins to set over the stunning mansion, The Dreamboats will delight the crowd with their lively and infectious music. Guests may dance the night away or simply relax and enjoy the performance as they soak in the beautiful surroundings.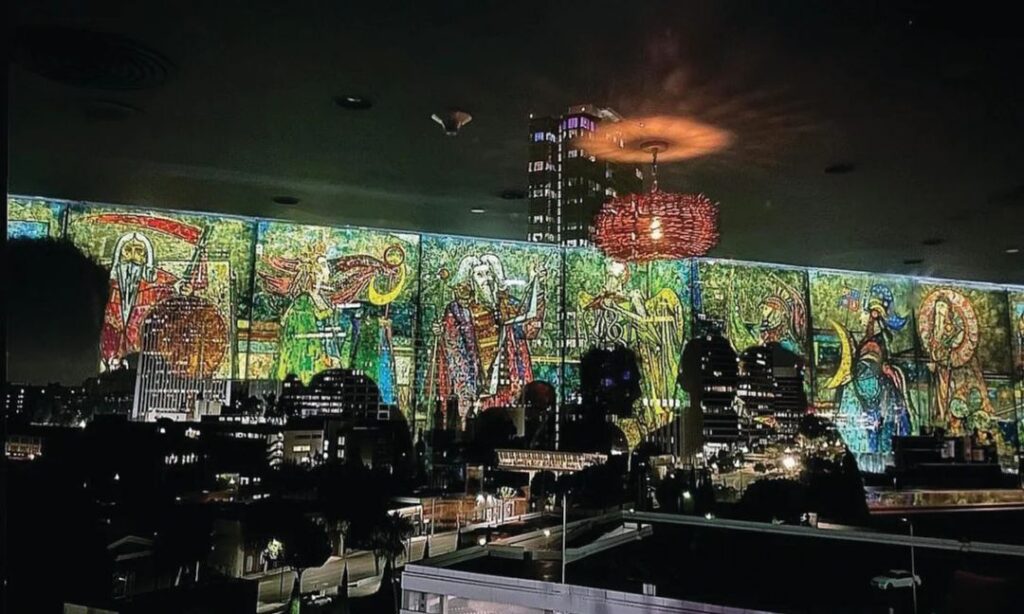 Mystery Murals and Cocktails at The Beverly Hilton's Sant'olina (5/5, 3 pm, $25)
Location: The Beverly Hilton
This entertaining rooftop experience at The Beverly Hilton will give attendees a chance to discover the mystery murals that were recently uncovered behind the hotel's Sant'olina bar. Sip a cocktail and hear the fascinating history behind this unique nine-panel glass mosaic mural, which has been hidden away for decades. The ticket price includes a signature cocktail.
Sunday Signature Home Tour (5/7, 12 pm – 4 pm, $60)
Location: Trousdale Estates
Join us for a tour of a signature home in the Trousdale Estates. This exquisite home boasts a breathtaking design that seamlessly blends modernity with sophistication. The home's lot was the former residence of Dean Martin. Although the estate is new construction, the home truly embodies the spirit of the "Rat Pack".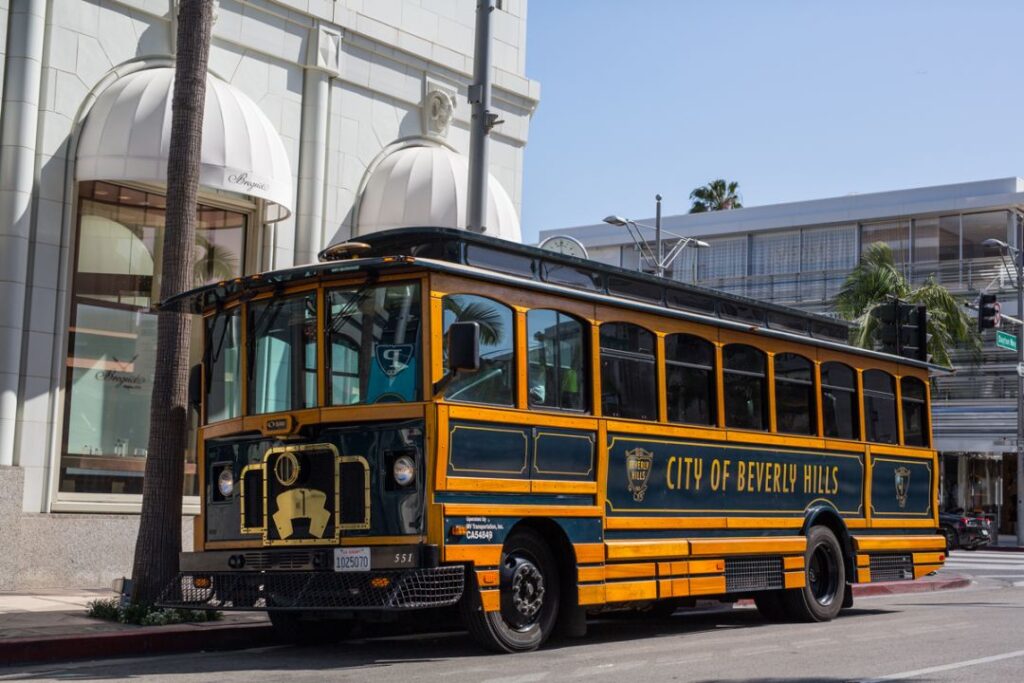 Architectural Trolley Ride (5/4 through 5/7, 9 am – 4 pm, FREE)
Stops: City Hall, Rodeo/Dalton, The Beverly Hilton, Will Rogers Park
Every day of MADE in Beverly Hills, at the top of the hour, from 9:00 a.m. to 4:00 p.m., the Beverly Hills trolley departs from City Hall on the Crescent side. Guests will enjoy a free, 4-mile loop throughout the city and discover interactive architectural experiences at all four stops. The lavishly illustrated and interactive Beverly Hills Experience mobile app is provided free as an excellent companion to the trolley tour and includes self-guided walking tours, historical photos, and entertaining videos about the history of Beverly Hills.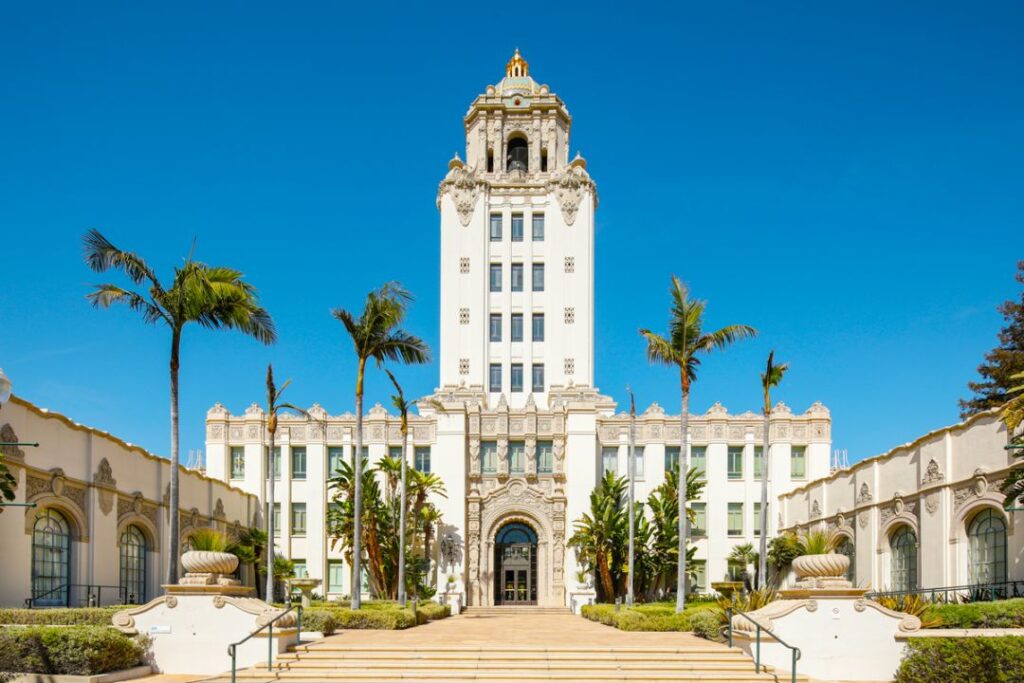 City Hall Tower Tour and Sculpture Park Tour (5/4 – 5/7, 9 am – 2 pm, $20)
Location: Beverly Hills City Hall
This is the first public tour offered of the newly remodeled/restored Beverly Hills City Hall and will provide access to the look-out tower. This guided tour of newly remodeled and restored Beverly Hills City Hall starts on the grounds and allows attendees to discover the renowned outdoor sculptures including Ai Weiwei's Iron Root (2015). The tour continues inside City Hall and will showcase the Council Chambers' newly restored look-out tower.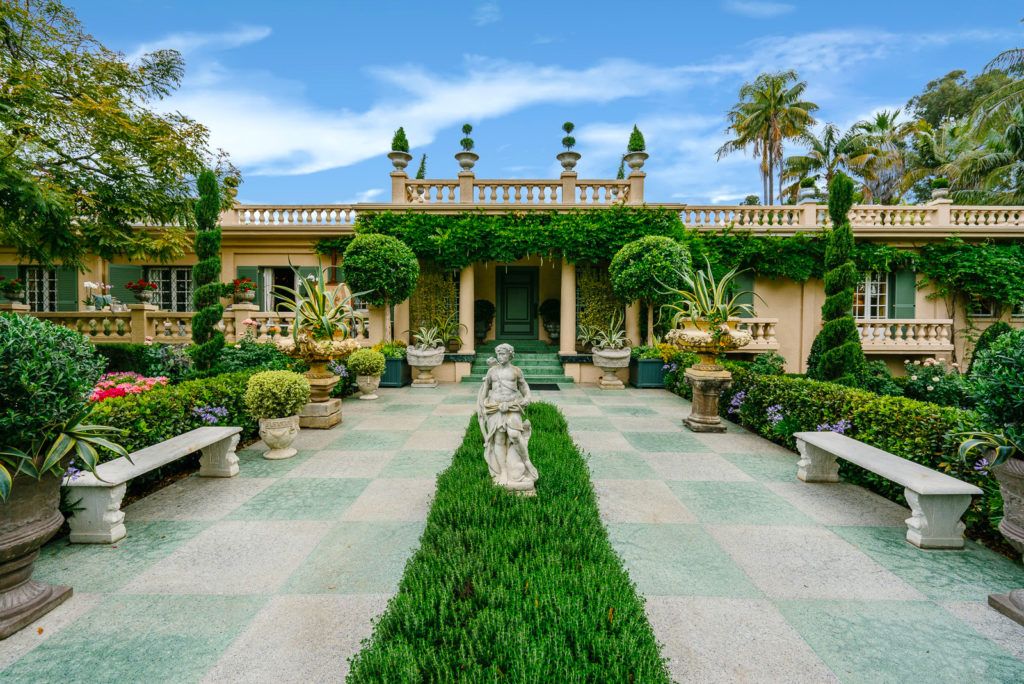 Virginia Robinson Gardens Tour (5/4 – 5/6, 9 am – 4 pm, $40)
Location: Greystone Mansion & Gardens: The Doheny Estate
The Virginia Robinson Gardens, a stunningly beautiful estate with opulent gardens, was once the home to retail giants Harry and Virginia Robinson. This guided tour will showcase the estate's gardens, including the mature grove of more than 100 Australian King Palms. The gardens cover six acres and feature a variety of different themed areas, including a rose garden, a palm grove, a butterfly garden, and an impressive collection of rare and exotic plants from around the world. Guests will tour the estate and learn about the history of the property and the various plants that are grown there and get a glimpse into the opulent lifestyle of early Hollywood's elite.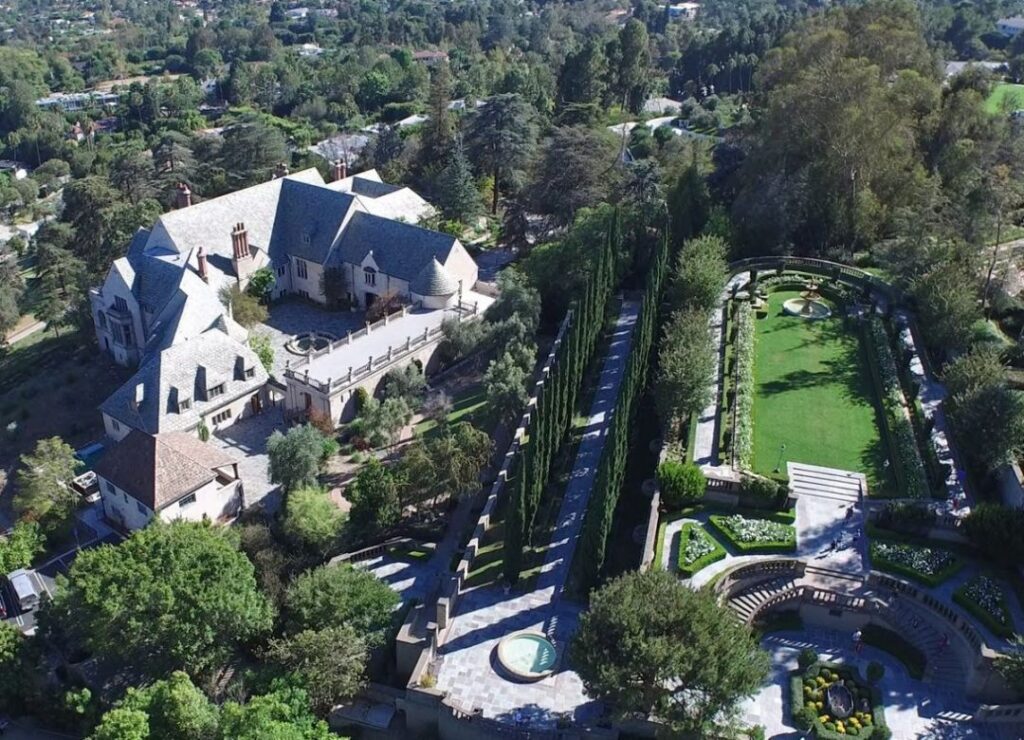 Greystone Mansion Self-guided Tour (5/4 and 5/6, 10 am – 4 pm, $10)
Location: Greystone Mansion & Gardens – The Doheny Estate
Greystone Mansion was completed in 1928 for the Doheny family. This self-guided tour of the Tudor Revival structure will allow guests to explore the first floor of stunning mansion, including the grand entrance, living room, library, dining room, breakfast room, historic kitchens, and guest suites. The recently restored theatre is also included. The grounds of Greystone are open to the public and can be visited before or after the timed entry into the mansion. Located on a hillside overlooking Beverly Hills, the terraced gardens and lawns were designed by landscape architect Paul Thiene and today include approximately 18 acres, including formal gardens, slate courtyards, and the beloved cypress lane.
The Beverly Hills Hotel Signature Design Tour: Paul R. Williams (5/4, 10 am -12 pm, $125)
Location: The Beverly Hills Hotel
Paul R. Williams, known as the architect to the stars, designed the legendary Beverly Hills Hotel. Tour guests will enjoy a talk by Karen Hudson, author and granddaughter of the hotel's architect, and discover how he put his signature on this iconic landmark. Ms. Hudson will share her stories and discuss her grandfather's legacy with an intimate group of guests inside the Rodeo West room at The Beverly Hills Hotel. Coffee, tea and pastries will be served before guests take a short walk with a property expert to explore the influential design of Williams.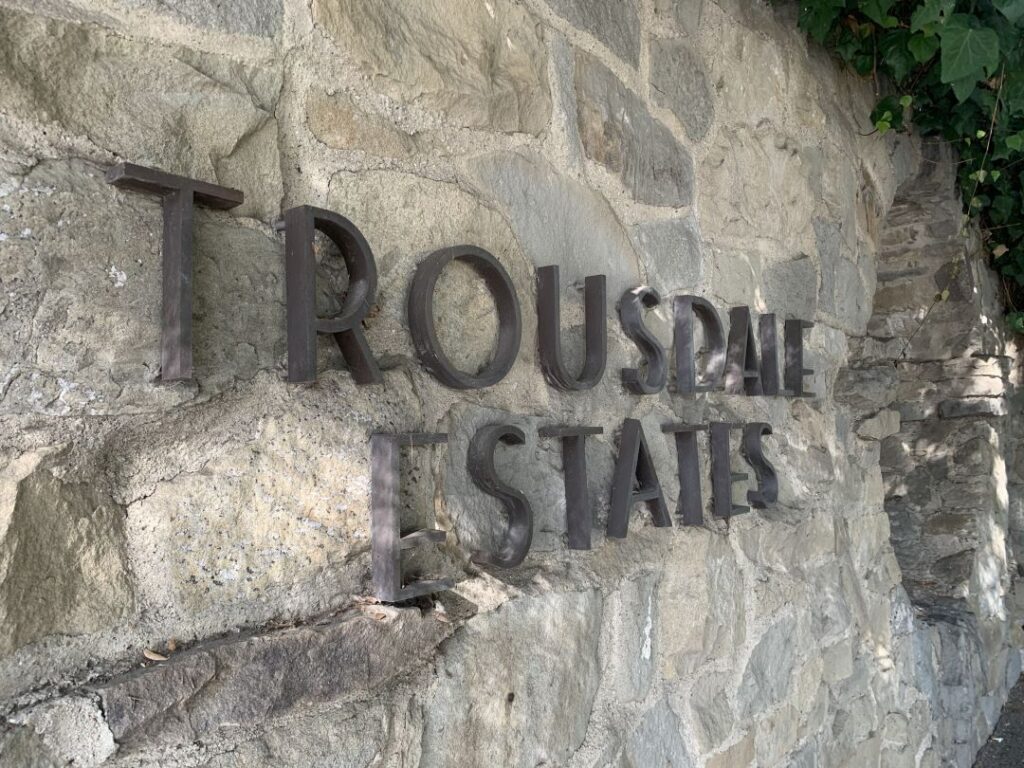 Trousdale Coach Tour (5/5 – 5/7, 12 – 4 pm, $50)
Starting location: Greystone Mansion & Gardens: The Doheny Estate
Paul W. Trousdale, the real estate developer, created Beverly Hills' fashionable Trousdale Estates. This unique tour will provide interactive insights into one of the most sought-after locations in the world. The specially curated coach tour will allow attendees to discover the neighborhood in the most unique way. Located just minutes away from the Sunset Strip, the neighborhood is characterized by its winding roads, hillside terrain, and stunning modernist architecture. The homes on the tour are prime examples of virtually every A-list architect in Southern California, including A. Quincy Jones, Wallace Neff, Cliff May, Paul R. Williams, Richard Dorman, Harold Levitt, and Rex Lotery. The neighborhood has been home to many Hollywood celebrities and entertainment industry moguls over the years, including Elvis Presley, Frank Sinatra, and Jennifer Aniston.
Historic Rodeo Drive Guided Walking Tour (5/6, 10 am and 12:30 pm, $30)
Meet at: Beverly Gardens Park
The Beverly Hills Historical Society will lead a magical history walking tour of legendary Rodeo Drive. Noted historian Phil Savenick will highlight the architecture and tell stories about the former sites of the famous Brown Derby restaurant, celebrity night club Romanoff's, and local Tiki hang-out The Luau. Other notable architectural landmarks on the tour include Paul Williams' MCA Building, Frank Lloyd Wright's Anderton Court (his only commercial design), and The Beverly Wilshire Hotel, made famous in the movie Pretty Woman. The tour also includes the candy shop that inspired the beloved chocolate factory episode of I Love Lucy. The tour begins at the world-famous Beverly Hills sign and Lily Pond in Beverly Gardens Park. There is ample free 2-hour parking on side streets around the park.
Los Angeles Conservancy's Presentation and Walking Tour of Paul R. Williams in Beverly Hills (5/7, 10 am – 12 pm, $40)
Meet at: Beverly Hills Conference and Visitor Bureau
Join the L.A. Conservancy on a walking tour of Beverly Hills to visit the exteriors of several Paul R. Williams structures and discover his impact on Beverly Hills architecture. In a trailblazing career that spanned nearly six decades, Paul Revere Williams designed more than 2,000 structures across L.A. County. His mastery of architectural styles ran the gamut from Colonial to Tudor to Modern, and the types of buildings he designed were just as varied. The tour will include four residences and several businesses in a variety of revisionist styles, and attendees will learn about Williams' remarkable life and accomplishments—as well as the importance of protecting his legacy.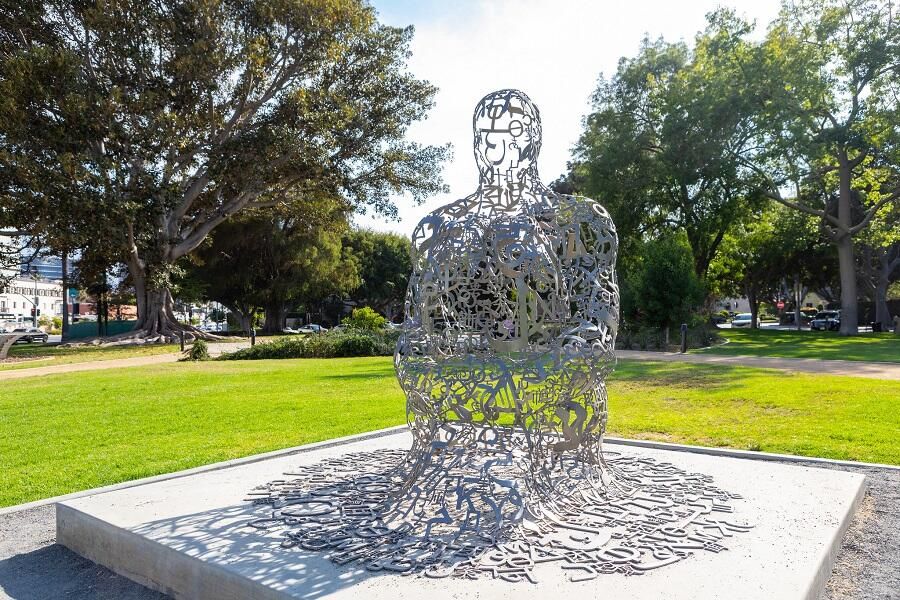 Beverly Hills Artwalk Guided Tour (5/7, 11 am, FREE)
Meet at: Beverly Gardens Park
This 1.5 hour art walk guided tour showcases a tailored selection of historic and world-renown public art in Beverly Gardens Park. It will be the ultimate immersive deep dive into the Beverly Hills Sculpture Park and features works by world-renowned international artists such as Ai Weiwei, Tony Smith, Jaume Plensa, Magdalena Abakanowicz, and many others.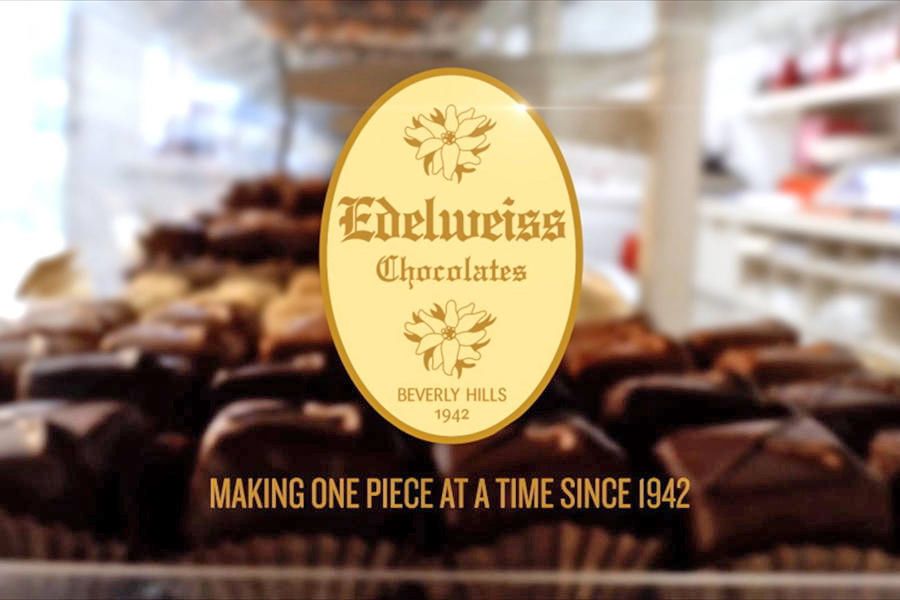 Edelweiss Chocolates Tour (5/7, 11 am – 4 pm, $10)
Location: Edelweiss Chocolates
Tour the oldest chocolate shop in Los Angeles and the one that inspired the famous chocolate factory scene from I Love Lucy. Taking a tour of Edelweiss Chocolates in Beverly Hills is a delightful experience for anyone who loves chocolate. During the tour, guests will be allowed to go into the kitchen to learn how chocolate is made and discover the intricate processes involved in creating the rich, velvety chocolate for which Edelweiss is known. Guests will also learn about the history of Edelweiss chocolates, and how it has become one of the most iconic spots in Beverly Hills for residents, tourists, and celebrities. At the end of the tour, guests will be given a handcrafted chocolate that commemorates MADE in Beverly Hills—a sweet way to remember this delicious experience.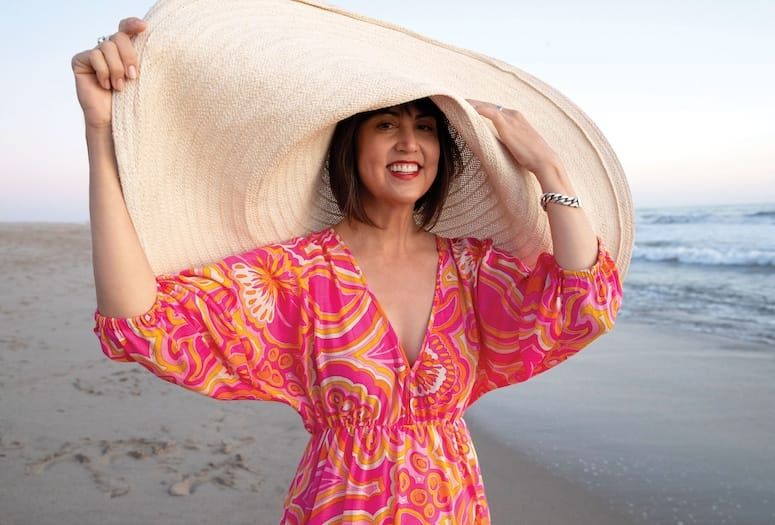 The Beverly Hills Women's Club Luncheon, Tour, and Trina Turk Fashion Show (5/5, shuttles depart at 10:20 and 10:40 am, $240)
Location: Beverly Hills Women's Club
Join fashion designer Trina Turk for a luncheon and fashion show and tour the Beverly Hills Women's Club, historic landmark No. 3 in Beverly Hills. This luncheon and fashion show will feature works by the highly acclaimed fashion designer Trina Turk. Guests will be treated to a delicious selection of dishes in the club's beautifully decorated ballroom. During the lunch, guests will be treated to an informal fashion show presented by Trina Turk who will showcase her latest Trina Turk and Mr. Turk collections, giving attendees a sneak peek at the newest designs and styles. With Trina Turk herself in attendance, guests will have the opportunity to ask her questions about her work and her inspiration. Guests will also have the chance to tour the Beverly Hills Women's Club, an iconic venue that has played an important role in the city's history for over a hundred years.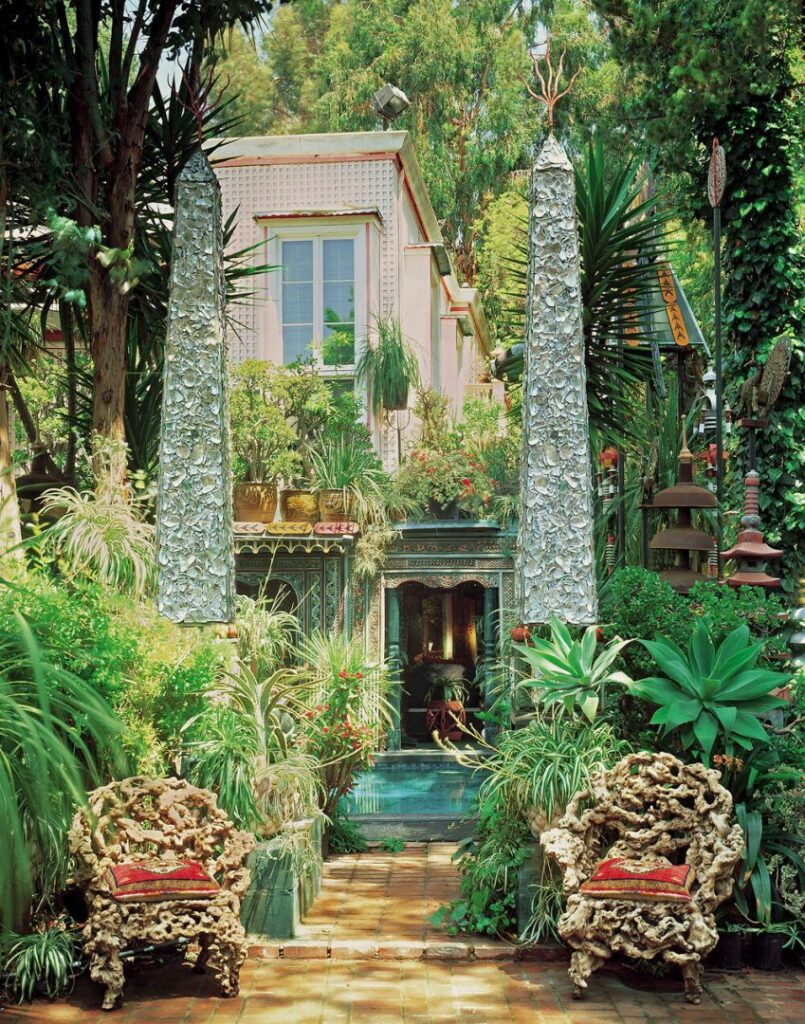 Tour of Tony Duquette's Dawnridge Estate with Hutton Wilkinson (5/5, 1 pm, $10)
Location: Beverly Hills Public Library Auditorium
Filmed on location at the almost indescribable and stunning estate of famed designer Tony Duquette, current owner and former business partner Hutton Wilkinson sits down with interior designer and co-founder of SIA Projects, Jamie Rummerfield, for a conversation about Duquette, and takes the audience on an in-depth tour of the house and extensive gardens. Located in Beverly Hills, Dawnridge is one of the most creatively designed and eccentric homes in America. A bohemian wonderland from top to bottom, the house was designed by architect Casper Ehmcke and built in 1949 by Duquette and his wife, Elizabeth. Initially consisting of a tiny 900-square-foot box-shaped dwelling with four rooms, over the decades the Duquettes added onto the house and the property, transforming it into a multi-structure compound with sprawling gardens.
Regarding Paul R. Williams with Photographer Janna Ireland (5/5, 2 pm, $10)
Location: Beverly Hills Public Library Auditorium
Photographer and conceptual artist Janna Ireland and noted architecture historian Alan Hess share a lively conversation on Ireland's experience and insights over four years photographing African-American architect Paul R. Williams' buildings for her new book, Regarding Paul R. Williams: A Photographer's View. She provides a fresh and contemporary context of his work with a collection of elegant black and white photographs. It was filmed in a Paul R. Williams residence in Los Angeles.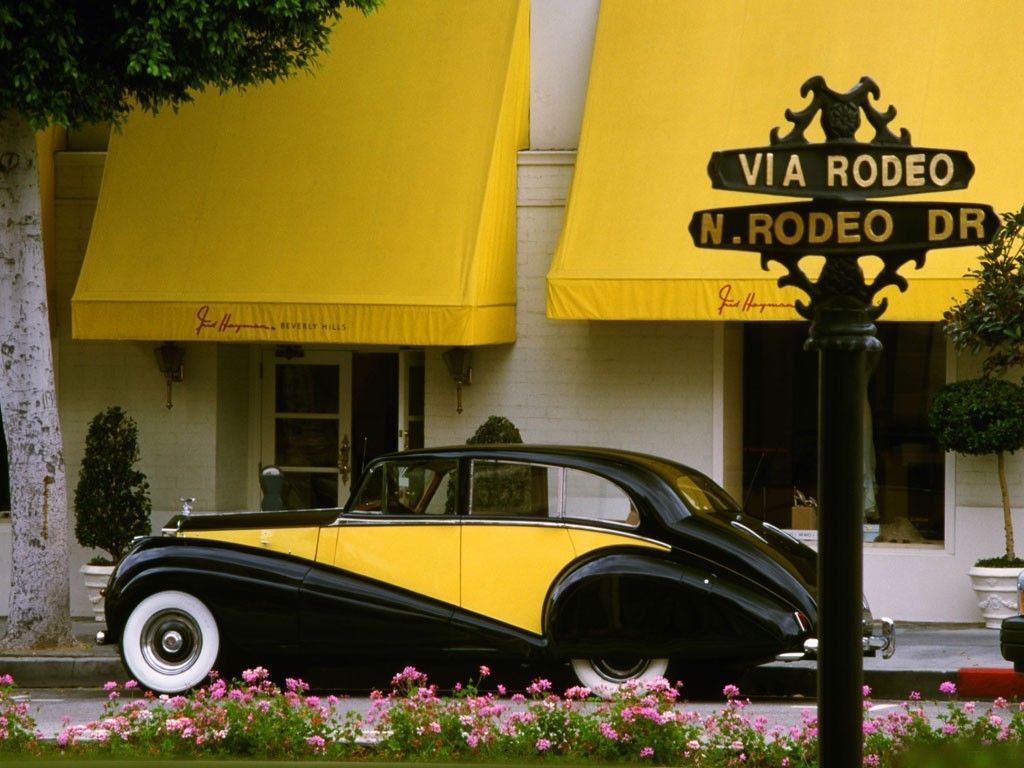 The Rodeo Drive Revolution 1960-1981 with Rose Apodaca (5/6, 1 pm – 2:30 pm, $30)
Location: Beverly Hills Conference and Visitor Bureau
Join culture historian Rose Apodaca for a captivating presentation on the evolution of Rodeo Drive from 1960 to 1981 and the seismic impact Fred Hayman had here and beyond its gilded city limits. Apodaca's extensive research and in-depth knowledge of the subject will take you on a journey through the history of Rodeo Drive, revealing how Fred Hayman, the visionary retailer and entrepreneur, brought a new level of sophistication and glamour to the area, forever changing the experience of this famous street.
Over The Top — The Architecture of Trousdale Estates (5/6, 11 am, $15)
Location: Beverly Hills Public Library Auditorium
Join author and historian Steven Price on a wild roller coaster ride overview of Beverly Hills architectural history, with an entertaining and informative talk that will leave the audience breathless. When it was launched in 1955, Trousdale Estates was truly "over the top" – sited at the highest point of Beverly Hills, and in its sky's-the-limit residential architecture. But in fact, the 410-acre enclave comprises L.A.'s largest and most complete colony of residential designs by virtually every A-list architect in Southern California, including A. Quincy Jones, Wallace Neff, Cliff May, Paul R. Williams, Richard Dorman, Harold Levitt, Rex Lotery and many, many more. Celebrities such as Frank Sinatra, Groucho Marx, Dinah Shore, Elvis Presley and Richard Nixon had homes in Trousdale Estates. Now, in the 21st century, Trousdale Estates is back – bigger and more glamorous than ever.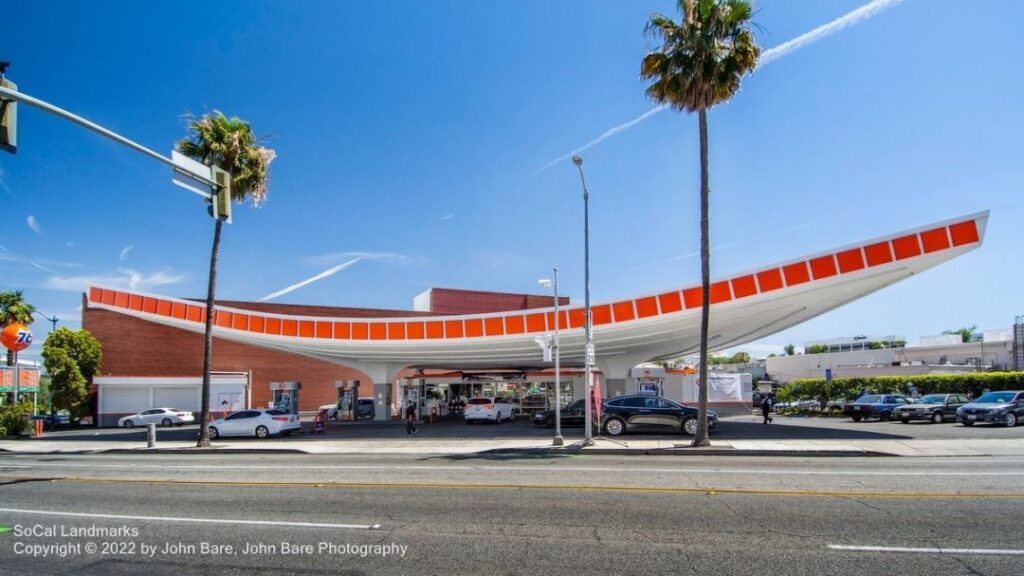 Googie: Architecture as One of the Seven Lively Arts (5/6, 1 pm, $15)
Location: Beverly Hills Public Library Auditorium
Googie architecture — Southern California's unique contribution to Midcentury Modernism — has a significant foothold in Beverly Hills from Restaurant Row to the gull-wing gas station near City Hall. With modern shapes and materials, Googie captured the excitement and optimism sweeping the nation after decades of war and depression — and made it part of everyone's daily life. Architect and historian Alan Hess will discuss Googie architecture in Beverly Hills and beyond and explore both famous and forgotten landmarks of this style and its roots in California's maverick outlook on design. The presentation includes brilliant hand-drawn renderings from his new book with Michael Murphy Googie Modern: Architectural drawings of Armet Davis Newlove. A book signing will follow the talk.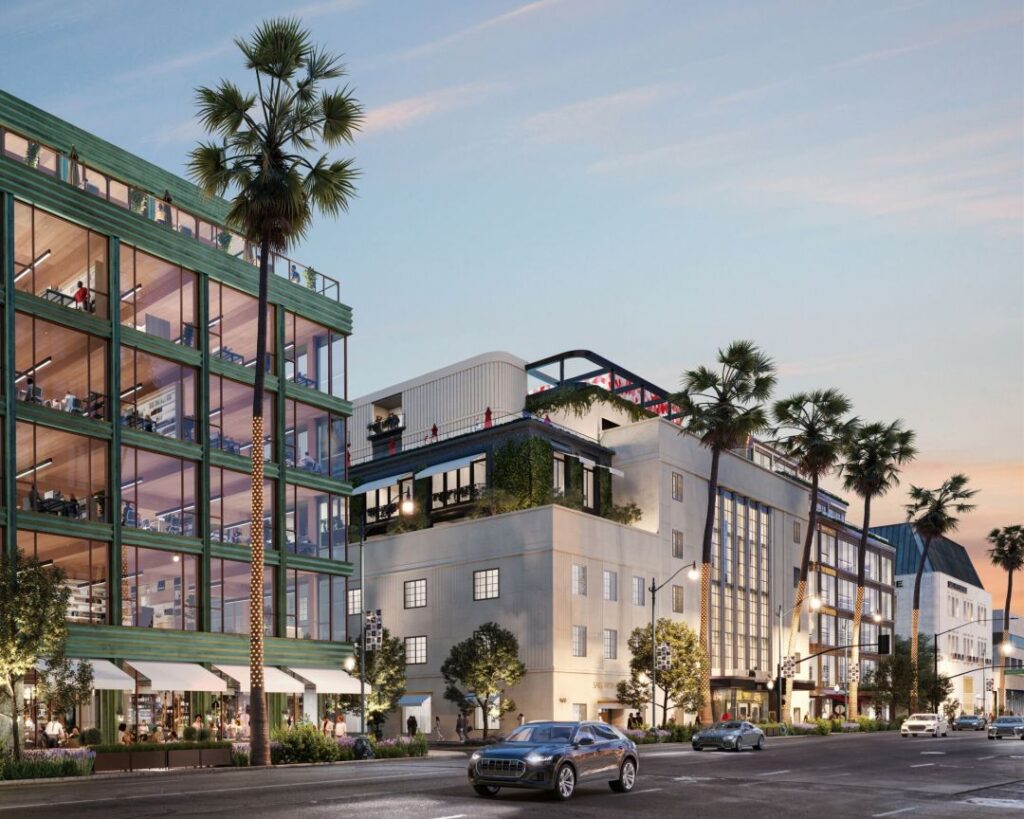 Modern Design and Luxury in the 90210 (5/6, 2 pm, $15)
Location: Beverly Hills Public Library Auditorium
Beverly Hills is internationally recognized and celebrated as the epicenter of luxury. Join architects Chris Carr of HBC and Leo Marmol of Marmol Radziner as they explore the history of luxury retail in Beverly Hills using the historic Saks Fifth Avenue structures on Wilshire Boulevard as a case study for the unique connection between luxury lifestyle and Modern design.
MADE in Beverly Hills After Dark (5/4 – 5/7, 6 – 10 pm)
Self-selected
A collection of Beverly Hills restaurants and bars have crafted special drinks and dishes just for the weekend. Receive a map and menu and plan your weekend for MADE in Beverly Hills at night.
Guests of MADE in Beverly Hills are encouraged to stay with the festival's hotel partners, AC Hotel by Marriott Beverly Hills, The Beverly Hilton, and The Beverly Hills Hotel.
---
About MADE:

The non-profit organization that produces Modernism Week has a new identity to share with the public: MADE, an acronym for Modern Architecture Design Experiences.

Under the expanded brand name MADE will continue working as they have for the last 18 years to produce year-round programming in the Palm Springs area. MADE productions include Modernism Week in February, Modernism Week – October, small group Architecture Tours by Modernism Week from October-May, and group travel excursions, like Modernism Week at Sea and other curated architecturally-focused trips.

MADE provides a platform for future growth and educational efforts throughout southern California and beyond. Proceeds from this event will support MADE (dba Modernism Week), a 501(c)(3) nonprofit organization that produces public events and creates educational opportunities that celebrate and foster appreciation of midcentury architecture and design, as well as contemporary thinking in these fields throughout southern California and beyond.
About the City of Beverly Hills

The City of Beverly Hills, California, is one of the world's most celebrated communities. Located within 5.7 square miles in the heart of Southern California, it is home to 35,000 residents and hosts millions of visitors from all over the world every year. With its lush landscape, near-perfect climate, exceptional dining, entertainment, shopping, public art and cultural experiences, the City enjoys an international reputation as a premier destination in which to live, work and play. Beverly Hills is a full-service City with outstanding police and fire departments, award-winning schools, sound infrastructure, and extensive recreational opportunities. To learn more, visit beverlyhills.org.
---