Experience the city like never before. Join us for this year's MADE in Beverly Hills tours.
When it comes to seeing the sights, there's no place quite like Beverly Hills. During MADE in Beverly Hills (May 4-7, 2023), discover the city's most interesting homes, extravagant gardens, and cultural spaces. Read on for this year's top tours.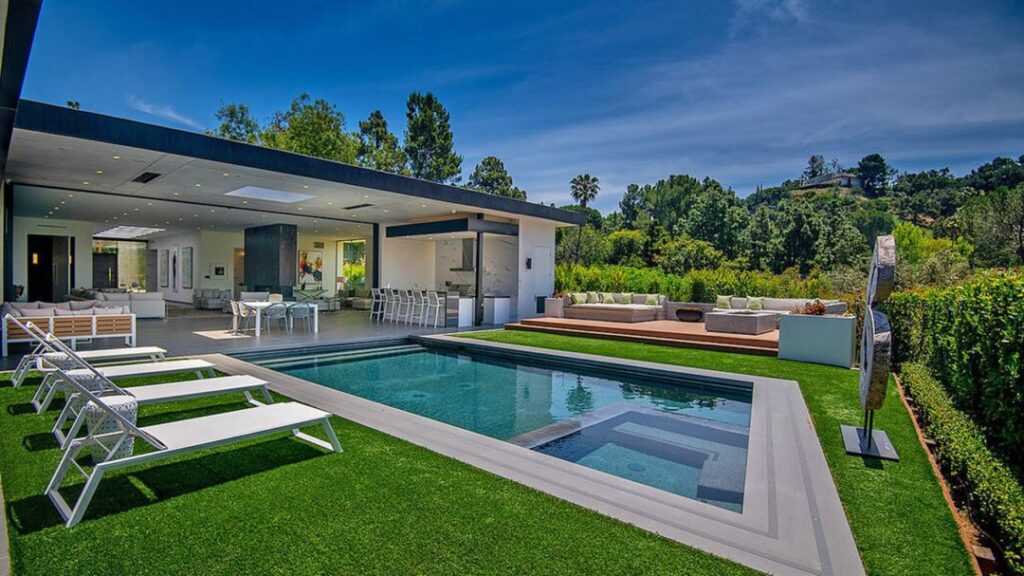 This Trousdale Estates residence was once the property of Dean Martin, and was one of three that real estate developer Paul W. Trousdale kept for himself. This exquisite home design started first with the interior spaces, which lead to the single story architectural plan. The home seamlessly blends modernity with sophistication. The architect of this engaging 10,000 sf home is Whipple Russell with beautiful interior design created by Jon Mandl Design. The west facing property is situated looking toward Pacific Palisades and has views of the surrounding rolling hills. The spacious home boasts 5 bedrooms and 9 bathrooms all open for touring during our exclusive access to the home on Sunday, May 7.
Beverly Hills Art Walk Guided Tour
Join us at the historic Beverly Gardens Park for an art walk guided tour of the Beverly Hills City's Sculpture Park. View work by artists such as Magdalena Abakanowicz, Jaume Plensa, Tony Smith, Ai Weiwei, and many others.
Greystone Mansion Self-Guided Tour
Step inside the first floor of the historic Greystone Mansion! Built in 1928 for the Doheny family, the self-guided tour will take you through twelve spaces including three historic bathrooms. The tour will also allow guests to explore the terraced gardens and lawns designed by landscape architect Paul Thiene.
Take a curated coach tour through the Trousdale Estates in Beverly Hills and view the neighborhood's amazing modernist architecture. Houses in this neighborhood were designed by A-list Southern California architects such as Richard Dorman, A. Quincy Jones, Harold Levitt, Cliff May, Wallace Neff, and Paul R. Williams. Trousdale Estates has been home to many Hollywood celebrities like Elvis Presley, Frank Sinatra, and David Spade. Learn more about the neighborhood and why it has become one of the most sought-after locations in the world.
Historic Rodeo Drive Guided Walking Tour
Join the Beverly Hills Historical Society for a walking tour of the legendary Rodeo Drive. Historian Phil Savenick will highlight the architecture and tell stories about the former sites of the famous Brown Derby restaurant, celebrity night club Romanoff's, and local Tiki hang-out The Luau. Visit landmarked architectural treasures including Paul R. Williams' MCA Building, Frank Lloyd Wright's Anderton Court, and The Beverly Wilshire Hotel, made famous in the movie Pretty Woman. The tour also includes the candy shop that inspired the beloved chocolate factory episode of I Love Lucy.
Paul Revere Was Here: Los Angeles Conservancy's Walking Tour of Paul R. Williams in Beverly Hills
Paul Revere Williams (1894-1980) designed more than 2,000 structures across L.A. County. Known as the "architect to the stars," Williams was often commissioned to design homes in neighborhoods which, due to racial covenants, he was not allowed to live in. Beverly Hills is one of those neighborhoods, and is a prime example of Williams' prolificacy. On this tour, you'll see residences and businesses in a variety of revisionist styles, and learn about Williams' remarkable life and accomplishments— as well as the importance of protecting his legacy.
Virginia Robinson Gardens Tour
Tour the Virginia Robinson Gardens, once home to retail giants Harry and Virginia Robinson (of the Robinson's Department Store), and one of the first homes built in Beverly Hills. View the mansion's 6 acres of lush gardens, fountains, terraces, and breathtaking views of the surrounding landscape. Guests will see a variety of themed areas, including a rose garden, a palm grove, a butterfly garden, and an impressive collection of rare and exotic plants from around the world. Enjoy the scenery and learn about the history of the property and the various plants that are grown there.
---
See the full MADE in Beverly Hills schedule here.
---