An insider's look into the fine art of discovering great, timeless design. Modernism Weekly chats with The Fine Art of Design's Nicolas Delgado.
Emerald Yves Saint Laurent heels, a vintage Chanel gown, and rare midcentury jewels line the racks of The Fine Art of Design, an expertly curated vintage boutique in Palm Desert. With an impressive collection of unique apparel and accessories unlike any other, you'd be hard-pressed to leave this shop empty-handed.
The Fine Art of Design hosted a popular pop-up at the Ace Hotel during Modernism Week, and it has quickly become one of our favorite go-to spots for one-of-a-kind pieces. Modernism Weekly sat down with owner Nicolas Delgado to learn more about this local treasure, and pick his brain on the fine art of shopping vintage items, scoring the best cocktail in town, and everything in between!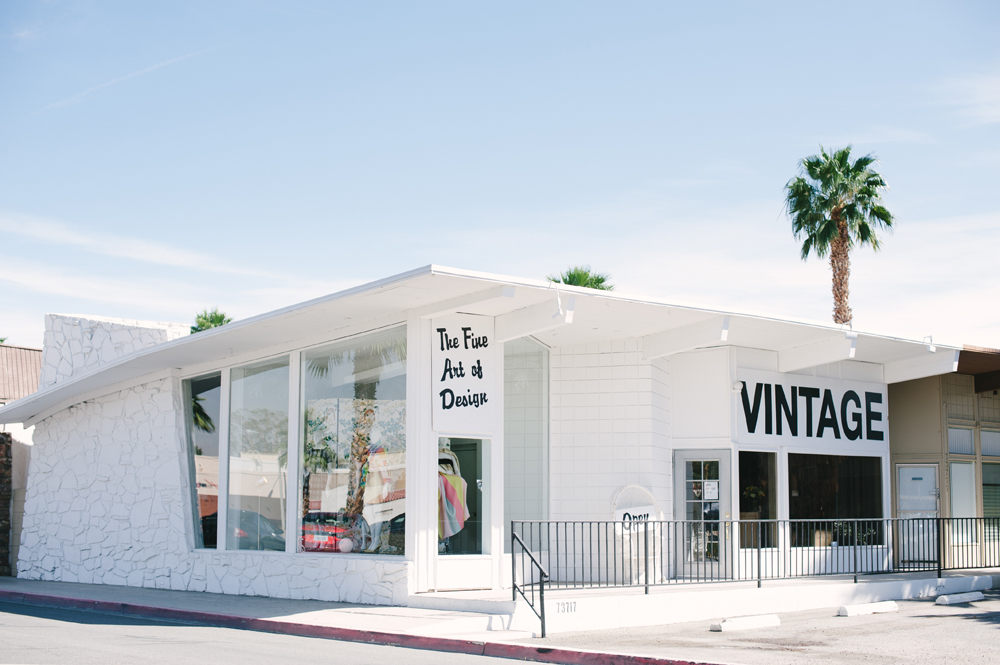 How did The Fine Art of Design come to be?
After college my friends and I started a backyard flea market we held in our apartment complex in Palm Desert. We had local artists, bands and shopping from our collections.
Did you always have a love for vintage? What is it about vintage and retro items that is still so appealing, even to modern-day fashionistas?
I have always loved design and history, it wasn't until my time at Parsons School of Design that I honed in on fashion specifically. Fashion is ephemeral and vintage makes a reference to the past, which creates allure by building a mystery.
Where do you find such a unique collection of vintage goods?
Local women who consign or sell their clothing. And of course I shop whenever I have the chance to travel.
Who is your design inspiration?
Todd Oldham, he truly encapsulates my version of a modern industrial designer. He has done fashion, art, design, lifestyle and craft. He currently is being exhibited at the Rhode Island School of Design museum and you can find his craft & project sets for children at Target called Kid Made Modern. I met him last year in Palm Springs at Modernism Week 2015 and was so enamored by his knowledge and presence.
What are some of your favorite vintage finds to date?
A client brought in a cedar box of Edwardian era slips, nightgowns, day dresses and evening gowns. The collection still enchants my memory.
What is your favorite item in your closet, right now?
A Louis Vuitton Train Case my grandmother used in her travels.
Do you have any tips for people shopping for vintage for the first time?
Always be open to alterations, its easy and affordable – too many people miss out because they don't want to put the energy in tailoring. The right fit makes all the difference.
Where do you like to shop in Palm Springs?
I love shopping Sunny Dunes Road! Great antique malls and shops.
What are some of your must-see places to eat and drink in Palm Springs
to eat: Rooster and the Pig's crispy beef
to drink: Appetito's lemoncello blended cocktail
We loved The Fine Art of Design's pop-up shop at the Ace Hotel during Modernism Week. Do you have plans to set up shop in Palm Springs anytime soon?
In the future we would love to continue popping-up in Palm Springs, we love working with Ace Hotel and "stay-cationing" in Palm Springs proper.
---
The Fine Art of Design is located on 73717 Highway 111, Palm Desert, CA 92260. The shop is open everyday 11am-5pm, and Sundays till 3pm.
Photo credit: interior by Arturo Gonzales; exterior by Mike Radford for Palm Springs Style.