Learn more about every corner of Palm Springs during these special neighborhood tours during Fall Preview 2019.
Palm Springs' colorful neighborhoods hold the gems of the city – historic structures, iconic homes, and plenty of tales only these midcentury walls can tell. Take a deeper dive into history by joining an exciting and informative neighborhood tour during Fall Preview!
Deepwell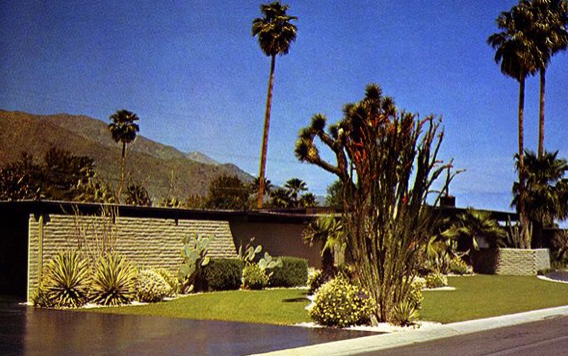 Deepwell Estates received its name after scientist Henry Pearson drilled the deepest well on an apricot ranch he purchased in 1926. A few years later, the ranch was sold and converted to the Deep Well guest ranch and a subdivision was built and became known as the Deepwell Colony Estates in the 1950s. A few of Deepwell's famous residents included Loretta Young, Jerry Lewis, William Holden, and Tippi Hedren.
Renowned architects like E. Stewart Williams, Donald Wexler, and Hugh Kaptur designed the midcentury modern and California ranch-style residences that Hollywood stars called home. Low slung roofs, beautiful pools, and thoughtful attention to the local landscape are just a few of the iconic elements  that make this neighborhood distinctly Palm Springs. 
See this neighborhood during the "Midcentury Showcase – Shangri-La of the Stars" tour. 
Downtown Palm Springs
What began as a tiny agricultural settlement has now become a world-class desert escape, thanks to the pioneering efforts of forward-thinking women like Nellie Coffman (the "Mother of Palm Springs,"), Cornelia White, Pearl McCallum McManus, Zaddie Bunker, Harriet Cody, Ruth Hardy, and others. These women with vision paved the way for the iconic buildings and booming businesses that thrive among Palm Canyon Drive today.
Local architects E. Stewart Williams, Larry Lapham, and Donald Wexler – as well as large nationally recognized architectural firms Victor Gruen & Associates and Pereira & Luckman – continued to develop the city's economy with the impressive commercial structures they designed. Googie, Spanish Colonial Revival, International Style, midcentury modern, and other architectural styles can be seen throughout downtown.
See this neighborhood during the "Heart of the City – Women Built this Town"  and "Marvels of Modernism Masters" tours.
The Mesa
In the early 1920s, Los Angeles businessman Edmond Fulford came to Palm Springs with the vision of creating a scenic, secluded escape on the eastern slope of the San Jacinto mountains. While his dream of a private community was never fulfilled due to his sudden death in 1936, The Mesa is now home to an architecturally diverse neighborhood filled with Spanish, contemporary, craftsman, and midcentury modern homes.
Clark Gable, Sonny Bono, Barry Manilow, Suzanne Somers, and Natalie Wood were just a few of the notable residents who found solace in this charming neighborhood. The Moorten Botanical Garden, a local favorite and home to the world's first cactarium, is also located here. Stop by and pick up some native plants to take home a piece of the desert with you!
See this neighborhood during the "Hidden Paradise Show Biz Legends in the Mesa" tour.
Tennis Club Neighborhood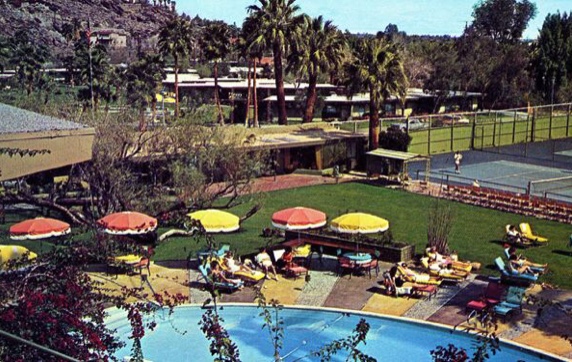 Make your way to this celebrity haven to discover an eclectic mix of boutique hotels and private sanctuaries that became hideaways for Golden Age stars like Errol Flynn, Lucille Ball, Doris Day and Gloria Swanson. Hollywood hipsters like Robert Downey Jr. and Reese Witherspoon continue to enjoy these unique resorts today.
Enjoy views of the San Jacinto Mountains while learning about the post-war structures and the neighborhood's namesake: the Palm Springs Tennis Club (1940), developed by pioneer Pearl McCallum McManus.
See this neighborhood during the "Celebrity Haven the Tennis Club Neighborhood" tour.
Uptown Design District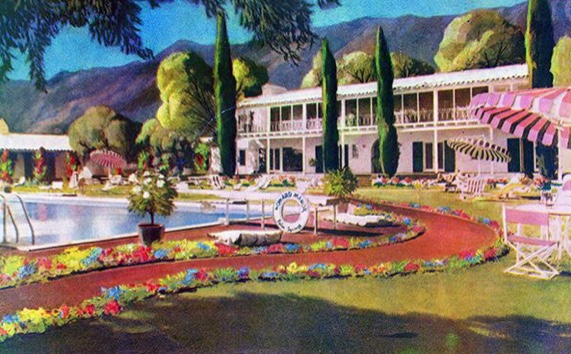 Visitors entering Palm Springs can't miss this world-class shopping district, featuring unique boutiques, galleries, and hip restaurants along a two-mile stretch of North Palm Canyon Drive. There is no better place than the Uptown Design District to see the best of midcentury and modern design in the span of just a few blocks.
Historic landmarks like the El Paseo Building (1926) and a 1961 Albert Frey structure house trendy destinations, like Workshop Kitchen + Bar and Trina Turk's flagship store, respectively. Take a tour, grab a bite, and shop your vintage heart out!
See this neighborhood during the "Uptown Design District – Three Eras of Revival" tour. 
Greater Palm Springs Neighborhoods
Can't get enough of the city? Make the most of your time with these additional tours offering a journey through multiple iconic neighborhoods.
Premier Double Decker Architectural Bus Tour
An overview of the most significant midcentury architectural treasures of Palm Springs.
Give Me Shelter Home Tour
A collection of homes that blend a symbiotic relationship between indoor and outdoor spaces.
Palm Springs City of Diversity Home Tour
A self-guided, self-driven tour showcasing classic modern architecture in a variety of homes across Palm Springs diverse neighborhoods.
Cul-de-Sac Experience
Tour several William Krisel homes while immersed in the lifestyle of an iconic midcentury enclave.