Joshua Tree developer Ida Alwin on What Makes Modernism Work So Well in the Wild
A childhood in South Africa instilled a love of wild landscapes in Ida Alwin. While it lay dormant during her dozen years in London, a visit to Joshua Tree reignited it with a fervor that prompted her to relocate. Her company, Desert Developments, channels her enthusiasm for the desert through the lens of sustainable living in partnership with the land.
Alwin will lead the Sustainable Homes Tour during Modernism Week on Saturday, February 23, 2023, guiding guests to some of the High Desert's homes that not only generate their own power, but are doing it in style. As an adjunct to the event, Don Albert will lead an on-demand discussion regarding sustainable design that will include an in-depth look at Joshua Tree's Doolittle House's sustainability credentials.
We sat down with Alwin to hear more about her love of the desert and her vision for a sustainable future. 
Your experience of Joshua Tree prompted your relocation from London. What do you think it is about the desert — and Joshua Tree in particular — that makes it so compelling?
The California desert is a unique place. While it's remote for a populous state like California, you have relatively easy access to a key urban center like LA, which is a 3 hour drive away. I grew up in South Africa and after living and working in London for 12 years I was ready to settle in a place that felt familiar to where I was brought up, a place that has sun, wilderness, wildlife and a horizon to die for! The Joshua Tree area was that place. It felt like it was far enough away from the "rat race" (the same reason people flocked to the area in the 50's and 60's) but it still had access to speedy WiFi, good food and services and wasn't too far away from a metropolitan locale, which is Palm Springs and its surrounding areas, roughly 50 miles away.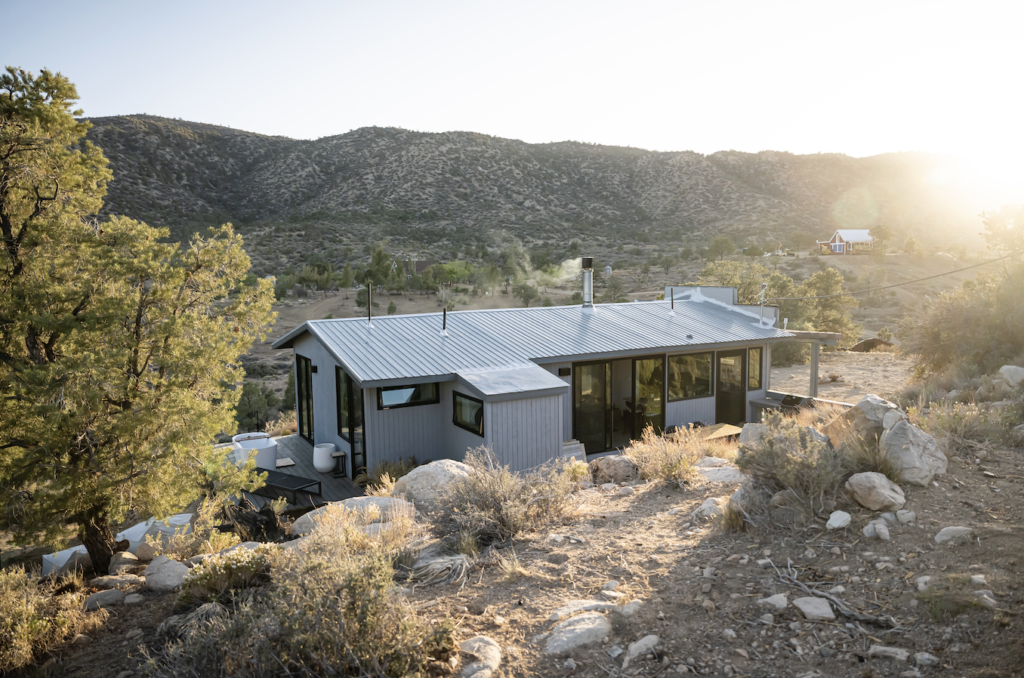 Why do you think Joshua Tree is such a hotbed for architecture right now?
The High Desert has been a canvas for unique home design ever since folks started purchasing land out here to build weekend retreats in the mid 20th century. [We referenced this rich history of architectural design during our on-demand talk for the Sustainable Homes Tour this past October. Architect Don Albert cited examples that included the Wheelhouse in 29 Palms (1952) and the Doolittle House in Joshua Tree. This talk will be available again during February's Modernism Week.] In fact, the High Desert is such a unique and inspirational space that it seems almost mandatory to chose one of two ways to go when building — either the structures vanish into the desert or they integrate the beautiful environment into the dwelling. I mean, you just can't help but want to be a part of these powerful and compelling surroundings. The desert, the Joshua trees, the boulders, even the wildlife, are all influences that weave themselves into the creative process. Many of the homes that are now being built reach back into the past, adapting the legacy of early dwellings and incorporating it into a modern take on the classic designs that dominate this area.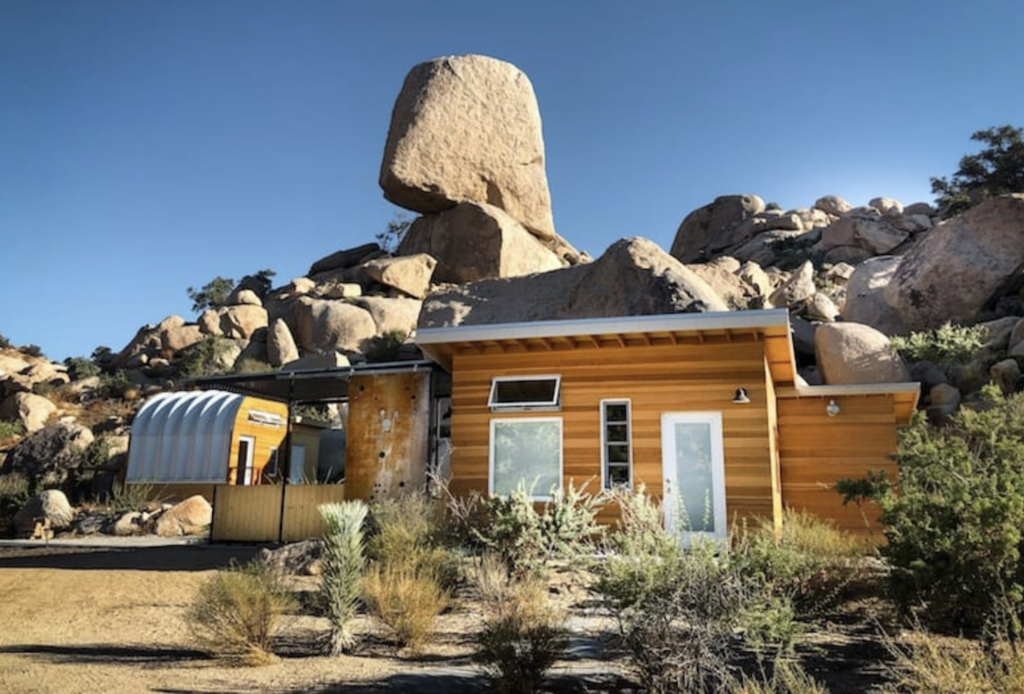 What is it about MCM architecture that positions it as particularly desert-responsive?
The area has a strong history of iconic design. Not only because of its proximity to Palm Springs, but because of the long history of homesteading that took place here.  After WWII, when building materials became readily available again, there was an uptick in cabin development in the area. Given that it was the trend at the time — this would be the 40s ad 50s — classic mid-century design prevailed and on-trend prefab cabins were available to buy for those who could take advantage of the Bureau of Land Management's cheap land sales.  Even those who built their own cabins by hand inadvertently fed into the trend because their square, flat roofed design is cheap and easy to construct. For the same reason, the recent COVID-led boom in development uses that tradition as a template; much of the new construction incorporates those features that we think of as classic midcentury modern.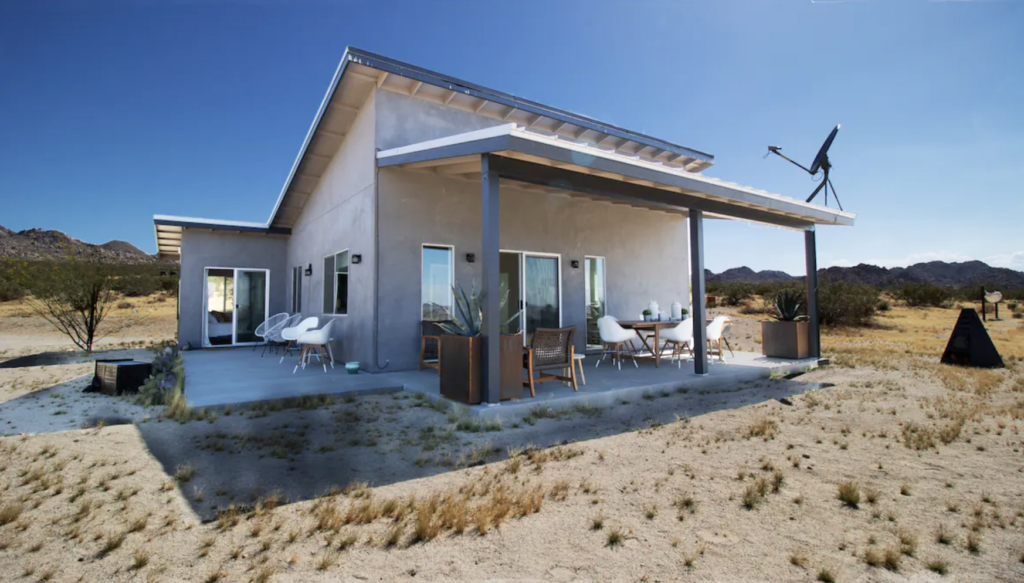 What do you think are the qualities inherent in Joshua Tree that makes it exceptionally ideal for sustainable and off-grid living?
Growing up in Africa I spent lots of time in landscapes that hadn't been disrupted by infrastructure. Safari lodges were a real inspiration when I was thinking about building off-grid in the desert. In fact, when I first arrived, the homes I saw in Joshua Tree were not very different to those safari lodges. There were many parcels of land in beautiful, remote and peaceful areas that weren't being serviced by city water and electricity. In many ways, going off-grid is harkens back to the early days of homestead settlements.  Except, of course, now we have the technology to live off-grid and more sustainably without compromising modern conveniences.  So you're able to build on the side of a hill with views that go on forever without a power pole or water tower blocking your view. Compound that with living in a house that generates its own clean power – what could be better and more appealing than that?
Can you share some of the projects currently in development in the area that you're particularly excited about?
Each of the houses that will be seen on the Sustainable Homes Tour are unique and inspirational in their own way. Some are original homestead cabins that have been updated with the latest technology and are a link to our past as well as a glance at the future.  The Hundred Mile House is a fantastic example of sustainable building materials that are not chemically treated but made to withstand the harsh desert climate. Some of the new constructions are big homes that, just a few years ago would have been prohibitively large to be able to be completely off-grid, but are now homes to families. And then there's the Pioneertown Glass Cabin. While it's an example of the kind of cabin you think of when you picture "off-grid" —  as in isolated, up a 3 mile bumpy dirt road that most people don't know exists (unless you're an off-roader) — it's outfitted with the latest solar systems, high speed internet, a car charger and the most luxurious outside bath you've ever seen.  It's so inspirational to see all the contrasting styles set against different desert backdrops, and yet they are all striving to be a little kinder, softer and more in-sync with the environment. 
---
Images courtesy of Ida Alwin