Neighborhood Tours and Partner Events Provided Opportunities for Charitable Fundraising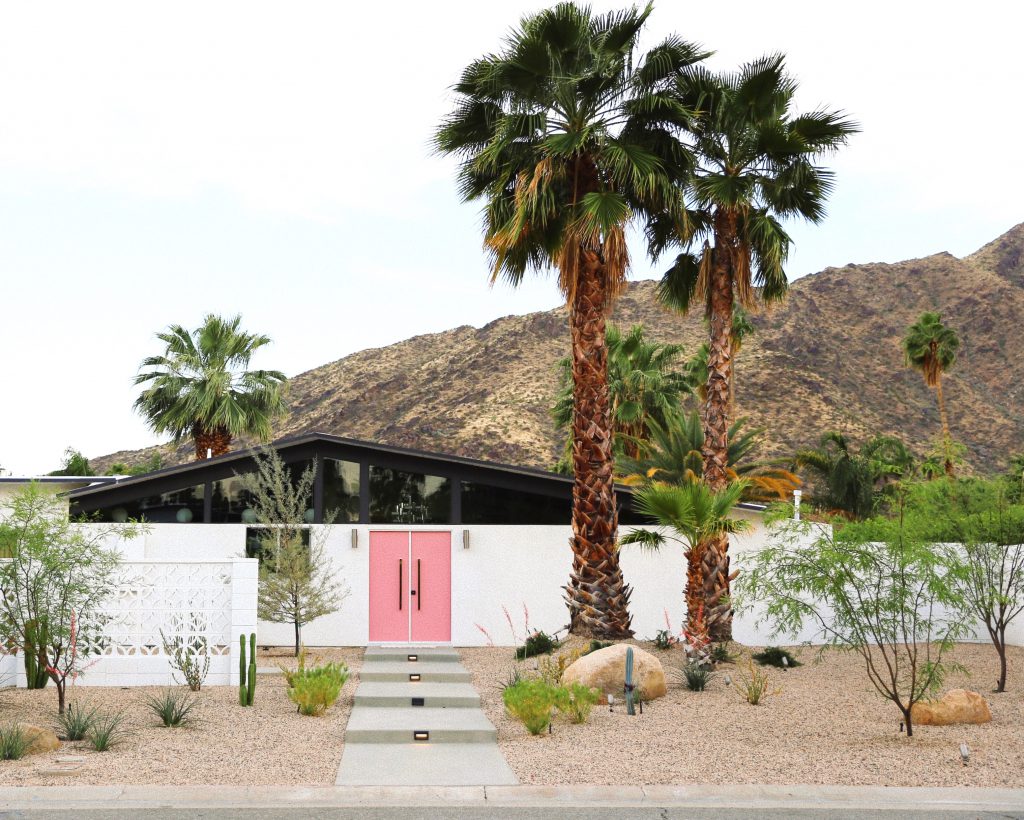 Modernism Week announced that its recent 11-day festival in February 2020 and its four-day Fall Preview in October 2019 provided an opportunity for dozens of local organizations and neighborhood groups to produce events and raise significant funds. The funds were raised from ticket sales for official Modernism Week events, including neighborhood tours, parties, educational talks, and other events and enabled the organizations to contribute to local Coachella Valley charities or to fund civic improvements. During Modernism Week Fall Preview and Modernism Week 2020, participating partner organizations raised $1.75 million. This includes more than $450,000 in funds raised by local neighborhood organizations from tours.

Modernism Week works closely with local neighborhood organizations to showcase the design of iconic Palm Springs residences and other architecturally significant buildings during tours in many of the city's 48 official neighborhoods and neighboring cities. Most neighborhood organizations reinvested the funds into their neighborhoods through architectural restoration, improving infrastructure or landscape improvements.

This year 24 neighborhoods (including 6 new neighborhoods and 5 mid-valley tours) organized tours that featured 152 residences, attracting more than 8,000 participants. These neighborhoods included Canyon Estates, Canyon View Estates (aka Grand Canyon View), Chalet Palms, Cody Court, Country Club Estates, El Rancho Vista, Green Fairway Estates, Hidden Cody, Indian Canyons, Marrakesh (aka And Then There's Mod), Mesquite Canyons, Racquet Club Estates, Racquet Club Cottages West-William Cody, Seven Lakes Country Club, Sunmor, Sunrise Park, Tamarisk Gardens Bungalows, Twin Palms, and Vista Las Palmas.

Other tours included "Give Me Shelter" in multiple Palm Springs neighborhoods (which raised funds for the Palm Springs Animal Shelter) and "A Tale of 2 Codys" which raised funds for Preservation Mirage, which will go towards ongoing preservation initiatives, educational programs and events.

Many neighborhoods raised funds specifically to donate to local charities, including:

El Rancho Vista, which raised more than $15,000 for the Palm Springs Police Officers Memorial Foundation, Donald Wexler Memorial Fund and Save Oswit Canyon Fund.
Sunmor, which raised more than $19,000 and plans to donate a significant portion of the funds to the neighboring Neuro Vitality Center.
Sunrise Park, which raised more than $11,000 to donate to the Palm Springs Public Library, Well in the Desert, and other local nonprofits.
Twin Palms, which raised nearly $25,000 and will donate the funds to promote a traveling exhibition about architect William Krisel, sponsoring a barbeque for Palm Springs Fire Station #4, and to support the recent star on the Palm Springs Walk of the Stars for the Alexander Family.
Indian Canyons and Vista Las Palmas neighborhoods raised $54,000 combined and plan to donate to local charities.
Mesquite Canyons raised more than $9,000, a percentage of which will support a scholarship at College of the Desert for a student pursuing a degree in architecture (the remaining funds will help restore and preserve the property).

Many neighborhoods raised funds to reinvest in their communities and their surrounding neighborhood. These include:

Canyon View Estates (aka Grand Canyon View) raised more than $20,000 to help fund community improvements and invest in the architectural integrity and historical character of the residential community.
Chalet Palms raised more than $8,000 to help fund landscaping throughout the community, including restoring the original putting green, and the restoration of the parking areas.
Cody Court raised more than $17,000 and will use the funds to upgrade pool umbrellas to period-correct ones, and design a period-appropriate entrance gate.
Country Club Estates raised more than $22,000 to fund the conversion of grassy areas to desert landscaping.
Green Fairway Estates raised more than $23,000 to purchase a small lot to create a neighborhood park.
The Hidden Cody tour raised more than $16,000 to upgrade the community Spa, and upgrade its landscaping and outdoor lighting.
The Marrakesh Community in Palm Desert raised more than $18,000 to help preserve its architectural and landscape features.
Racquet Club Estates raised nearly $26,000 to be applied to projects benefiting the neighborhood and the Palm Springs community.
Racquet Club Cottages West raised more than $27,000 to help fund landscape renovations and to restore the pool area to make it more historically faithful.
Seven Lakes Country Club raised more than $16,500 to improve the William Cody Clubhouse.
Tamarisk Gardens Bungalows raised more than $10,000 to help fund historic preservation.

In addition to working with neighborhoods, Modernism Week, a 501 (c) 3 non-profit organization, also helps various local organizations raise funds to further support their efforts to preserve and promote modernist architecture throughout the community.

Ticket proceeds for official Modernism Week events these businesses and organizations produced in 2019-2020 generated more than $1.3 million for various local partner organizations which included: Palm Springs Historical Society, Palm Springs Art Museum, Palm Springs Modern Committee, Friends of the Palm Springs Library, Palm Springs Preservation Foundation, American Legion, Grace Homes, Sunnylands, The Lautner Compound, Palm Springs Animal Shelter, ONE-PS, Mizell Senior Center, and the Palm Springs Cultural Center.

"Modernism Week has a long-standing tradition of enabling other organizations to raise funds," said William Kopelk, Modernism Week Board Chairman. "We are delighted that our neighborhood and partner organizations use their fundraising for preservation, education, civic improvements or to reinvest back into the local community. The tours and events produced by partner organizations not only provide them with the ability to raise funds, but also allow them to showcase their neighborhoods and organizations to national and international visitors."

This year, Modernism Week will continue its long-time scholarship program by awarding four scholarships to deserving Coachella Valley students who have chosen educational paths in the fields of architecture and design. The scholarships, which will total $20,000, include matching funds from One Future Coachella Valley. Since the Modernism Week scholarship program was initiated in 2011, a total of $203,000 has been awarded to-date.

"Giving back to the community is one of the most important aspects of Modernism Week," said J. Chris Mobley, Chief Executive Officer. "Our Board of Directors and staff are committed to partnering with community organizations to help them generate revenue through event ticket sales. We are especially pleased to award our annual scholarships to deserving students. These are just a few of the many ways that Modernism Week contributes to the local community."

Later this year, Modernism Week will offer its annual Fall Preview October 15-18, 2020 (tickets go on sale September 1 at 12 p.m. PST) and will stage the 2021 Modernism Week event February 11-21, 2021 (tickets go on sale November 1 at 12 p.m. PST). For more information about future Modernism Week events, visit modernismweek.com and follow along on Facebook, Instagram, and Twitter.