Show & Sale Will Offer Important 20th and 21st Century Furniture and Art Objects and Modern Design Expo Will Offer Cutting-edge Modern Design and Technology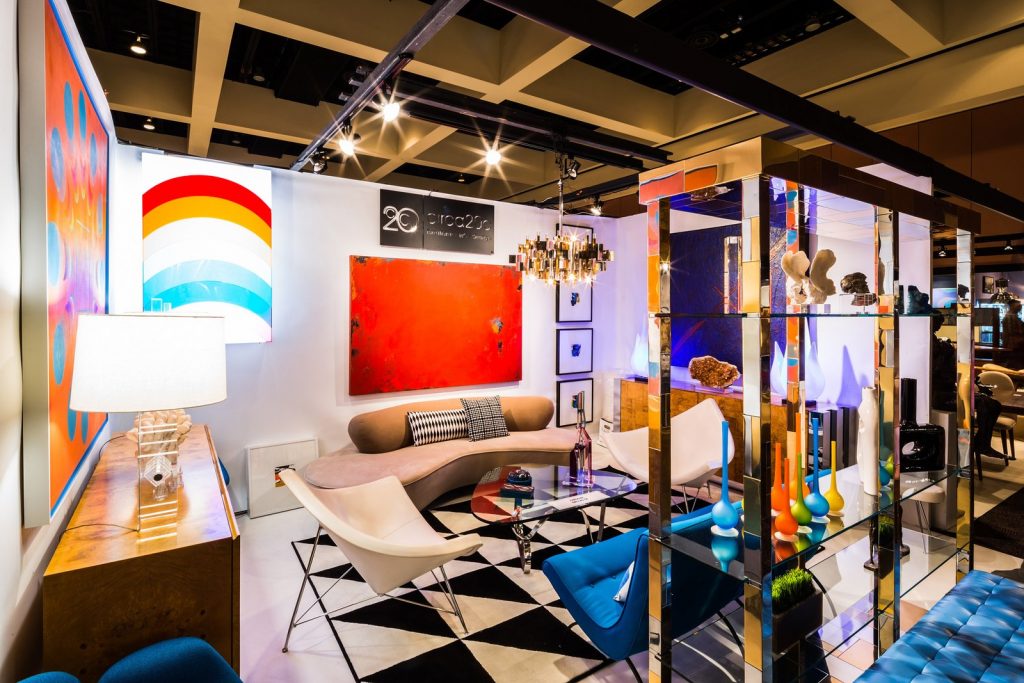 The annual Palm Springs Modernism Show & Sale and the Palm Springs Modern Design Expo will once again be a featured event during Modernism Week in February. Both shows will take place at the Palm Springs Convention Center February 18-21, 2022. Weekend admission is $30 for both shows online or at the door. Admission includes return entry all weekend and a Modernism Week show catalog. Show hours are Saturday 10 a.m. – 6 p.m., Sunday 10 a.m. – 5 p.m. and Monday 10 a.m. – 4 p.m. The Palm Springs Convention Center is located at 277 North Avenida Caballeros in Palm Springs. Valet parking will be offered at the front of the Convention Center on Saturday and Sunday in addition to self-parking.
Both shows open on Friday, February 18 at 6 p.m. with a festive Preview Reception to benefit Modernism Week. At this biggest party of Modernism Week, attendees will enjoy a full open bar, complimentary valet parking, hors d'oeuvres, live music and an exclusive opportunity to be among the first to see and shop the world-class collections before the show opens to the general public. Tickets for the Preview Reception are $110 in advance or $125 at the door. Ticket proceeds benefit Modernism Week's scholarship, educational and community grant programs.
Presenting Sponsor Engaged Media/Atomic Ranch Magazine will present a special exhibition called "Atomic Avenue," a curated collection of some of the best and most exciting midcentury modern-inspired art, furnishings, renovation materials, and accents on the market today. These items will be featured in the Modern Design Expo.
On Saturday, February 19, acclaimed artist Danny Heller will unveil a new print for Modernism Week 2022 at the Modernism Show at the George Billis Gallery in Booth #406 at 12 p.m. Heller is known for his detailed photorealistic paintings and will sign copies of his prints at the booth. Three of three of Heller's previous Palm Springs prints will also be available.
The highly regarded Modernism Show & Sale will feature a record 90 vintage national and international decorative and fine arts dealers with items representing all design movements of the 20th century.
Featured new dealers for the Show & Sale include Unapologetically Italian of Italy, George Billis Gallery of Los Angeles, California and Pietra Gallery of Mexico City, Mexico. Returning Show & Sale dealers include Den from Los Angeles, California, Whatever Gallery from San Diego, California, Lisa Cliff Collection from Pasadena, California, Peter Blake Gallery from Laguna Beach, California, Bridges Over Time at Palm Springs Art & Design Gallery from Palm Springs, California, Dragonette Ltd. from Palm Desert, California and Converso from Chicago, Illinois.
At the event, iconic mid-century designer and first-time exhibitor Charles Hollis Jones of Burbank, California will showcase his stunning new Lucite furniture designs along with some of his vintage 60s and 70s works. Jones was commissioned by many celebrities including Frank Sinatra and Bob Hope to design custom furniture for their Palm Springs homes. Many of Jones' vintage designs have been shown in previous modernism shows, this is the first time in many years that he is exhibiting his works himself.
The Show & Sale will be once again joined by the Modern Design Expo, a showcase of 45 dealers featuring contemporary 21st century cutting-edge home design products, lighting, and new furniture designs. New dealers to the Modern Design Expo include Anthony LaMorte Furniture from Reno, Nevada, 917 Fine Arts from Miami, Florida, Galerie D'Arts from Santa Monica, California, Roshults from Sweden, and Modern Christmas Trees from Denver, Colorado. Returning Modern Design Expo dealers include Moya Living from Fountain Valley, California, Modfire from Phoenix, Arizona, Light in Art, from Los Angeles, California, CFR Patio from Rancho Mirage, California, Eugene Stoltzfus Furniture Design from Harrisonburg, Virginia, Resource Furniture from New York, New York, and Amara Rugs from Torrance, California.
Show & Sale Sponsors include Presenting Sponsor Engaged Media, LLC, BIDSQUARE, Amara Rugs, Bonham's, Freightforwarding.com and John Moran Auctioneer along with Media Sponsors Atomic Ranch, California Home+Design, California Homes, Palm Springs Life, and Santa Fean Magazine.
For more information and a list of exhibitors, please visit www.palmspringsmodernism.com or email info@dolphinfairs.com.