Modernism Week – October kicks off tomorrow! It's not too late to join the modernist fun this October 19-22, 2023.
Some things tend to slip through the cracks, but don't let your weekend plans be one of them! Check out our ultimate roundup of events with tickets available:
Charles Phoenix: Big Retro Trailer Slide Show Live On Stage! (10/21/23, $65, $50)
With his infectious enthusiasm, keen expertise, and eagle eye for oddball detail, Ambassador of Americana Charles Phoenix explores the leisure life and colorful style of trailers, trailer travel, trailer parks and trailerites in the 1950s and 60s in this spirited live performance celebrating classic and kitschy midcentury mobile homes and vintage travel trailers.
Modernism Week – October will offer three exciting live performances. Two shows will be offered at Jazzville at the Cascade Lounge in the Palm Springs Agua Caliente Casino. Participants will enjoy state-of-the-art sound and lighting with pristine acoustics and plush seating.  Doors open at 6 p.m. with a 7 p.m. showtime. There is a full cash bar with no drink minimums, served throughout the show. Must be 21 or over. Both the casino and Cascade Lounge are non-smoking environments. The third performance will be offered in the Annenberg Theater as a show-only performance.
Lizzy & The Triggermen at the Annenberg Theater! (10/21, $45 – $60 in the Annenberg Theatre of the Palm Springs Art Museum)
Dubbed "10-piece jazz sensations" (LA Weekly) and "one of the hottest swing bands in LA" (Good Day LA), Lizzy & the Triggermen has been making waves since they burst onto the So Cal scene. True to their speakeasy vibe, the band first began performing in a legendary, secret club in LA. Word-of-mouth about their incredible live shows quickly spread, and soon they were headlining some of the top venues in L.A., including the Wiltern, the El Rey, and the Troubadour.
Wailing horns, killer vocals, and lethal rhythm section, the band channelsthe electrifying swagger of the big band sound and makes it feel new and modern through a mixture of originals and re-imagined vintage gems. Deeply rooted in the sound and swagger of bands like Basie and Ellington, their music is infused with a myriad of unexpected influences: from R&B to Bebop to Broadway to Indie Rock to even opera. 
The Fabulous Lynda Kay (10/19, $15 – $75 in the Cascade Lounge)
The Lynda Kay and her full band and backup singers will perform a genre-crossing mix of midcentury jazz and Burt Bacharach pop. This evening will offer classic midcentury songs along with selections from Kay's new double album "Black & Gold."  Kay's diverse contralto voice and has been compared to such exceptional talents as Pasty Cline, Karen Carpenter and Dusty Springfield.
The Jazz Cartel Live! (10/20, $15 – $75 in the Cascade Lounge)
The Jazz Cartel is a dynamic jazz quartet that captures the essence of Frank Sinatra and Dean Martin, with a unique and contemporary twist. The band's scorching horns, captivating rhythm section, soulful organ, and smooth crooning vocals seamlessly fuse the classic charm of the 50s/60s with an electrifying modern edge. What began as a quintet has evolved into a dynamic 9-piece powerhouse, enhancing harmonies within the horn section and delivering an even more exhilarating and grand sonic experience.
Preview Party for Palm Springs Modernism Fall Show (10/20, $95)
Beat the crowds and enjoy a festive wine reception and early buying opportunity at the Palm Springs Modernism Fall Show. Preview party tickets include return entry to the show all weekend. The show opens to the public on October 21 from 10 a.m. to 6 p.m. and October 22 from 10 a.m. to 4 p.m. Daily show tickets are $25 and include return entry. 
Curated Vintage Event (10/21, $25 and $15)
Retailers and private dealers showcase their finest vintage apparel, luxury items, textiles, jewelry, and accessories. This event is not to be missed for those whose fashion is their passion.
Atomic Ranch Tours: A Twin Palms Homeowners Journey (10/21, $65)
Atomic Ranch editor Jickie Torres will conduct a poolside chat with the owners of a newly remodeled home in the Twin Palms Estates neighborhood of Palm Springs. From the pink front door to the pink kitchen countertops, guests will tour and learn how the homeowners bridged original features with modern updates in a way that perfectly honors the midcentury modern aesthetic.
Sustainable Homes Tour (10/21, $75)
The Sustainable Homes Tour is a self-driving tour of some of the High Desert's most "eco" homes.  Attendees will have access to private residences not normally open to the public, where they will be able to view homes powered by the sun, and in most cases are completely off-grid.  Owners may talk about their process of building the homes or what it's like to live off-grid or sustainably and provide tips or ideas of where the future of self-sustainable dwellings is heading.
Albert Frey's Palm Springs Mini-Coach Tour (10/21 and 10/22, $130)
Albert Frey was of major importance to American modern architecture. This new tour is a comprehensive exploration of the homes and buildings of this preeminent desert modernist architect.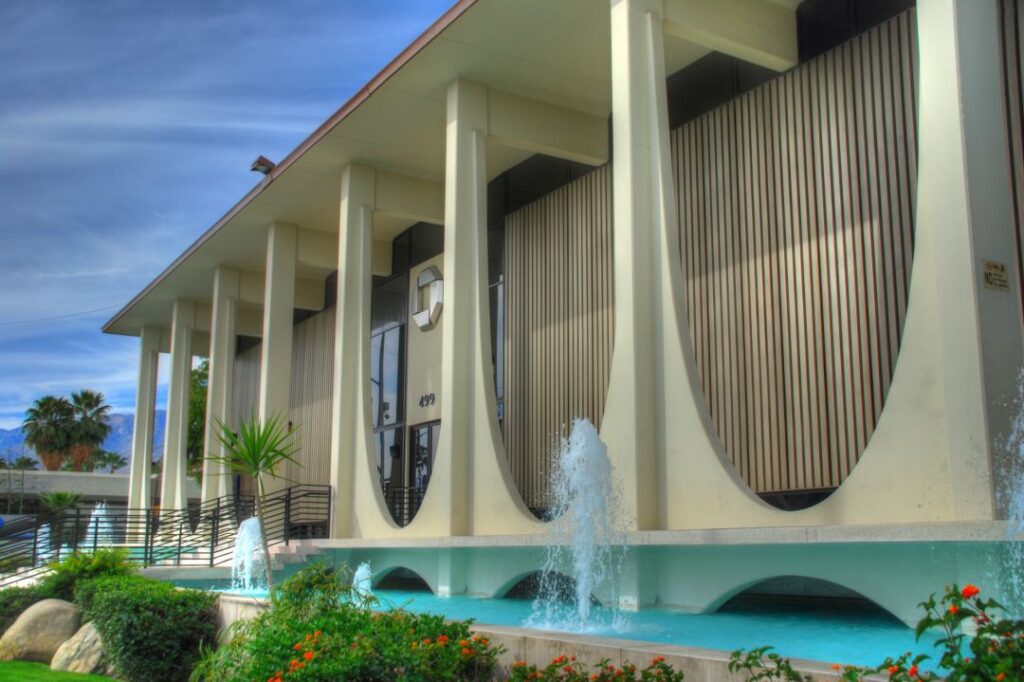 Legendary Palm Springs Commercial Architecture Bus Tour (10/19 – 21, $90)
This exciting new tour will take guests to Palm Springs' most iconic business buildings including major banks, hotels and civic buildings.
---
Modernism Week top sponsors include Ferguson Bath, Kitchen & Lighting Gallery, Brizo, Dunn-Edwards Paints, JennAir, Willis, Flor, and Hyatt Palm Springs. The City of Palm Springs is the Civic Presenting Sponsor.
---