Designer Christopher Kennedy gives Modernism Weekly a sneak peek at his eponymous design showcase.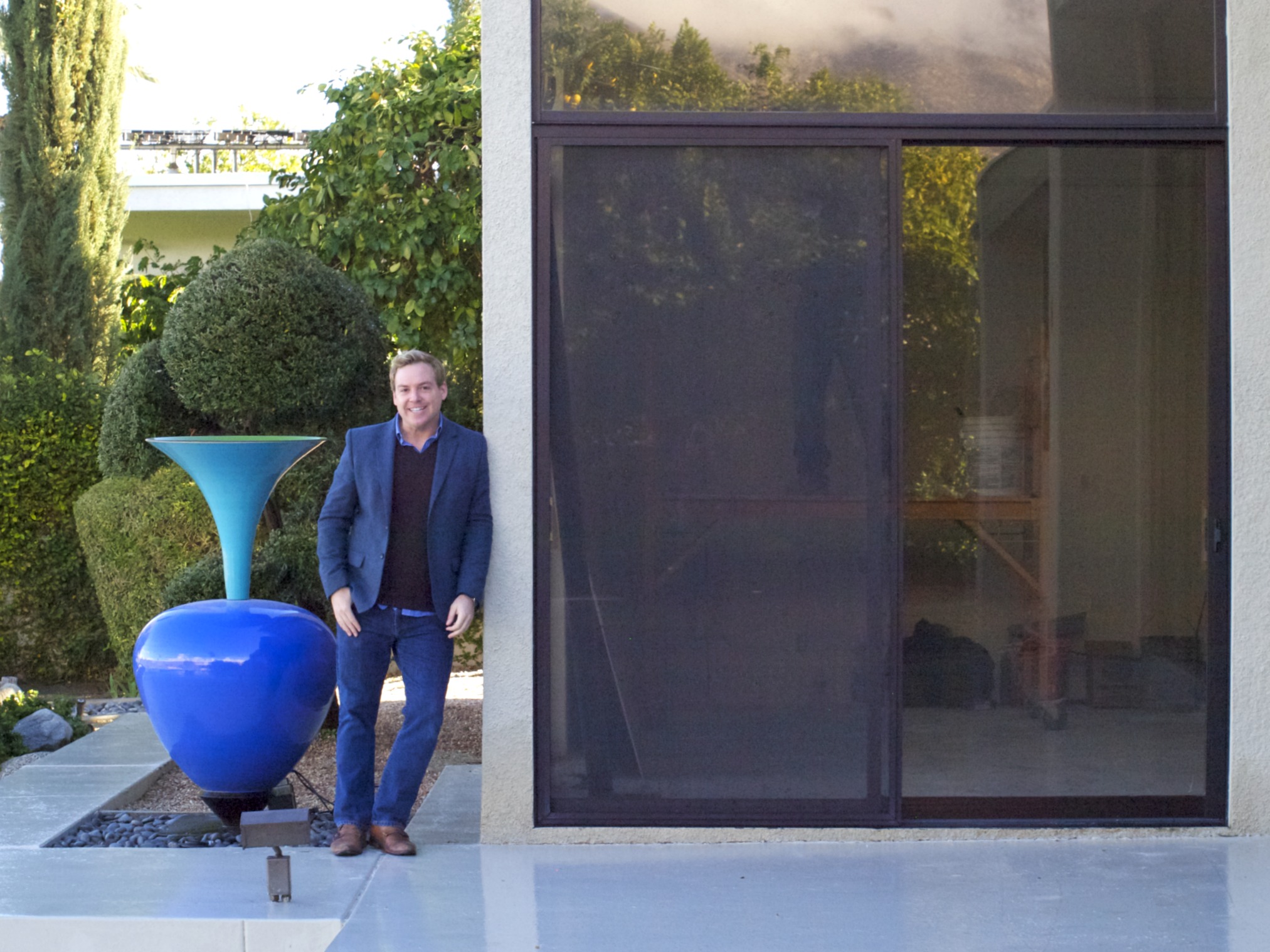 On a perfectly clear winter morning, designer Christopher Kennedy met us at the construction zone that in just a few weeks will  be unveiled as the 2016 Christopher Kennedy Compound.  The annual design showcase has become a fixture on the Modernism Week scene, giving contemporary designers a coveted chance to create inspired modern spaces that pay homage to modernism in their own creative ways. In contrast to the frenetic scene around us – as an army of workmen, each hammering, measuring, and installing various materials and finishes – Kennedy was the picture of calm. Now in its third year, the grand master Palm Springs' only design showcase is clearly in his element.
Once again, Kennedy has recruited an all-star cast of characters to design a room in the stately 4,000 square foot Holden & Johnson home. With an expansive view that spans the Indian Canyon Golf Course and westward towards the mountains, the 2016 Christopher Kennedy Compound promises to impress, with one major difference from past years.
"While we're still doing it for inspiration and for show, this year we're creating it for two very real people and the designers are really having fun with that."
So is this like the final chapter in a trilogy?  Does 2016 bring a resounding resolution to this design adventure?
"I'm not saying it's the last, but I'm not saying we're doing it next year," replies Kennedy with a wry smile.
"I'm not saying it's the last, but I'm not saying we're doing it next year."
While he remains enigmatic about next year, it's all about this year right now.  Read no further if you want it to be a surprise.  Otherwise, here's what to look for at the Christopher Kennedy Compound at Modernism Week.
A sleek car-inspired Living Room by Michael Berman
Hailing from Detroit, part-time Palm Springs resident and well-known interior designer Michael Berman draws inspiration from automotive design.
"Expect to see some great automotive detailing in the upholstery and shapes.  He has a brand new fabric line for Kravet which we'll be debuting here at the Compound."
A sumptuous homage to the seventies by Martyn Lawrence-Bullard
In signature Martyn Lawrence-Bullard style, the designer to the stars will transform the dining room adjacent to the main living room into a brilliant statement of modern luxury with a nod towards his favorite decade.
"He is well known for his over-the-top seventies glamour style, and we'll definitely be seeing that in the dining room."
Serenity at the heart of the home with Christopher Kennedy
Christopher Kennedy takes on the kitchen.  In collaboration with Eggersmann Cabinetry, Kennedy is crafting a state-of-the-art entertaining kitchen for the modern hostess.
"We're really creating it for Marilyn, the homeowner.  We'll be mixing classic warm walnut wood with white lacquer and bronze glass along with a lot of beige, white, and aqua.  It will be very pretty, and very peaceful."
Julia Buckingham brings wit and whimsy to the master bedroom
Chi-town designer Julia Buckingham brings some of that West Town warmth to the master bedroom.  Old and new sit comfortably near high and low, creating an interesting, curated sanctuary that is both rare and real.
"We're definitely going to see modern meets glamour meets some whimsy with lots of color, in her trademark modernique style."
Forget the man cave, welcome to the glam cave by Kelly Golightly
Blogger, stylist, and hostess extraordinaire Kelly Lee transforms the master closet into the modern day sanctuary for the contemporary clothes horse.
"This is not a man cave, ladies. It's an absolutely gorgeous glam cave, the ultimate dressing room that will make every woman swoon."
Kelli Ellis applies design psychology to create an amazing master bathroom.
Kelli Ellis, interior designer and lifelong traveler, represents the epitome of livable luxury and  casual international style.
"She's picked a fantastic tile that is really reminiscent of the brise soleil concrete blocks that you see in buildings in Palm Springs.
Justin Shaulis brings East Coast West in the guest bedroom.
With an architectural pedigree and his cosmopolitan New York aesthetic, Justin Shaulis transforms the guest bedroom.
"He's creating a New York meets Palm Springs experience.  Beautiful tones of smoky grey and lavender to create something very sophisticated."
Child's play meets color play in Carson Kressley's kid's room
Emmy­ winning television star, celebrity stylist, author and fashion designer, Carson Kressley is out to make over the world.
"Carson's kid's room is just fun, fun, fun.  Spoiler alert, people.  All I can say is orange grass cloth.  Expect colors of Hermes and Tiffany's since he does come from the fashion world."
Drama in the guest bathroom by Michel Boyd
The powder room lacks no drama thanks to Michel Smith Boyd who applies his trademark Southern charm and sophistication to create something unexpected.
"Michel is creating a dark and sexy guest bathroom powder room.  So good."
Dragonette's drool-worthy den will stun
New addition Los Angeles-based designer and collector Patrick Dragonette transforms the den.  He's also an all-star, returning from year one.
"He's creating the den in shades of white and cream and beige combined with some amazing vintage pieces from his gallery in Los Angeles, for which he is so well known."
31 West Gate brings some Canadian flair to the entry
The Canadian design duo Colin Blanchard & Kenneth McRobbie of 31 West Gate bring their Northern flair and unique aesthetic to the entry.
"Colin and Kenneth have selected an eclectic assortment of furnishings that harkens back to where they're from in Canada.  It's really going to be an unexpected opening moment when you arrive."
Maestro of outdoor rooms Jamie Durie makes a room with a view
International award winning designer & author Jamie Durie essentially created the concept of the outdoor room.
"Expect Jamie to knock it out of the park."
And the lovely little design lagniappe?  Don't miss the Pure Leaf tea house designed by Christopher Kennedy.  Get your tickets now.
Special thanks to the following sponsors for making this year's Show House possible: Ferguson Bath, Kitchen & Lighting Gallery, Traditional Home, California Homes, Palm Springs Style, Bosch, Cosentino, Crestron, Arthouse, Eggersman Pure Leaf, The Container Store, Dornbracht, Fromental, Monrovia, Pratt & Lambert, Teserra, A&M Stone, Audiovisions, Blair Heating & Air, Claremont Furnising Fabrics Company, Clopay, Custom Comfort Mattress, F10, Farley, Fashion+Decor, Hartmann & Forbes, Kravet, LaCANTINA DOORS, Landscape Illuminators, MHH&B, Modern Home, Skinn, Tilebar, 1stdibs, Arizona Tile, Emtek, Photos.com, Rocky Point Cabinetry, Sunbrella, Trendy Surfaces, Zuo, Daltile, HPE, Nest Studio, legrand, Plantscapers, Spa Girl Cocktails, Williams-Sonoma, Formation, Guildery, Shutterwise, Stacy Garcia, and Worlds Away.