The Miles C. Bates home in Palm Desert, which was auctioned during Modernism Week 2018, will be restored to its original condition.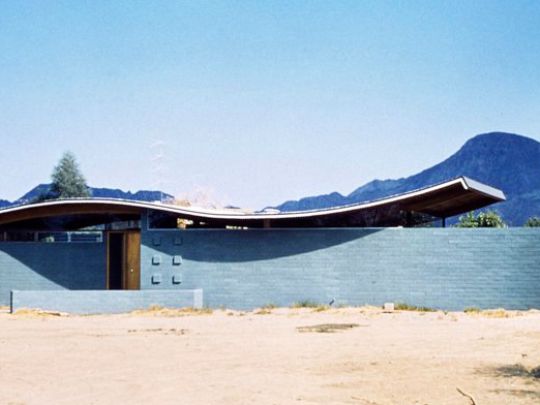 In February 2018 during Modernism Week, the Wave House designed by midcentury architect Walter S. White was auctioned and acquired by Los Angeles-based Stayner Architects – the father-and-son partnership of Gilbert and Christian Stayner. Originally built in the mid-1950s for artist Miles C. Bates, the Wave House was placed on the National Register of Historic Places in 2018.
More about the original architect from this Architect's Newspaper article:
Walter S. White—who was an admirer of Frank Lloyd Wright and a disciple of Richard Neutra and Albert Frey, among others—designed the house in 1955 as a winter residence for local playboy Miles C. Bates, an artist. The distinctive midcentury home is the product of Bates's inventive ethos and features a dynamic wave-shaped roof—the home is locally known as the "blue wave house"—that is made from a patented nail-laminated wooden dowel and lumber assembly.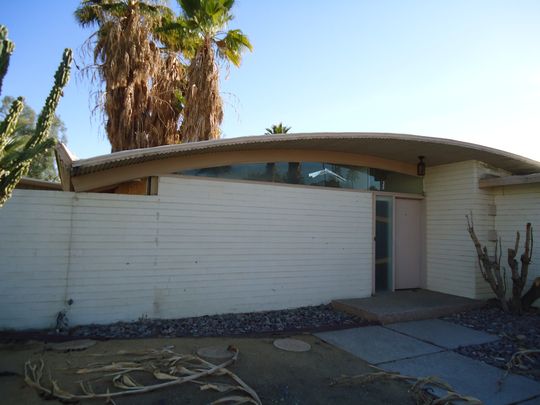 The original design has been obscured by subsequent renovations. The buyers have committed to bringing down those additions and restoring the 800-square foot home's original roof-line.
"Our goal is to have it look like, or very, very close to, what it did when Miles C. Bates drove up to it for the first time," said Stayner, who has invested time over the course of the year studying the home's history, blueprints and floor plans.
The home also features sustainable features that were well ahead of its time including an underground heating and cooling system. Read more about the home and it's new owners' plans for it in the Desert Sun.