Rescued from the brink of obscurity, the Wave House was painstakingly restored by Stayner Architects and will be unveiled at Modernism Week.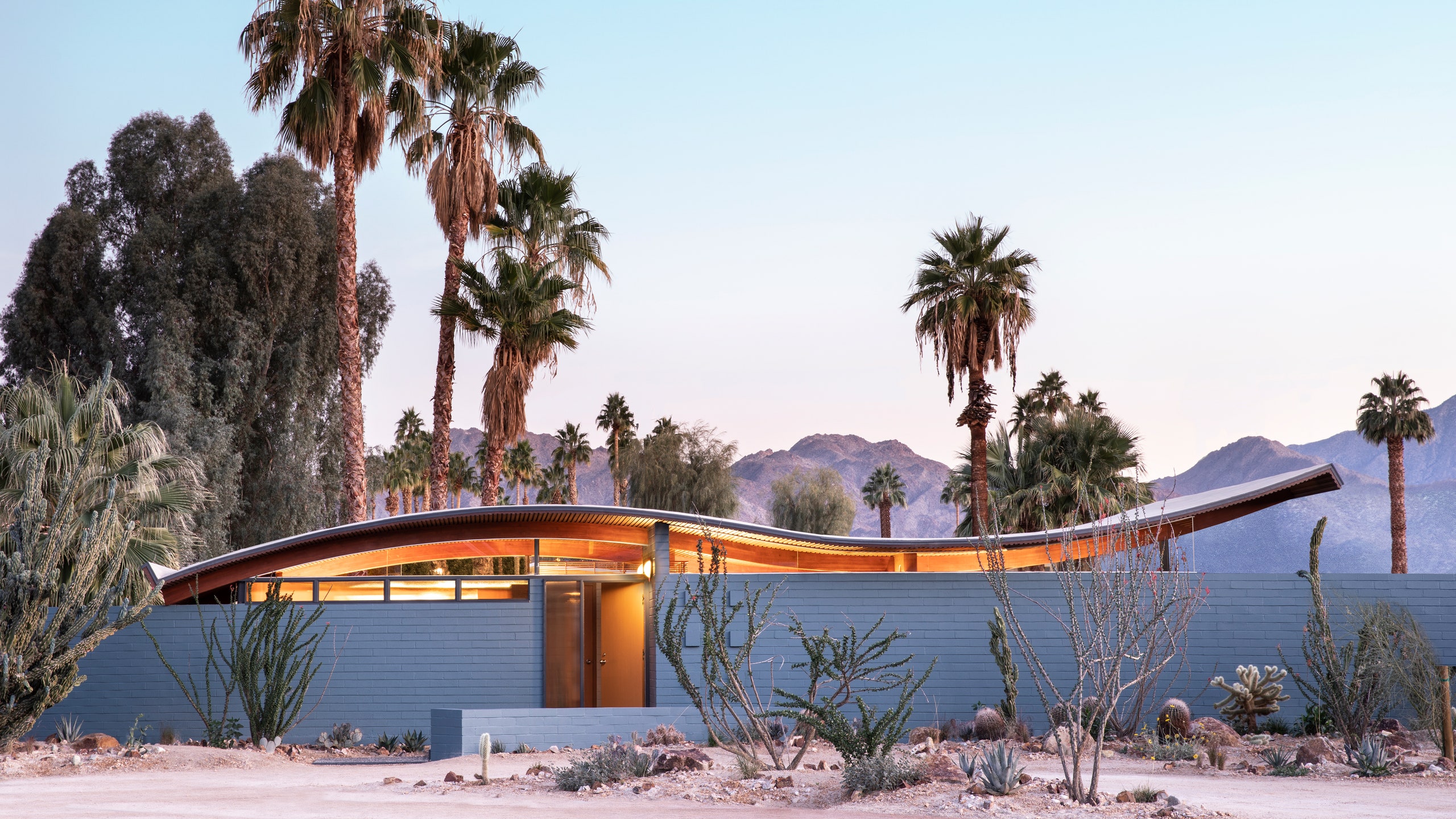 The story of the Wave House is an incredible one.  Originally built by architect Walter S. White in 1954 for artist and local lothario Miles C. Bates, this diminutive domicile is known for its iconic "wave" roof which appears to levitate above the structure.  Bates owned the house until 1962 after which point the house had several different owners before being purchased by the City of Palm Desert's Redevelopment Agency in 2008.   Stayner Architects purchased the home at auction during Modernism Week 2018 from the City of Palm Desert and has been painstakingly restoring it to its former glory since then.  The next chapter of the Wave House's story starts at Modernism Week and we sat down with its authors – Stayner Architects – to give Modernism Weekly the scoop.
Tell us about the home. (Year, history, architectural style, etc.)
The Wave House, an extraordinary, lost gem of midcentury modern architecture, was designed for the cement-fortune heir, artist, and Los Angeles-Palm Springs playboy Miles C. Bates by architect Walter S. White. Construction was completed in 1955, and the Wave House quickly became a fixture in the creative salon culture of Palm Springs-Palm Desert in the 1950s and 60s.
What drew you to this property and the restoration process?
Walter S. White is a kindred architectural spirit for us at Stayner Architects; having worked under Rudolph Schindler, Albert Frey, and Douglas Aircraft, he was not only trained in design, but also in construction and engineering. White was as interested in formal, material expression as he was in structural innovation. He worked in the tradition of the "master-builder," one that describes our multi-generational, California-native practice as well. After the house sat vacant for a number of years, the city of Palm Desert purchased it, and after a few more it was put up for sale. The Palm Desert Historical Society, recognizing the house despite many years of neglect and poor renovations, began a campaign to "Save the Wave," in the hopes that it would be restored rather than destroyed. We learned about the house through the campaign, and we were immediately struck by how passionate and engaged the community around the house was. As we learned more about the house, we were drawn not only to White's trajectory as an architect and builder, but to the place that the Bates House held in artist circles during Palm Desert's midcentury heyday.
Have you undertaken any similar projects in the past?
While most of our practice is focused on new construction (though heavily influenced by architectural precedent and history) we are increasingly working within existing buildings. This was our first building on the National Register. In addition to our work at the Wave House, we are just completing the transformation of a 6,000 square foot, 1928 wood-bow-truss industrial building in Los Angeles into an Italian restaurant, a wine shop focusing on natural California wines, and a coworking space for journalists and other creative professionals. Earlier this year we finished a project in San Clemente, the most southern Orange County beach town, where we renovated a former 1940s men's clothing store into a restaurant called Tamarindo.
What were some highlights of the restoration and design process?
We love to learn, and part of the joy of this restoration was the rigorous and detailed research process we got to undertake. We drew heavily from the Walter White archives, which are held at the University of California at Santa Barbara. We used archival materials as a starting point and tried to honor White's desire for an iconic piece of architecture combining innovative building technologies with rich, midcentury interior finishes and furnishings. We improved the less environmentally sustainable parts of the original design and made use of new technologies wherever the house needed efficiency updates. Whenever we introduced 21st century technology, we were sure to use a light touch: a new HVAC system has been inserted into White's innovative existing underground ductwork, and we added more efficient roofing material, hidden from view, to significantly reduce solar heat gain. Any portion of the 1955 house that could be repaired was meticulously restored, and any original materials that were removed were put to use elsewhere in the home. If ever an element had to be replaced, we custom fabricated it with the help of local designers and craftspeople. As an example, where several of the original steel sliding doors had been removed and infilled with CMU walls, we matched White's original detail to recreate these doors as they once were. 
What were some challenges of the restoration and design process?
Any time an architecture firm takes on a project with a historic preservation component, balancing faithful restoration with improvements requires careful calibration. We used Walter White's archives to guide us, but we made sure to honor the spirit of his design as much as we did the house as it was originally constructed in 1955. White was extremely forward-looking. We treated the renovation as an opportunity to find and amplify the most essential elements of the Bates House and White's vision, peeling back layers of material and additions that had overtaken the iconic design. We sought to re-energize the home by revealing and restoring its structure, finishes, mechanical infrastructure, and fixtures.
Can you provide a quick overview of the materials, patterns and furniture that will be featured in the house?
The house's interiors feature items and objects that have belonged to Stayner Architects's family members for generations, such as LIFE Magazines and vinyl records from the 50s and 60s. Some furniture pieces were sourced from the Stayner family's personal collection of Scandinavian modernist furniture, others were designed and built in-house, or sourced from California-local designers.  Archive textiles by Tibor LTD and additional textiles from Kvadrat (Denmark), vintage Russell Wright tableware, and various vintage cookware and cooking items were added to contribute to the midcentury ambiance. Stayner also worked with Ferguson and Hastings Tile & Bath for JennAir and Vola appliances and fixtures, and Heath Ceramics for tile. Following its mission of designing for civic benefit and energized by the ongoing enthusiasm of the Palm Desert community, we collaborated with the LA-based Cactus Store to create a botanical garden at the front of the house that is accessible to the public. The garden features a wide selection of new specimens, many of which were grown from seeds by the nearby Mojave Desert Land Trust, and preserved existing specimens like the giant Cereus Monstrose cactus that has lived in front of the house for many years and has become a fixture of the neighborhood.
What is your favorite feature of the home?
From the street, the house's most striking feature is undoubtedly its roller coaster roof, which curves along with the mountains behind. And, truly, this is one of our favorite features. Inside, the house is small — one bedroom, two bathrooms, and just 900-square feet — but it feels remarkably expansive as a result of the original white terrazzo floor, which extends through the entire house and out onto a patio, as well as the steel-framed glass walls and clerestories, which were also original but had to be carefully rebuilt and reglazed. Underneath thick, textured drywall and many layers of paint, we found the house's original natural ash paneling, which was a thrill and also adds to the lightness of the space. We love the doghouse outlets throughout the home, and the sliding steel doors, curving glulam beams, and the roof structure. White's original outdoor spaces, including distinctive planters and landscaping elements, have also been restored. Perhaps what delights and inspires us most is the level of craftsmanship and ingenuity White used at every stage of the design.
"For us, historic preservation is not about 'turning back the clock' or treating the building as static or stuck in time." 
Why should Modernism Week guests visit the Wave House during Modernism Week 2020?
Preservation is a way to honor the original design as well as the life the house has seen throughout its 64 years. It's about allowing the house to exist across multiple time periods rather than making it an archive of the past. The Wave House is not a time capsule, it is a timeless space, and anyone interested in design is going to find something compelling about it. Good architecture stands the test of time, and we foresee the Wave House becoming a destination for fans of midcentury design, but also a space for a new generation of cultural discourse and exploration. In many ways, Walter White was ahead of his time; the Wave House combines the best of midcentury modern design with the kinds of passive environmental strategies, and structural and material innovations that we're only just beginning to catch up to a generation later.
Anything else you'd like to add?
Restoration of the Miles C. Bates House represents the first phase of construction of the Desert Wave. The Desert Wave is a new model of hospitality: a micro-boutique hotel that celebrates regional history, culture, and midcentury design and will be available for select events, artist residencies, and group stays.  Stayner Architects will break ground in 2020 on two new structures that will add 1400 sf including two additional guest suites, a commercial kitchen for popup meals, a shared pool and spa, and an event pavilion. The Desert Wave is anticipated to be completed in late 2020, and will be designed, built, and operated by Stayner Architects's in-house management arm.
Photo credit: Tim Hirschmann