An iconic structure by architect Paul Rudolph will be open for public tours during Modernism Week 2020.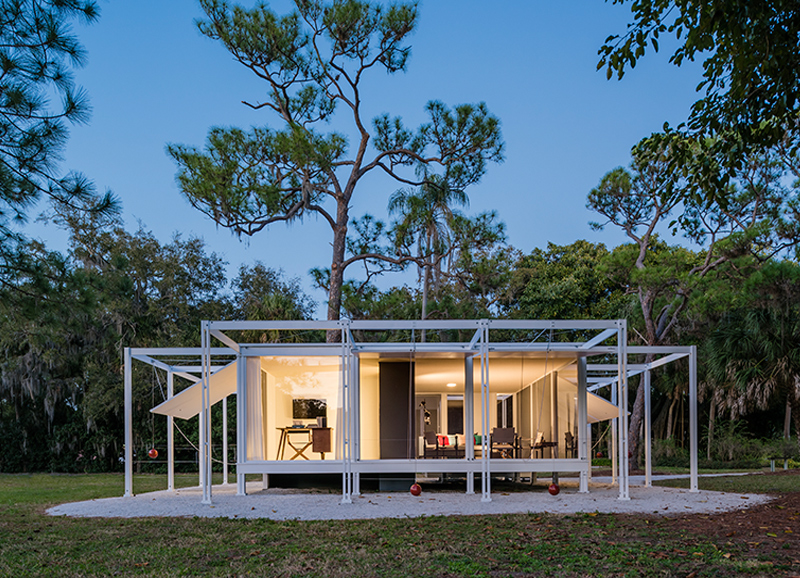 In 2018, the Palm Springs Modern Committee spearheaded an initiative to bring a stunning full-scale, furnished replica of the iconic Walker Guest House to Palm Springs. The replica, on loan from the Sarasota Architectural Foundation in Florida, has since been relocated and reconstructed in downtown Palm Springs.
The original 1952 beach cottage was designed by renowned modernist architect Paul Rudolph, one of the pioneers of the Sarasota School of Architecture movement (1941-1966). Also known as "Sarasota Modern," this unique architectural style responded to the the natural environment and climate surrounding Sarasota, Florida. Natural ventilation systems and large sunshades provided a cool respite from the Florida heat, while full-height sliding glass doors and thoughtful floor plans maximized views of the lush landscape.
Rudolph was commissioned by Walt Walker, a Minneapolis physician, to design a subtropical family retreat in Sanibel Island. Made of glass and wood, the 576 sq ft home featured a kitchen, bedroom, shower-only bathroom, living and dining area within the frame of floor-to-ceiling glass walls and hinged plywood panels.
"With all the panels lowered the house is a snug cottage, but when the panels are raised it becomes a large screened pavilion," Rudolph said. "If you desire to retire from the world you have a cave, but when you feel good there is the joy of a large screened pavilion."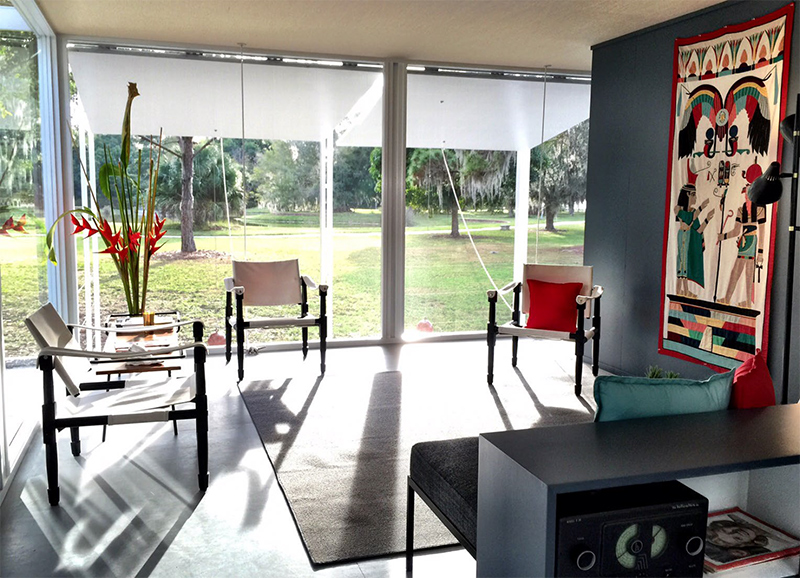 In 2015, architect Joe King was tasked by the Sarasota Architectural Foundation to build a replica – using the original drawings and materials Rudolph used – for an exhibit at the Ringling Museum. (Learn more about the process of creating the replica via Sarasota Magazine, here.) While constructing the physical structure, King was able to realize the extraordinary innovation and purposefulness behind each element of Rudolph's design.
This "midcentury modern masterpiece" will soon be up for sale and on its way to a new home, as it will be auctioned off next year during Modernism Week (full story via Desert Sun). Don't miss a chance to see the Walker Guest House replica (February 13-23, 2020) while you can!
Purchase tickets for the "Walker Guest House Replica Tour" here.
---
All proceeds from this tour benefit The Palm Springs Modern Committee, a non-profit organization dedicated to the appreciation and preservation of Desert Modern architecture and design. This is accomplished through education, advocacy for threatened buildings, promotion of heritage tourism, and the celebration of successes in preservation and adaptive reuse.