The MADE by series profiles leading voices in architecture and design. On a sunny day during Modernism Week, M met with collector Peter Blake at Cody's Cody to talk about his latest collaborative project, the BlakeHaus, architect William Cody's own home that Blake has filled with perfectly curated midcentury and new century art and furniture.
William F. Cody is among a select group known as "the architects who built Palm Springs." He came to the city as a graduate of USC's College of Architecture and Fine Arts in 1945 and never left. His own home was a laboratory for his experimentation, its ultra-minimalist design laying the groundwork for his vision of Desert Modernism that would find full flower in projects that include Abernathy Residence, Palm Springs Library at Sunrise Park, St. Theresa's Catholic Church, and the L'Horizon Hotel.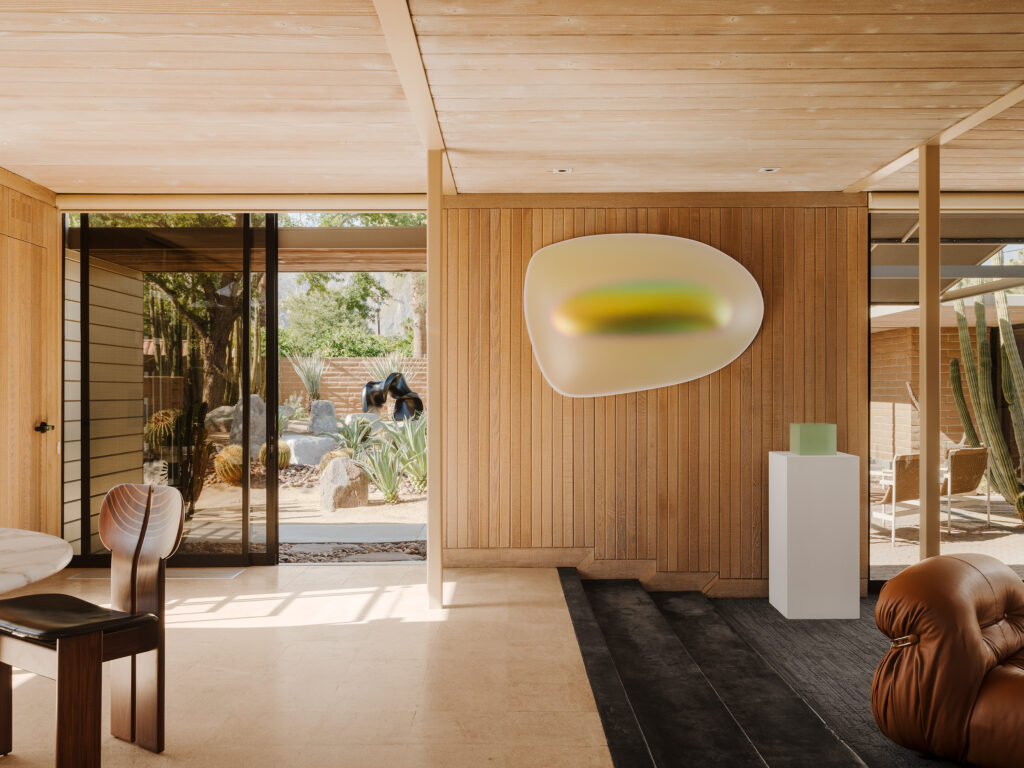 Tell us a little bit about you and about Peter Blake Gallery in Laguna Beach. How long have you been showing at the Palm Springs Modernism Show?
I opened the Peter Blake Gallery in 1993. I focus exclusively on California Light and Space and West Coast Minimalism. I've exhibited at  the Palm Springs Modernism Show 4 times.
Who is TTK Represents and how did you meet them?
TTK is a local real estate firm that specializes in the sale of architecturally significant homes. The partners are friends of mine and have represented many of my friends and clients in their real estate transactions.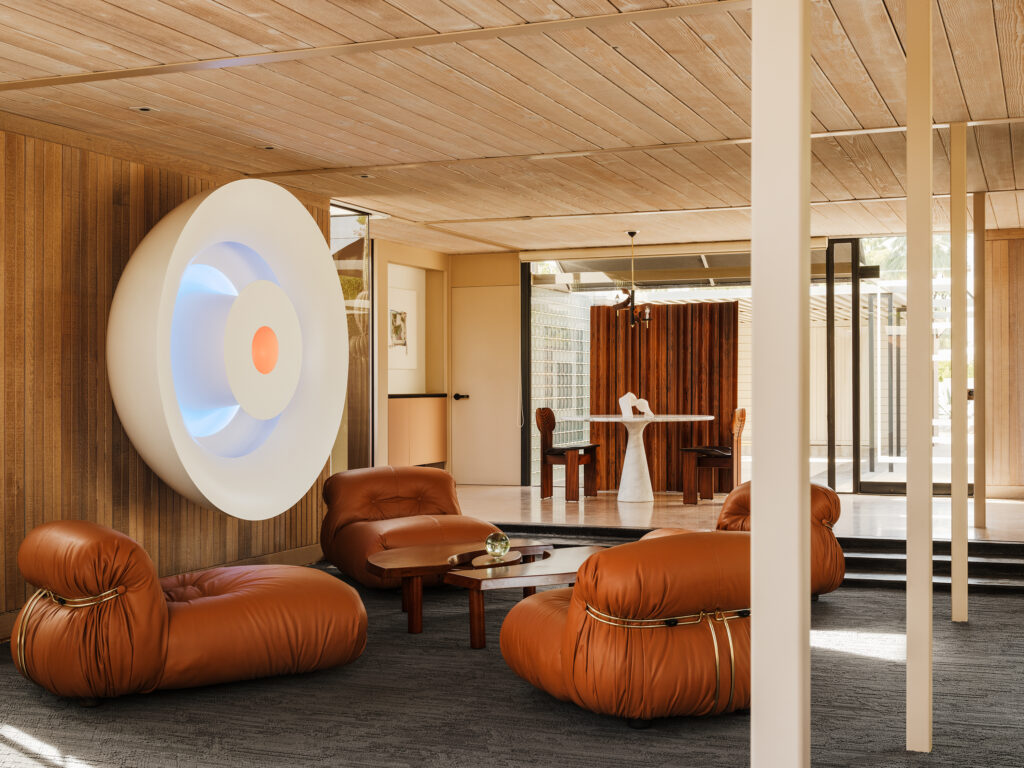 How did the opportunity to create the Peter Blake Gallery pop-up in Cody's Cody come about?
Keith Markovitz, one of the partners at TTK, and I have been looking for the right home to stage an exhibit of art and design for over 10 years. He invited me to tour the Cody "Family Home" and meet the owners. We all hit it off and everything fell into place immediately. We began installing 2 weeks later.
Can you share what you know about the house and its evolution? We understand Cody designed it for himself and his family. 
Cody began designing the home around 1947 and completed it in 1952. It was an incubator of sorts for some of the ideas that informed his architectural practice for years to come. It's a masterpiece of modern design.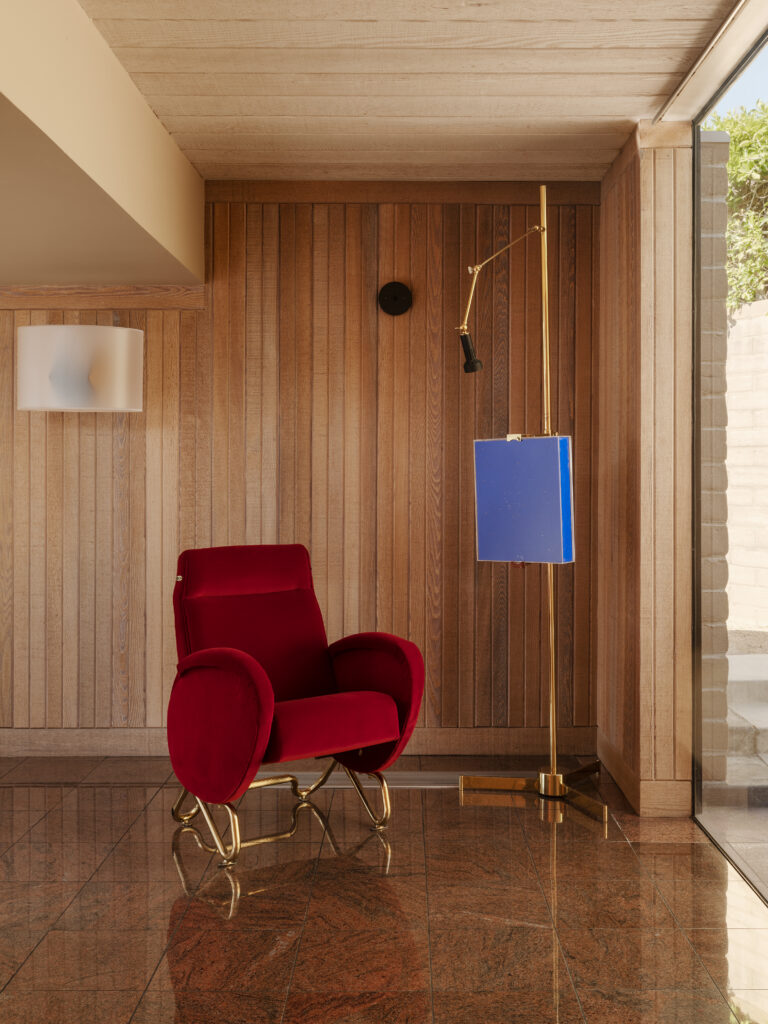 What was the overarching vision that drove the refurnishing of Cody's Cody with art, furniture and lighting from Peter Blake Gallery?
The house is very much a Light and Space sculpture that one can live in. I curated the show accordingly with my gallery's artists, who are driven to capture the incredible light we have in southern CA. There's an emphasis on three Desert X alumni – Lita Albuquerque, Gisela Colón, and Phillip K Smith – with the addition of works by historical figures in the Light and Space movement including Peter Alexander, Larry Bell, Helen Pashgian, and DeWain Valentine.
Can you share a little bit about the furniture and lighting designers and artists represented here?
The design spans the decades from the 30's through the early 70's and  is an international survey of iconic modern design. Some of the artists included are – Joe Colombo, Vladimir Kagan, Antoine Philippon and Jacqueline Lecoq, Angelo Mangiarotti, Carlo Mollino, Gio Ponti, Afra and Tobia Scarpa, Jorge Zalszupin, and others.
---
Images by Lance Gerber, courtesy of Peter Blake Gallery