Chairman William Kopelk and Board Member Maureen Erbe share about Modernism Week's foray into a new digital frontier.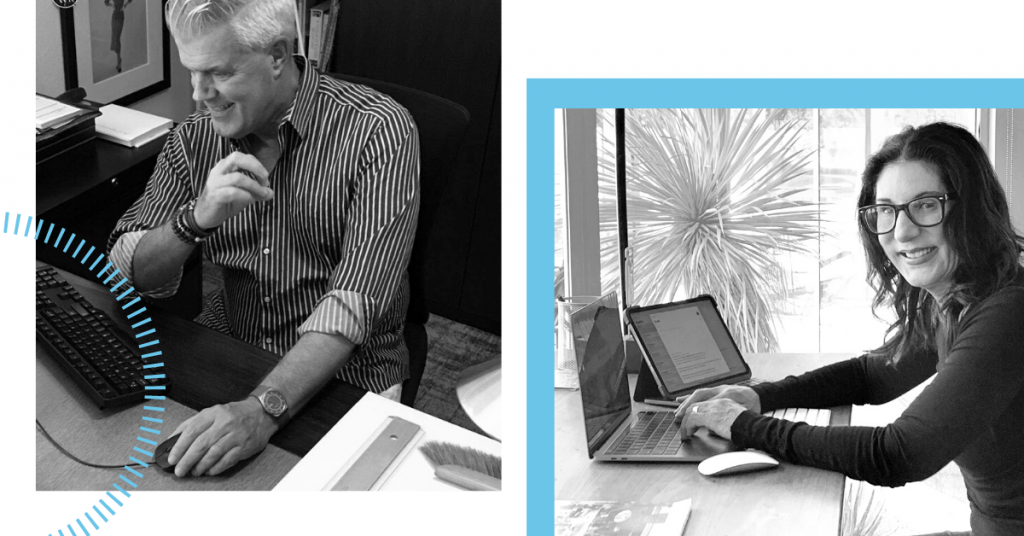 As the world continues to adapt to life in a time of COVID-19, many organizations – Modernism Week included – have turned their in-person events into virtual ones. Although the format of this year's Fall Preview Online Experience may look different, the spirit will remain the same.
Traditionally Modernism Week hosts two live festivals each year, one in October and one in February, with more than 160,000 attendees coming annually to Palm Springs to celebrate.
"When it became evident there would be no live event and our attendees could not come to Modernism Week in October, we decided to bring Modernism Week to them," says Modernism Week Board Member Maureen Erbe. "Now people can visit globally without having to leave their homes."
"The challenge is creating an experience that has authentic appeal and interest to our large diverse audience," continues Modernism Week Chairman William Kopelk.
Logistical challenges notwithstanding, the pandemic proved to be just the thing to realize Modernism Week's longstanding desire to create virtual programming that would be accessible to fans of midcentury architecture and design all over the world, all year round. Because of social distancing and general public health guidelines, the development of Modernism Week's digital program was put on an unexpected, yet providential, fast track to accomplish this goal. Having wrapped production for October, the staff and board members now turn their sights to video content creation to enhance the main event in February. Plans to produce select live events with online programs are underway, while closely monitoring the development of public safety measures in Palm Springs and the county at large.
Producing an online experience that would echo the quality and festivity of classic in-person events was a top priority, and required plenty of creativity. The Fall Preview will showcase the best of Modernism Week's most popular events – like the Signature Home Tours – in a novel way.
"I have produced the live Signature Home Tour for many years, and when it became evident we would not be having home tours, I thought: why not to create a video series that could 'travel' to computer screens all over the world?" Maureen says. "Home tours are always a Modernism Week favorite. A big thanks to Tuan Tran, longtime colleague and great videographer, and all the homeowners that participated for making this year's event possible!"
It certainly takes a village (as well as a computer, phone, iPad, and a stable internet connection). Maureen and William both credit the "talents and abilities of others" and "a network of great friends and colleagues" to bring the Fall Preview Online Experience to fruition.
In the course of planning this year's event, Maureen and William have learned two important takeaways to share with other event organizers adapting to a new virtual format:
Know your audience. "Present your material in a manner that will be informative, yet also interesting to the viewer. That's a big challenge that I am still working on. I have seen a lot of talking heads out there that may be more well-suited to a podcast!" – Maureen
Do your research. "Since virtual events are happening everywhere, it's a good idea to research and view some events that have topics you are interested in learning more about. You will see there are some well-run events, with great camera work, speakers and editing. It allows you to make a list of all things you want to incorporate and things you wish to avoid." – William
As for life in general during a pandemic, both Maureen and William have found silver linings to working from home.
"There is a lot to do, but doing everything in one place and moving around less geographically has made it easier to juggle many new things and get a lot more done each day," notes Maureen. " I 'travel' many places and do everything from my devices, without leaving my home office. My home and office are also now my video conference room, editing studio, gym, and entertainment space. Those spaces take me everywhere!"
"Additionally, it seems like the urgency and deadlines of the business day to day isn't as intense as when we were in real time," says William. "It feels like a much slower pace, as I'm not outside traveling to clients or appointments."
---
The Modernism WeekFall Preview Online Experience will be available for purchase and streaming starting October 15, 2020 at 12 p.m. PDT. Enjoy seven different programs from your phone, laptop, or smart TV! Visit modernismweek.com for details.
---