Find out more about what makes the Indian Canyons neighborhood so special.
Palm Springs is a patchwork of distinct neighborhoods, each with their own character and architectural story. Follow this series of fun facts to decode the history of Palm Springs' most remarkable neighborhoods and get ready to explore them in person during Modernism Week.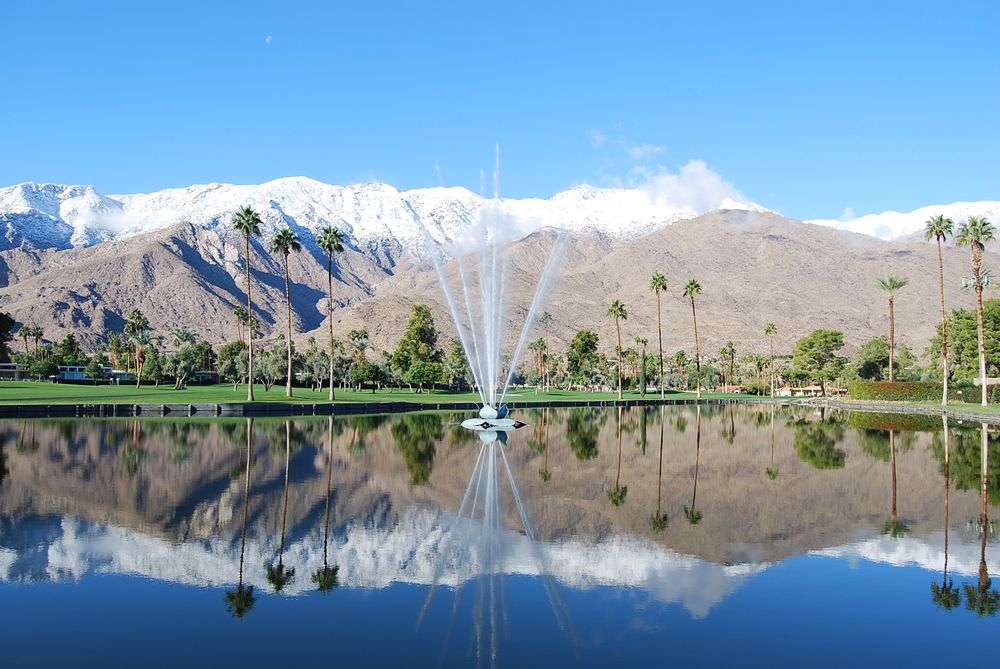 Indian Canyons is the neighborhood formerly known as Canyon Country Club, re-named in 2009 for the 18-hole golf course at the heart of this area. Originally built in the 1960s, it's a coveted neighborhood with deep midcentury roots and distinctive architecture.  Well known architects like Stan Sackley, Palmer & Krisel, and Donald Wexler all erected structures here in the shadows of the San Jacinto mountains.
History
Once the exclusive domain of the Agua Caliente Indians, development began on the Indian Canyons neighborhood in the early 1960s. The first golfers teed off at the Canyon Country Club golf course in October 1962, and famed architects Donald Wexler and Richard Harrison designed its iconic clubhouse. The Canyon Country Club, now known as the Indian Canyons North Course, was the first 18-hole golf course in Palm Springs. Orange County developer Harry Kelso, Arizona builder Paul Butler and Roy Fey of Fey's Canyon Estates in Palm Springs created a variety of high-end homes and condominiums, and the neighborhood also includes homes by well-known midcentury architects Stan Sackley and William Krisel.
Fun Facts
Legendary entertainer Frank Sinatra bought his first desert home here in 1947.
The old Canyon Country Club is where the Frank Sinatra Celebrity Invitational Charity Golf Tournament began 50 years ago.
The opening of the Canyon Country Club attracted celebrities including Lucille Ball and her husband Gary Morton, Miss America emcee Bert Parks, and the world's #1 ranked tennis player, Richard 'Pancho" Gonzales.
The allure of the Indian Canyons neighborhood, then and now, is its location in the wind-free south end of Palm Springs.
Walt Disney donated the spectacular fountain located between holes 9 and 18 on the North course.
Famous people who lived in the neighborhood
Walt Disney, Chuck Conners ("The Rifleman"), Don Adams ("Get Smart"), David Janssen (Actor), Jerome Factor (Max Factor Cosmetics), Irving Mills (discovered Cab Calloway, Duke Ellington, Benny Goodman), Ginny Sims (Actress), Fred Williamson (current resident – Football Player, Actor, Producer), Fess Parker (Actor), William Demarest (Actor), Keeley Smith (Singer).
Street Boundaries
East Sierra Way to Calle Palo Fierro , and up Santiago Way to Murray Canyon on the West.
East Murray Canyon to South Murray on the South.
Down Via Estrella and South Caliente Rd to Sierra Way on the East
Sierra Way on the North.
Modernism Week Highlights
Explore Indian Canyons during Modernism Week by snagging a spot at some of these events.
Hop on a tour:
February 13 – Indian Canyons Neighborhood Home Tour
February 16 – The "Grand" Canyon View Estates Tour
February 19 – Distinctive Living: William Krisel's Kings Point
Check out one of these recurring events:
Modernism Week Show House 2016: The Christopher Kennedy Compound Home Tour (self-guided tours available daily throughout Modernism Week.)
Premier Double Decker Architectural Bus Tours and the Charles Phoenix Super Duper version travel through the Indian Canyons neighborhood. (Express Tours do not.)
For more information about Indian Canyons and the countless other fascinating nabes that make up Palm Springs, check out this map and this great story in Palm Springs Life.
Neighborhood Series written by Cindy Duffy.