The Wesley Palm Springs has quietly been killing it since it opened this summer.  Find out why.
It's a common story that has resulted in an uncommonly cool new pied-a-terre in Palm Springs for all of us.  David Wesley and his partner came to Palm Springs on vacation a few times.  Struck by the beauty and peace of our lovely desert city, Wesley decided to open up the eponymous micro-resort, the newest property to be added to their slate of LiveItLikeItsYours vacation rentals.  An artist by trade, Wesley had an aesthetic in mind and set about creating a cozy little, well-designed spot that he would also call home most weekends.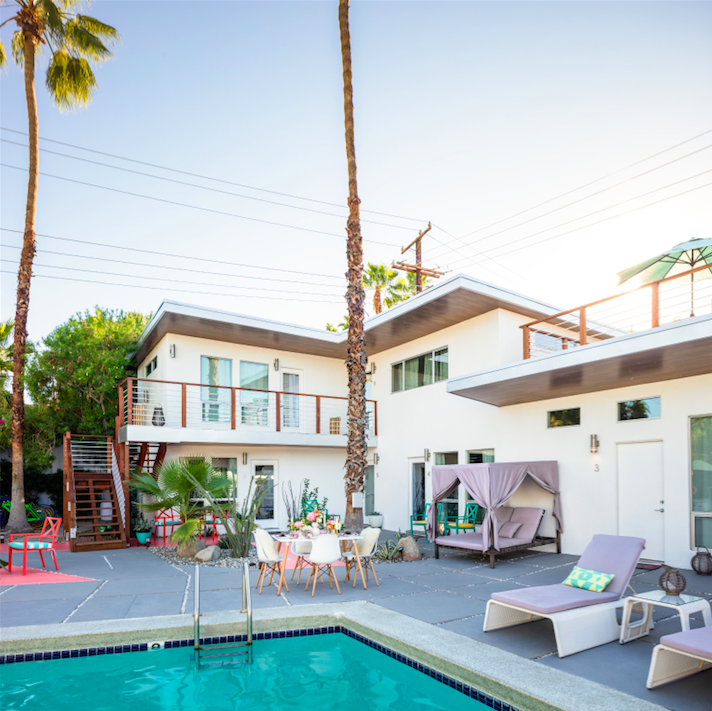 Since their soft opening last summer, The Wesley has been booked solid.  Eight of the nine rooms are available to book on Air BnB  and VRBO running $165/night and up based on the season.  Each unit of this meticulously restored 1950s building includes a kitchenette and private outdoor space, and visitors have access to the shared outdoor area around the pool and a communal outdoor kitchen.  The last suite, which boasts a lovely rooftop terrace overlooking the wash, is the owner's suite.
We spent an afternoon with the Mod Squad shooting a story for Palm Springs Style and all we can say is that The Wesley is most delightful.  It's almost a shame to let the secret out, but here it goes.  Behind this lovely little door lies the perfect spot for a weekend getaway.  Enjoy!