What the Super Spy and Modernism Week have in common and why you shouldn't miss this party.
Women love him, men aspire to be him. Whether your personal preference is Sean, Roger or Daniel (purrrrr!), James Bond is a part of our cultural vernacular for a multitude of reasons, not the least of which is his inimitable sense of style. So why James Bond for our Opening Night theme this year? Modernistas and Mr. Bond follow the same infallible life rules, of course.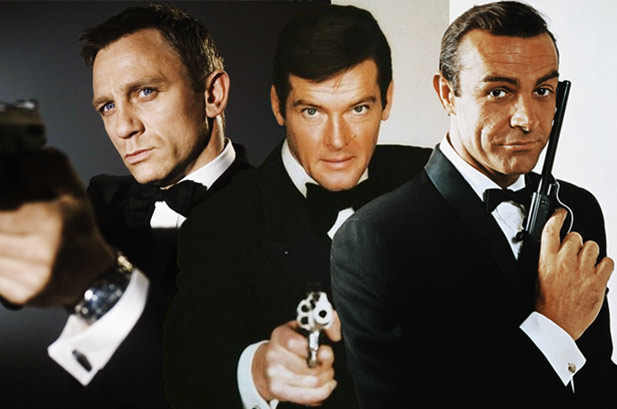 Always Be Ready for a Heist
James is always seen at the glitziest, most glamorous soirees. But what's better than a casino? A bank! Modernism Week's Opening Night party is hosted in what used to be Coachella Savings & Loan built in 1955 by E. Stewart Williams. TheBank is Palm Springs' newest event venue replete with original black terrazzo floors, walk-in vaults, and grand staircase.
Always Dress to Kill
When was the last time you saw James Bond in sweats? The answer is never, for a true secret agent man takes care of his possessions and appearance. For this gold star event, we suggest that you get your suits pressed, guys. And ladies, release your inner Bond girls. If there was ever an evening to get dressed to the nines in your period attire, this is it. Just make sure to bring your dancing shoes, because The Dreamboats will be putting a fresh spin on some classic tunes – and you know our dreamboat James is always smooth on his feet.
Practice Good Taste in Food and Drink
007 would never be caught drinking swill and we're not sure he ever really eats, though if he did, he wouldn't eat anything but the finest. Clearly, James Bond is the caviar and martini kind of man. And so are we. Enjoy cocktails of the highest caliber (and content) thanks to Hendrick's Gin and deliciously elegant nosh by Lulu at Opening Night.
The good news is that there are still tickets available for this most epic of soirees. Kick off the perennial cultural phenomenal that is Modernism Week with appropriate style and super spy panache. Be brave, stop procrastinating, and get your ticket now!