All-star design team combines midcentury design and new century style.
In the Mesa Neighborhood of Palm Springs, Mesa Modern shines bright white against the desert landscape.  With a nod to the past and eye to the future, Mesa Modern combines aspects of midcentury modern design with contemporary influences.  With as much living space outdoors as in, this is truly a new kind of desert estate.
Mesa Modern nods to the past and with an eye on the future.
An all-star design team including interior designer Michelle Boudreau, landscape architect John Feldman (Ecocentrix), and Juniper House, collaborated to bring the project to life. Modernism Weekly sat down with Michelle and John to discuss all things Mesa Modern and get the inside scoop on what makes this manse so special.
Tell us about Mesa Modern.
Michelle Boudreau: Nestled at the base of the San Jacinto Mountains an original Modernist project is underway in the haven of The Mesa Neighborhood in Palm Springs. Locals call it "a slice of heaven" due to the unobstructed views of the mountains.  The design intent of this property was to capture the views of the gorgeous mountains in every room and ensure that it is seamlessly integrated into the desert landscape.  Each environment is cleverly designed to take you on a journey of surprise and delight by discovering multiple different spaces to experience and celebrate the palm springs lifestyle of indoor/outdoor living.
Where did you draw inspiration from for this project?
John Feldman:  Many of our clues for the site and landscape were extrapolated from colors and textures that Michelle had already been exploring within the interiors.  The landscape's architecture is an obvious extension of the house, where it would appear to have been designed of one hand. Also, regional context always plays a big part for us in projects where they're so necessarily connected to nature. There is no turning one's back on the San Jacinto Mountains, which rises up seemingly from the home's backyard. You couldn't ask for greater drama to activate this space naturally than the quickly ascending rocky terrain of these mountains. We deliberately open views through the main chord of the home, using 8' tall garden walls and palms to flank the 50' long pool with the mountains beyond.  Reflections of the sky from the pool's surface are as tranquil and surreal as the mountain that grows beyond and is enjoyed from a great many vantage points in seven discernible gardens on this site.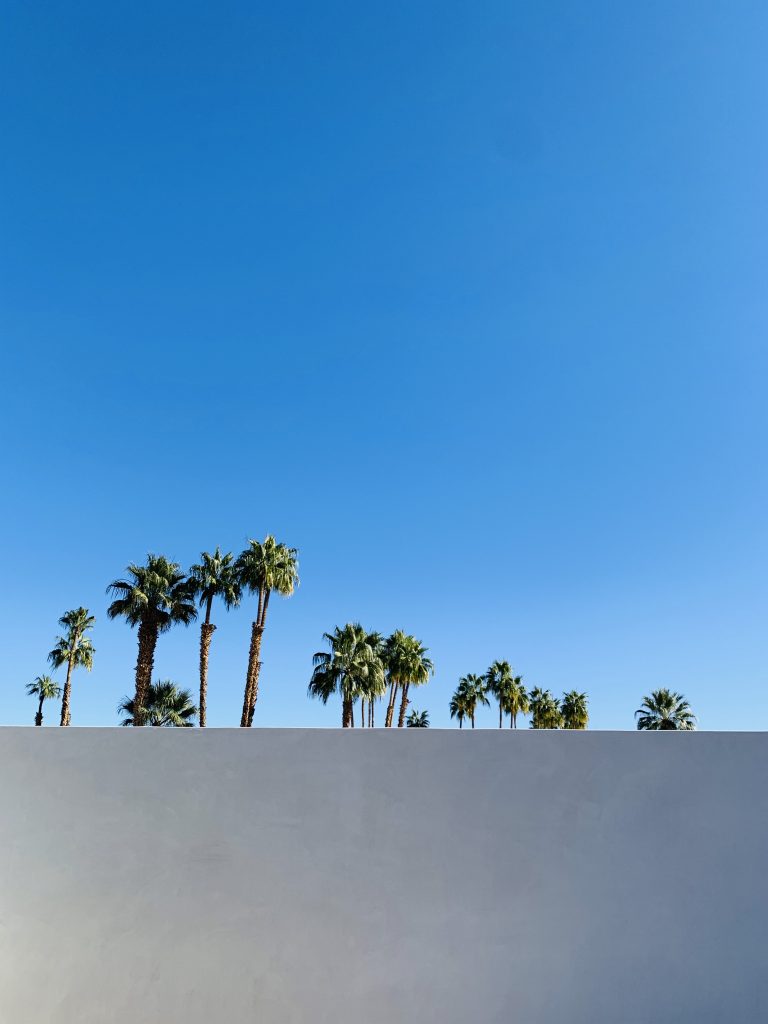 Have you undertaken any similar projects in the past?
John Feldman: Our projects almost always integrate the design features you'll find in this one, no matter the style, and whether designing here in the desert flats or for complex hillside sites elsewhere around California.
What were some of the highlights of the building and design process?
John Feldman: True collaborations bring forth the best of cross-disciplinary ideation.  There was a synergy between Michelle Boudreau, Juniper House, and Ecocentrix that hails one of the most favorable processes that I have known in my 25+ year career.  This "design house" uniquely featured one designer from each discipline and collectively we were able to render a cohesively designed home while enjoying each other's inspired thinking and warm-spirited personas along the way.
What were some of the challenges of the building and design process?
Michelle Boudreau: The timelines and deadlines that had to be met with accuracy. With other projects, items can be pushed back slightly if needed. With this project, there is no room for error. The process, organization and details had to be orchestrated with complete precision to meet the event time frame. You cannot miss a beat, the show must go on!
What kinds of materials, patterns and furniture you are using?
Michelle Boudreau: I have curated a mix of materials to create interest and curiosity. There is a different design story in each area, but I have been very thoughtful on ensuring there is a connection and consistent thread throughout for a streamlined yet interesting flow. I started with incorporating the patterns and shapes that I drew from the desert landscape. I chose a variety of textured surfaces that all work cohesively together with the color palette. Custom 3D designed wall panels that feature the shapes and movement that carry throughout the house. A mix of soft, but textorial furnishings create a softness that balances the strong lines and edges of the architecture. I have curated a very interesting mix of furniture, shapes and objects that have an artful approach.
What is your favorite feature of the home?
Michelle Boudreau: I absolutely love the grand openness of the windows and doors that allows the interior to seamlessly flow to the exterior. It truly allows you to appreciate the unique Desert Lifestyle. Although the property is quite large, the design allows you to have multiple areas to enjoy, discovery and delight at each different area.
What can Modernism Week guests expect to experience at Mesa Modern?
Michelle Boudreau: It is an opportunity to experience this new approach to modernism, and to discover details that you do not see every day.  Mesa Modern is all about new ideas and features that are inspirational.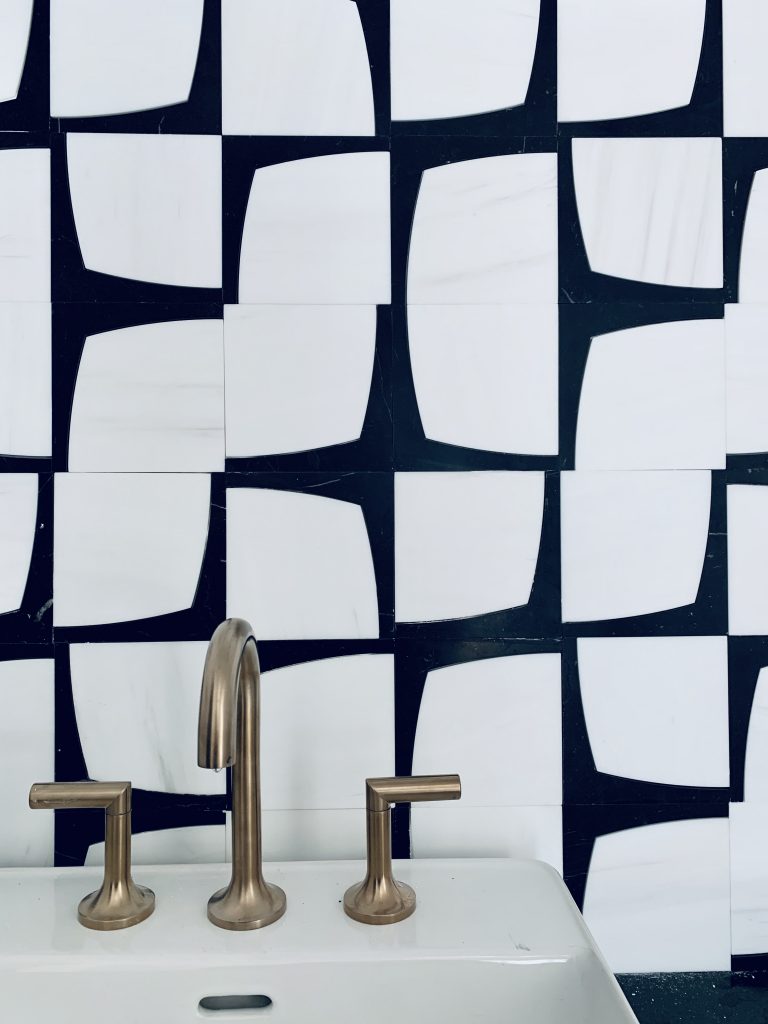 PRO TIP: If you're a fan of gorgeous tile, the surfaces at Mesa Modern are next level.  Design fans, get ready to swoon.  There are still home tour tickets available here, times vary.  Meet Michelle Boudreau for a special poolside design brunch or snag tickets for an elegant late night poolside reception.  Go on, you only have a limited time to  pretend like you live there!