This is how to get the full Modernism Week experience without breaking the bank.
Look, we get it.  Just making your way to Palm Springs and finding a place to stay can be spendy.  But once you make it to the desert, Modernism Week features a full array of free and inexpensive events that can give you the full midcentury experience.  Here's our handy dandy guide on how to get the most out of your Modernism Week dime.
Dying to see Sunnylands?
The bad news is that tickets to tour Sunnylands are sold out and also come with a price tag.  The good news is that Director of Sunnylands Center & Gardens Janice Lyle will be giving a talk at the Rancho Mirage Public Library on February 21, sharing photos and stories about the fabled Walter and Leonore Annenberg estate, which has been likened to the Camp David of the West Coast.  As the author of a new book about the Annenbergs' role in midcentury modern life, Lyle's talk is sure to be almost as good as going on the tour, plus it's free!
Love architecture?
John Lautner will be receiving a star on the Palm Springs Walk of Stars.  Stop by the dedication ceremony on February 17 at the Palm Springs Museum Architecture & Design Center and stay to check out the latest exhibition. For a different perspective of architecturally significant midcentury and modern building facades, hop on a double decker and enjoy a stellar lighting display during the Illuminated Modern Sunset Bus Tours.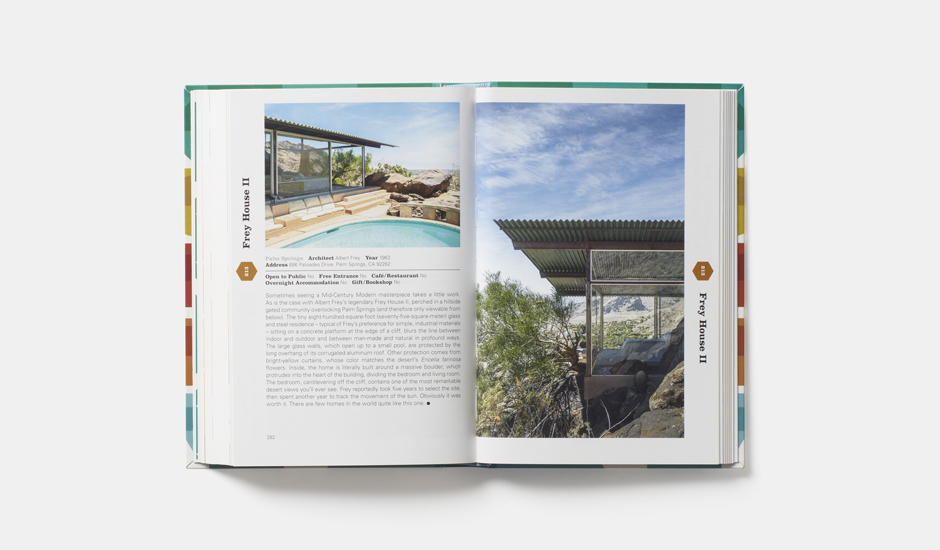 Love to learn?
Once again, we have good news. There are countless amazing lectures featured during Modernism Week.  Lectures at CAMP and talks/presentations at the Annenberg Theater are generally $10-$15. Check out the CAMP schedule to learn more.  If you're in Palm Springs for Modernism Week, you're already an architectural tourist, so don't miss this talk on February 18 with Sam Lubell and Darren Bradley at the ACE Hotel all about the making of their new Midcentury Modern Architecture Travel Guide book.
Love art?
Desert X is a brand new three-month exhibition of site-specific installations that starts on February 25th and runs through April 2017.  Art critic Steven Biller will be sitting down with two Desert X artists, Phillip K Smith III of Lucid Stead fame and Jeffrey Gibson, on February 17 to talk about their new installations. Art Palm Springs will also be presenting a special talk on February 18 with their Artist of the Year, Lita Albuquerque, whose presentation "The Desert as Mirror: Reflections on the Void," will focus on the concept for her Desert X installation as well as past and future projects.
Two other free art events you don't want to miss: the unveiling of a new, limited-edition serigraph print by Josh Agle (aka SHAG) at SHAG's Modern Exuberance on February 25, and the opening reception for Contrast + Repetition – a special February 19 exhibit at The Art Room, featuring the work of Annalisa Capurro aka Ms. Modernism.
Want to be outside?
Hop on one of Modernism Week's bike tours, like the Architectural Bike Tour by Hot Purple Energy on February 25.  New this year, Palm Springs Style is curating the first-ever Palm Springs Door Tour on February 19 & 26 with Dunn Edwards.  Start at The Saguaro, bike around the neighborhood instagramming THAT pink door and so much more.  Return to The Saguaro for cocktails, all for just $20.
If vintage automobiles are more your speed, make your way to the Vintage Car Show on February 20 and the Vintage Trailer Show on February 25 & 26. The Modernism Yard Sale on February 26 is also a must-see – find a deal or a total steal while enjoying donuts and coffee under the sun.
Love parties?
Modernism Week parties are legendary and typically come with a price tag. But you can always check out the Uptown Design District.  Trendy showrooms and shops stay open late and often host great events.  BLVD will be hosting a New Century Modern celebration showcasing midcentury modern design with a contemporary flair.  It's a great way to absorb the culture, shop, and have an excuse to get dressed up.  Plus you might get to meet Abby.
Love interiors?
Everyone comes to Modernism Week to see the beautiful houses.  Check out a renovated Palmer & Krisel with the West Elm house or go see Modernism Week's 2017 Show House, also known as The Christopher Kennedy Compound, but more aptly known this year as "Villa Golightly," the eponymous blogger's new manse that will be transformed from med to mod by an arsenal of all-star designers and instafamous besties.  Notable tastemakers include Gray Malin, Kate Spade NY, Joy Cho, and Sarah Sherman Samuel.