The unofficial official photographer of FLW's work returns to Palm Springs to teach a 2-day workshop.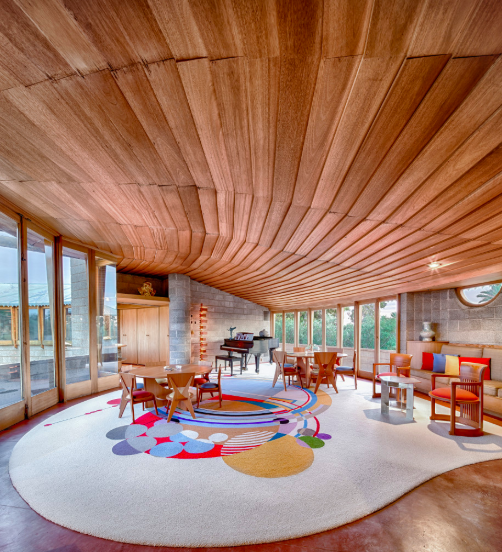 Eight more Frank Lloyd Wright buildings were added to the list of UNESCO's World Heritage Sites last year and there is nobody happier about that than Andrew Pielage, the Phoenix-based architectural photographer who has been on a personal quest to capture all of the iconic modern architect on camera.  Modernism Weekly caught up with him as he prepared for his trip out to California.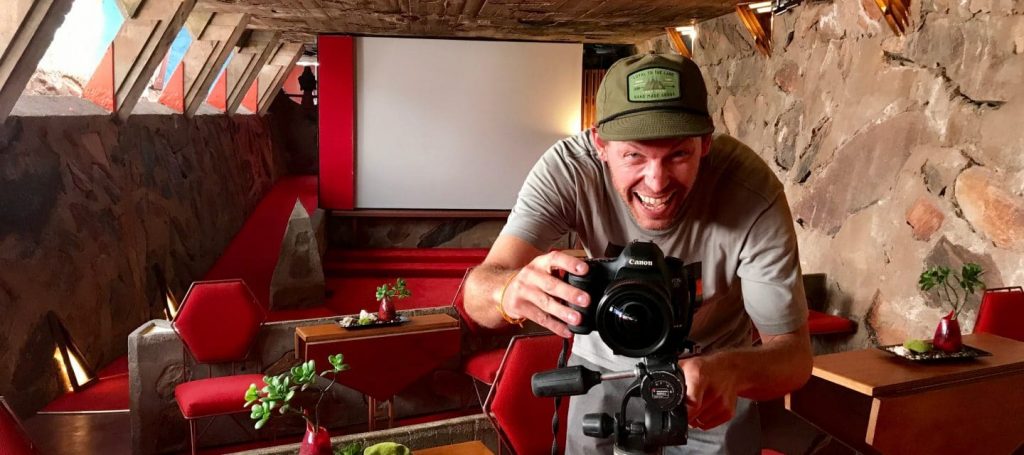 What have you been up to since the last time we spoke?
2019 was an amazing and very challenging year. I had a great time at Modernism Week teaching a photography workshop and doing a talk with Alan Hess about my Frank Lloyd Wright photography project. I got to spend a few weeks in Peru trekking and photographing the beautiful people and landscapes. That is an incredible country. My wife and I also explored Berlin and the south of France as well. 2019 also brought a few publication features such as American Way magazine, Phoenix Home & Garden magazine, Palm Springs Life magazine and National Geographic Traveler magazine. I'm really looking forward to 2020 and what's in store. 
What amazing 

FLW

 projects did you shoot in 2019 (after Modernism Week)?
Well, the biggest news of the year was the addition of eight Frank Lloyd Wright designs as UNESCO World Heritage Sites…(mind blown). I was so excited to hear the news, I was actually in Peru when it was announced and had a toast in the streets of Aguas Calientes with a bunch of friends I did the Inca Trail with. It was awesome! I was also fortunate enough to add a few Wright sites to my project. I was lucky enough to photography the Guggenheim museum in New York. It was my first time visiting as well as photographing it and I was blown away. I was anticipating a very serious interior but was surprised to find a few fun and sometimes quirky surprises in it. That same trip I was able to photograph the Beth Sholom Synagogue outside Philadelphia. Again, blown away, the light in that space is some of the best I've experienced, that beautiful light feels almost the same at the Great Workroom at SC Johnson, incredible. I could have stayed at Beth Sholom for a few days photographing. I also visited and photographed for the first time at Polymath Park in Pennsylvania. They have successfully taken apart two Wright houses that were threatened in other states, moved and reassembled them at Polymath Park. But it gets even better, you can now stay overnight at both the Duncan House and Mantyla. Check it out. They were a blast to photograph and I ended up partnering with Polymath Park and Kentuck Knob to include them in my photography workshops along with Fallingwater. That's never been done before and it was quite the adventure. Also added the Laurent House to the project, Wrights only house designed specifically for a client that was in a wheelchair. Also, two lesser-known Wright sites, one called Pettit Chapel and the other Muirhead Farms. Then ended with four more in the Chicago area. Two beautiful prairie houses, Heurtley and Beachy. Living on the west coast, I haven't really had a chance to photograph a lot of prairie houses so those were really interesting. A lot less light in there to work with, and I only use natural light for the project, so proper timing was critical. On that same trip, I also got up to the Glore House for a few hours to photograph. Loved the massive windows in the living room, it's like a 20-foot big screen tv set on the nature channel.  I also had two wonderful cats as my photo assistance there. And lastly…whew, the Charnley House in downtown Chicago. It's more of a Sullivan design but Wright did have a part in some of the design features inside so I thought I would cover my bases and photograph it for the project. 
What are you planning in 2020?
Lots, but I'll keep it brief. First of, excited to be returning to Modernism Week for another photography workshop. I'll be photographing more Wright sites like Turkel house, outside Detroit and a few houses at Parkwyn Village in Kalamazoo, Michigan. I will also be teaching a photography workshop for the first time at Unity Temple in Oak Park, Illinois. We are going to photographing a few prairie houses as part of those workshops as well. I'm really excited about that. I also have a few other sites and workshops but can't officially announce anything yet.
Do you have any words of wisdom for budding architectural photographers?
Two things and we talk about both of them extensively in my workshops. One, do your homework on the architecture. That means internet research on the design and the architect. What is he or she famous for and how are those elements applied to the site you are photographing, then you scout, don't even get your equipment out. Just observe and note what your eye is attracted to. The second thing is now that you have done all your homework, don't shoot the architecture, shoot the light. Great architects highlight their designs using natural light. Follow that light around the design and let it lead you from composition to composition. 
The workshop is sold out but follow along on Instagram to follow the light with Andrew and his students.