Learn about the legacy of prolific midcentury architect William Krisel.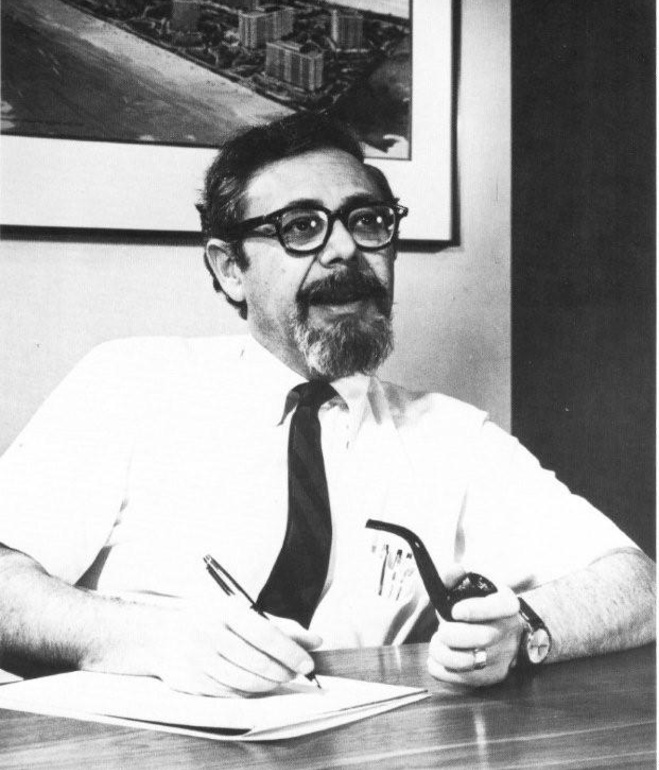 With a childhood in Shanghai, adolescence in Beverly Hills, early adulthood serving in World War II as a Chinese interpreter, and an architecture degree from USC, the early history of Desert Modernist William "Bill" Krisel, AIA is as varied and far-reaching as his career, which spans over six decades and tens of thousands of individual housing units across the nation.
Throughout the midcentury, Krisel brought modernism to the masses, nearly doubling the size of Palm Springs with the addition of thousands of tract homes which redefined residential architecture and established the desert modernism of the area. Using a variety of configurations, rooflines, and standardized elements, Krisel made good design available and affordable.
The celebrated architect significantly influenced the look and lifestyle of mid-century Palm Springs, introducing elements of what has become iconic of the modernist architectural style: butterfly roofs, breezeways, clerestory windows, open carports, exposed concrete block.  In addition to the homes he and partner Dan Palmer produced with the Alexander Construction Company, the designer's body of work includes the Ocotillo Lodge, Canyon View Estates, Las Palmas Estates (Vista Las Palmas), Kings Point, Racquet Club Estates, "Valley of the Sun" in Rancho Mirage, the Sandpiper condominiums in Palm Desert (which garnered an AIA merit award for Landscape Architecture), and the "House of Tomorrow" (also known as Elvis & Priscilla Presley's honeymoon hideaway).
William Krisel has helped to establish, define, and also participate in the resurgence of modernism in Palm Springs (in recent years, he has contributed to the restoration of many of his original designs*). Modernism Week is proud to present the following events honoring the work of this architectural pioneer:
Ceremony
Tuesday, February 16: William Krisel Street Dedication Celebration
Join Palm Springs dignitaries and residents of Twin Palms in celebrating the work and contribution of William Krisel at the dedication of a street named in his honor. The Twin Palms location was the City's first mid-century neighborhood completed by the Alexander Construction Company from Mr. Krisel's designs and the first truly modern housing tract in Palm Springs. Mr. Krisel is anticipated to attend the ceremony.
Tours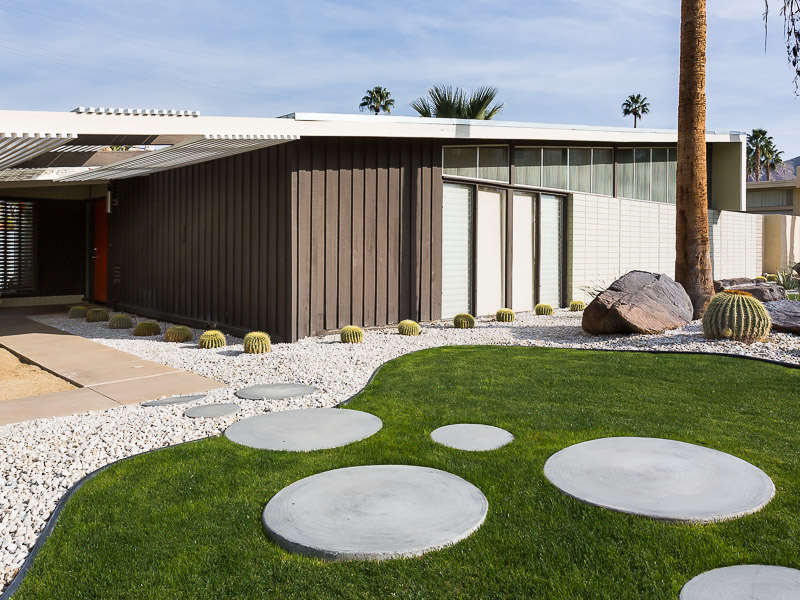 Saturday, February 13: Eighth Annual Racquet Club Estates Home Tour
Experience the beauty of seven unique Alexander homes built in the late 1950s and early '60s. Classic cars will be parked at each home and a catered reception with a celebrity guest speaker will wrap up the tour. The Alexander homess designed by Krisel exemplify the midcentury modern vernacular of soaring, wafer-thin rooflines, clerestory windows and open floor plans.
Saturday, February 13: Sunmor Estates Midcentury Home Tour
Constructed in the late 1950s and early '60s, the Sunmor neighborhood is a unique showcase of homes constructed by four iconic modern-era builders: the Alexander Construction Company, Robert Higgins, Jack Meiselman, and a few rare one-of-a-kinds built by Smith & Rapport. The Sunmor Alexander homes are Krisel's "Ramon Rise" design. Proceeds from the tour will benefit the Palm Springs Animal Shelter and the Neuro Vitality Center, and help to maintain the Sunmor neighborhood.
Saturday, February 13: Indian Canyons Neighborhood Home Tour
Designed by Stan Sackley, Dan Palmer and William Krisel, among others, the homes on this tour feature characteristic open floor plans coupled with expansive use of glass. Sunshine, golf, and celebrities are woven into the Neighborhood's history. Above all, the integration of the desert's natural beauty is the Indian Canyons Neighborhood's trademark.
Monday, February 15:  Twin Palms' Krisel Homes Tour
William Krisel did what many other architects were unable to do with tract housing; he made it interesting, affordable, and innovative. Explore the 90-home tract of Twin Palms, which incorporates atriums, trellis structures to control light, clerestory windows, post and beam construction and the indoor-outdoor concept that was central to the midcentury modern architecture that Krisel introduced to the desert.
Tuesday, February 16:  The "Grand" Canyon View Estates Tour
This tour will showcase at least 10 midcentury lifestyle condominium units designed by the architectural firm of Palmer & Krisel in 1962. See how deftly the architects double-gable roof lines bring mountain views and abundant natural light into the interiors. The ticket price includes a collectible tour map and a copy of the Palm Springs Preservation Foundation's (PSPF) 36-page tribute journal "The Architecture of Desert Leisure." A portion of the proceeds will help fund PSPF grants to selected Canyon View Estates homeowners associations.
Friday, February 19: Distinctive Living: William Krisel's Kings Point
Kings Point is unusual among Krisel's work in its expression of the International Style of modernism. The houses are characterized by simple geometric rectilinear forms, strong horizontal and vertical elements, and alternating planes of solid masonry and glass. Ranging in size from 2,300 to 3,000+ sq ft, these homes are among the largest and most luxurious Krisel designs found in the desert. Tour six featured homes, which have a range of floor plans and a rich variety of interior design styles.
Saturday, February 20:  Vista Las Palmas Tour of Homes
Spend the afternoon touring this stunning neighborhood of lovingly restored midcentury homes. Their designs create seamless indoor/outdoor spaces and a casual lifestyle which takes advantage of the crisp, dry desert climate and soaring mountain views. These homes represent the best of midcentury style, restored to their original look and feel.
Saturday, February 20: 1958 Tamarisk Ranchos by Architect Bill Krisel
Tamarisk Ranchos became a home-away-from-the-golf-club for Hollywood's finest who couldn't join the restricted Palm Springs clubs. Explore the neighborhood of the stars, which feature three different rooflines, each with their own identity and midcentury exterior details, with front doors facing community gardens and a central pool. A minimum of six houses will be open for the tour.
Sunday, February 21: 1958 Tamarisk Ranchos by Architect Bill Krisel
The second day of this tour invites guests to discover the residences of Hollywood's elite in a new and personal way. When Frank Sinatra moved to the Tamarisk Country Club in 1956, his team came too: his physician, banker, and girlfriend all had homes at Tamarisk Ranchos. Groucho Marx, Alex Gottlieb, and Lou Halper were also among those who lived in this storied neighborhood. Proceeds from the tours will go towards increasing sustainable landscaping at Tamarisk Ranchos. A minimum of six houses will be open for the tour.
Film/Lecture
Monday, February 15: "William Krisel, Architect" – Premier Screening of Re-mastered Film
This documentary by director Jake Gorst explores the life and work of William Krisel, including his roots in 1930s China, his ground-breaking designs for modern living and interviews with scholars, his contemporaries and family. Following the screening, there will be a Q&A and VIP reception upstairs in the Camelot Café.
Tuesday, February 16: William Krisel's Palm Springs : The Language of Modernism
Join historian and President of the Society of Architectural Historians/Southern California Chapter, Sian Winship, in an in-depth exploration of Krisel's innovative design and architectural legacy. Schedule permitting, architect William Krisel is hopeful to be able to participate in a formal question and answer session and book signing.