This palatial establishment burst onto the scene a few months ago. Get the scoop on what they're dishing out.
When Willie Rhine walked through the furniture gallery located at 849 Palm Canyon not too long ago, he remembers telling his partner that the expansive 8,000sf space would make an amazing restaurant.  Little did he know that two short years later, he would find himself at the helm of Palm Springs' newest hotspot in that precise location.
Having previously served and managed at Le Vallauris, Acqua Pazza, and Lulu's California Bistro, Rhine had been on the hunt for a site for his new restaurant with his business partner and local Palm Springs photographer John Paschal.
"We'd been touring a much smaller site when our realtor mentioned that the space had just been listed," said Rhine.  "It was much bigger than what we had been looking for, but I just thought if we're going to do this, we might as well do it big."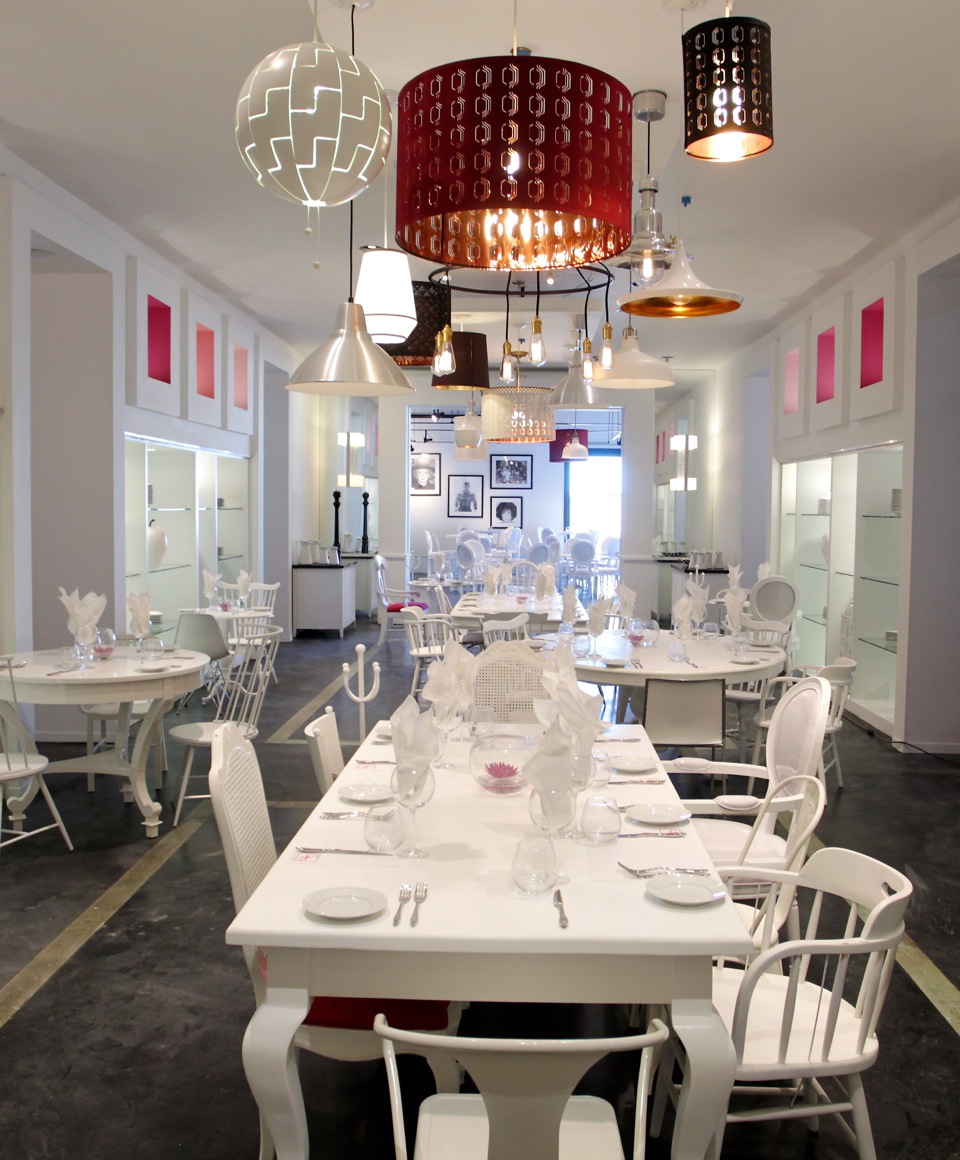 And big, it certainly is.  Eight4Nine feels more like a posh hotel lobby than a typical restaurant.  Visitors are greeted by a large open area with a back-lit onyx bar, a comfortable lounge area and a main dining hall.  The space also features several private dining rooms that can accommodate between 8 and 60 guests.  The bright white space is punctuated with accents of bright magenta and filled with iconic Louis XIV ghost chairs and white patent leather seating.
 Jonathan Adler's design team came in to eat and gave lots of compliments.
Add to that the additional 3000sf of outdoor dining and hangout space, and the result is quite easily Palm Springs largest restaurant and lounge.  The beautiful artwork was provided by Melissa Morgan Fine Art in Palm Desert.  The large modern sculpture out front was created by LA-based artist Brad Howe.  Rhine, who had never designed a project of this size, is responsible for the restaurant's dramatic aesthetic which is an eclectic mix of modern meets hollywood regency with traditional touches.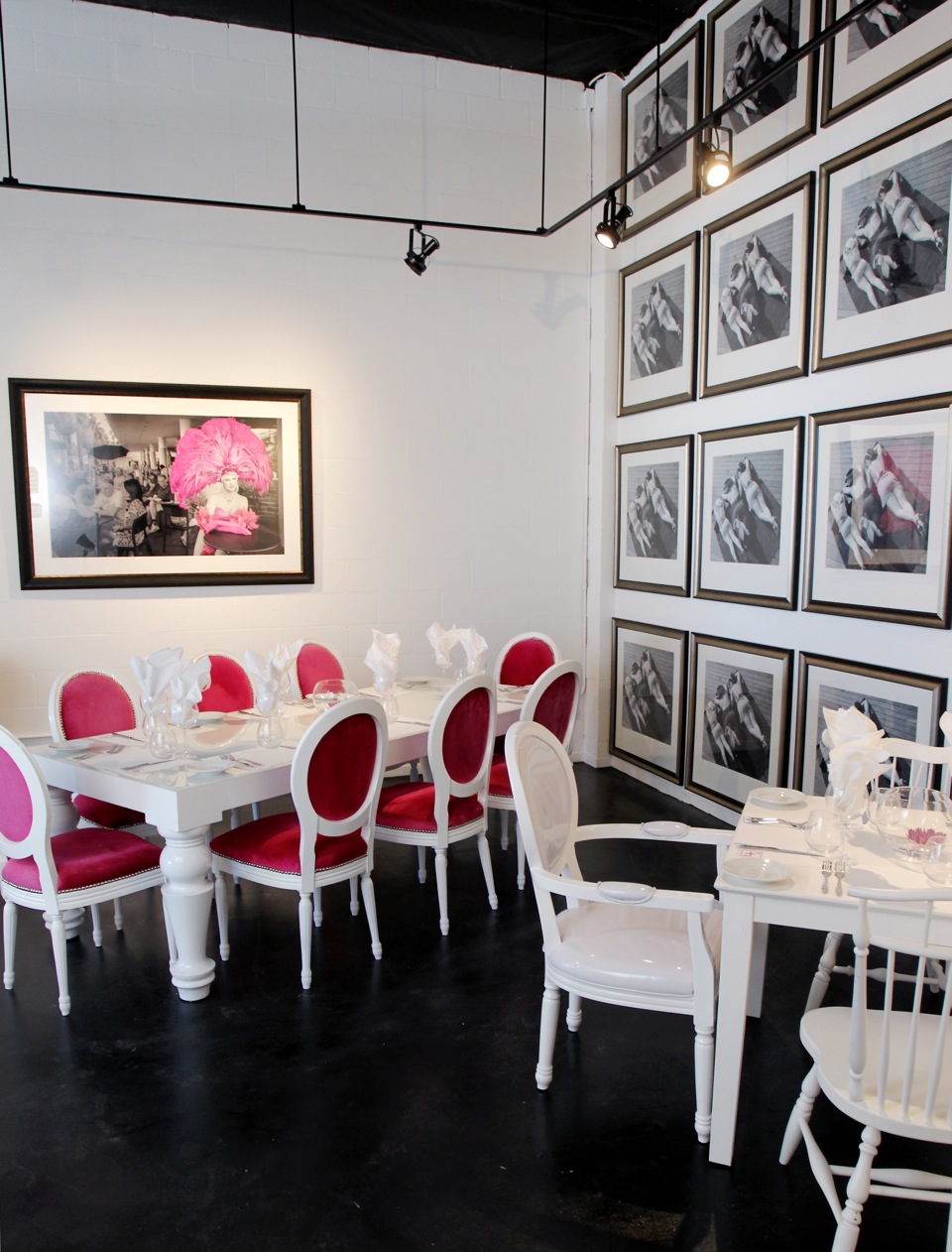 "Jonathan Adler's design team came in to eat and gave lots of compliments," said Rhine proudly, so the attention to detail has clearly paid off.
Behind the scenes, Executive Chef Chuck Courtney serves up delicious contemporary West Coast-inspired American cuisine with a European flair.  The restaurant also features generous happy hours and weekend brunches.
As the high season kicks off in Palm Springs, Rhine exudes calmness and excitement simultaneously.  "The word of mouth has been absolutely fabulous.  I've been in the desert for 24 years and never seen a restaurant open like this.  I'm shocked and grateful."
Modernism Weekly caught up with Rhine between bookings and events to get his take on what to eat and what to drink at Eight4Nine.
The Eight4Nine Mocktail (left) is the perfect refreshing drink for the purist.  The alcohol-free minty mojito is a popular crowd pleaser, while The Eight4Nine Cocktail (right) is the top selling libation, a magical concoction of prosecco, limoncello, vodka, citrus and muddled strawberry.
Native Scot Rhine suggests stopping by for brunch on the weekend.  Eight4Nine is the only place in town where one can get a proper Scottish breakfast.  Otherwise, his top picks are the Chilean bass or the Scottish Steelhead (of course!)