Whether you take the tour or not, here are a few interesting facts that everyone should know about Sunnylands.
Snagging a coveted spot on a tour of Sunnylands, the Rancho Mirage estate of Walter and Leonore Annenberg, is one of the many highlights of Modernism Week.  Presidents from Eisenhower to Bush have spent time at Sunnylands, and it's hard not to feel a bit giddy walking the same halls as the endless litany of international and domestic dignitaries who once spent their weekends here.  These are a few of the things that struck us most when we took the tour.
Sunnylands is a true modernist estate.  Bucking the trend to build a great estate in a historical style, the Annenbergs hired A. Quincy Jones, a modernist architect known for his penchant for statement roofs and ability to integrate structures into the landscape.  "It was a bold move on the part of the Annenbergs to bring in a modernist architect to design Sunnylands, one of the great and arguably the only purely modernist estate in the United States," says Los Angeles architect Frederick Fisher (architect of the Sunnylands Visitors Center).
"Sunnylands is one of the great and arguably the only purely modernist estate in the United States."
That stately shade of pink a reflection of something even more iconic.  Leonore Annenberg had a particular love of yellow and pink, as seen in the interior design. However, the exterior color was chosen in accordance to Mrs. Annenberg's  wish to match the sunset glow on nearby foothills.   Technically, it's a shade of peach.  No wonder it looks so familiar and warm no matter where you're coming from or going to.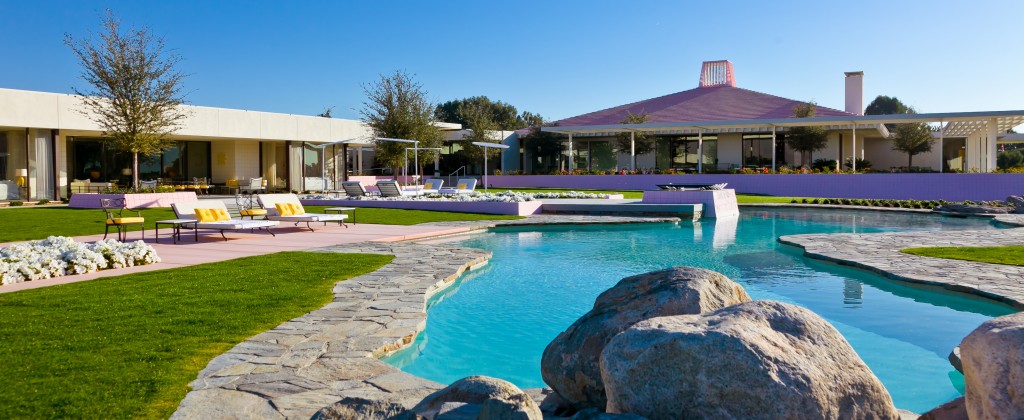 A study in American history (and family).  With interiors designed by William Haines and Ted Graber, known for decorating the Reagan White House and for popularizing the Hollywood Regency style, every room is immaculately furnished, not to mention the world renowned art collection  (including a giant sculpture by Auguste Rodin).  But the most singular room in our opinion is the study, where the walls and all possible surfaces are adorned with countless photographs of the visitors throughout the years.  It's definitely special to see a wall full of framed Christmas cards from Queen Elizabeth (each of them signed!).  But the most amazing thing is to see all the family photos interspersed with them.  The Annenbergs lived at Sunnylands five months out of the year, and when one visits Sunnylands, it still echoes with the spirit and soul of its inhabitants.
"He enjoyed playing with Presidents Reagan and George H. W. Bush."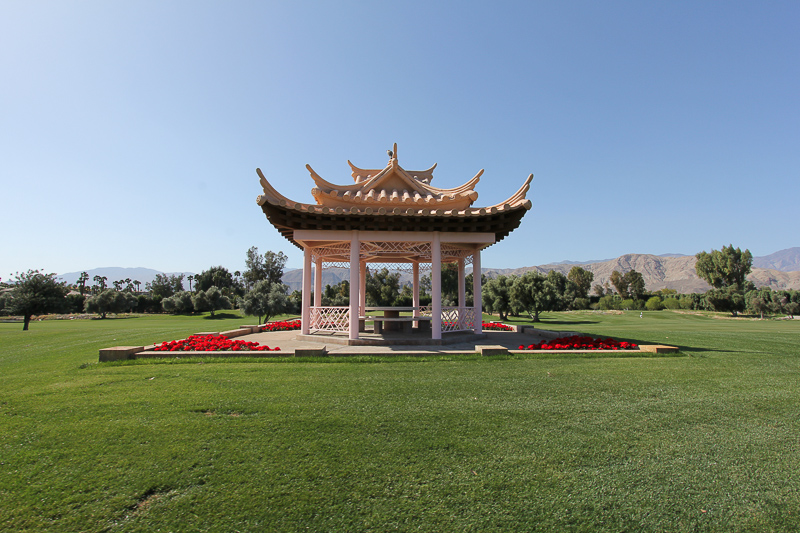 Nine holes, twenty years of history. Designed by famed architect Dick Wilson, Walter Annenberg's personal golf course is a thing of lore.  Replete with a Chinese pagoda, a totem pole and lots of other quirky features, it's like the Moby Dick of courses for most golfers who don't happen to currently be President.  This story from the Desert Sun which ran a few days before President Obama took over Sunnylands gives a great peek at the course.  And in case you were wondering who Walter Annenberg like to play golf with?  "He enjoyed playing with Presidents Reagan and George H.W. Bush, Secretary of State George Shultz, professional golfer Ray Floyd, Ambassador Charles Price, and [Texas businessman] Bobby French," says Michael Comerford, the Annenbergs' long time butler and house manager (via Palm Springs Life).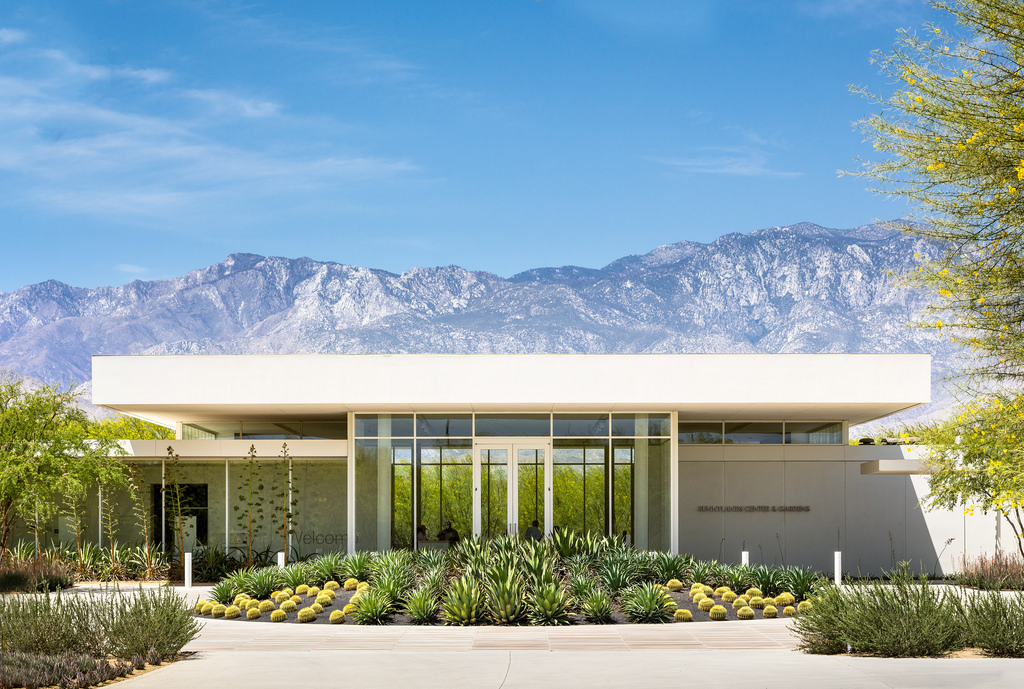 Tickets for Sunnylands tours during Modernism Week are now sold out, but the Center and Gardens are always free and open to the public.  Also check back here to book tickets to tour Sunnylands at another time of year.